Games-install.com is a scam site that promises free games but ends up spreading subscription scams.
Games-install.com is a fake game pirating site. It claims to have a huge video game library, all available for free – and all fake. Games-install.com fakes game installation in order to promote malicious content online.
Games Install Com Scams quicklinks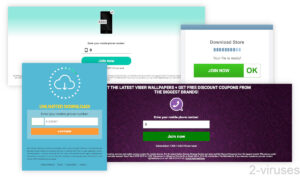 Games-install.com in short:
Type of threat
Scam,

adware,

trojan.

What makes Games-install.com dangerous
It links to potentially dangerous websites incuding subscription scams, fleeceware apps, malware, and clickbait.
How to avoid fake download sites
Don't pirate games,

don't download files from unknown websites,

use ad blockers and anti-malware apps.

How to protect yourself on Games-install.com
Use antivirus programs (Spyhunter for Pc, Combo Cleaner for Mac, others) to check your device for malware and remove it if needed,

if needed, review your subscriptions and cancel those that are unwanted.
Games-install.com is a dangerous website
Pirating is dangerous
To begin with, we don't support piracy. Nowadays there are plenty of giveaways, amazing sales, and generous subscription services to satisfy any gaming enthusiast that people should not need to resort to illegally downloading games. But this post is not about condemning pirates – it's about cautioning them to not fall for a mobile subscription scam.
Also, it's important to note that children are likely to be very vulnerable to the type of scam that Games-install.com spreads. It's a mobile subscription scam, which means that it's very easy to sign up for.
Problems caused by Games-install.com
The problems with Games-install.com range from wasting your time to costing you money:
One possible symptom of the Games-install.com scam is new expenses in your mobile phone bill. Multiple weekly subscriptions for nonexistent services that each are only a few dollars but can add up to a few tens of dollars.
New, unfamiliar apps on your device can also be a result of redirects by Games-install.com.
Excessive ads in your browser can result from notification hijacking by Games-install.com or from malicious apps.
Other unexpected behavior of your computer or your browser.
What links Games-install.com promotes may be different based on your location and other aspects. It could be something harmless, like a link to a clickbait site (such as Quizdiva.net). It could also download a malicious file.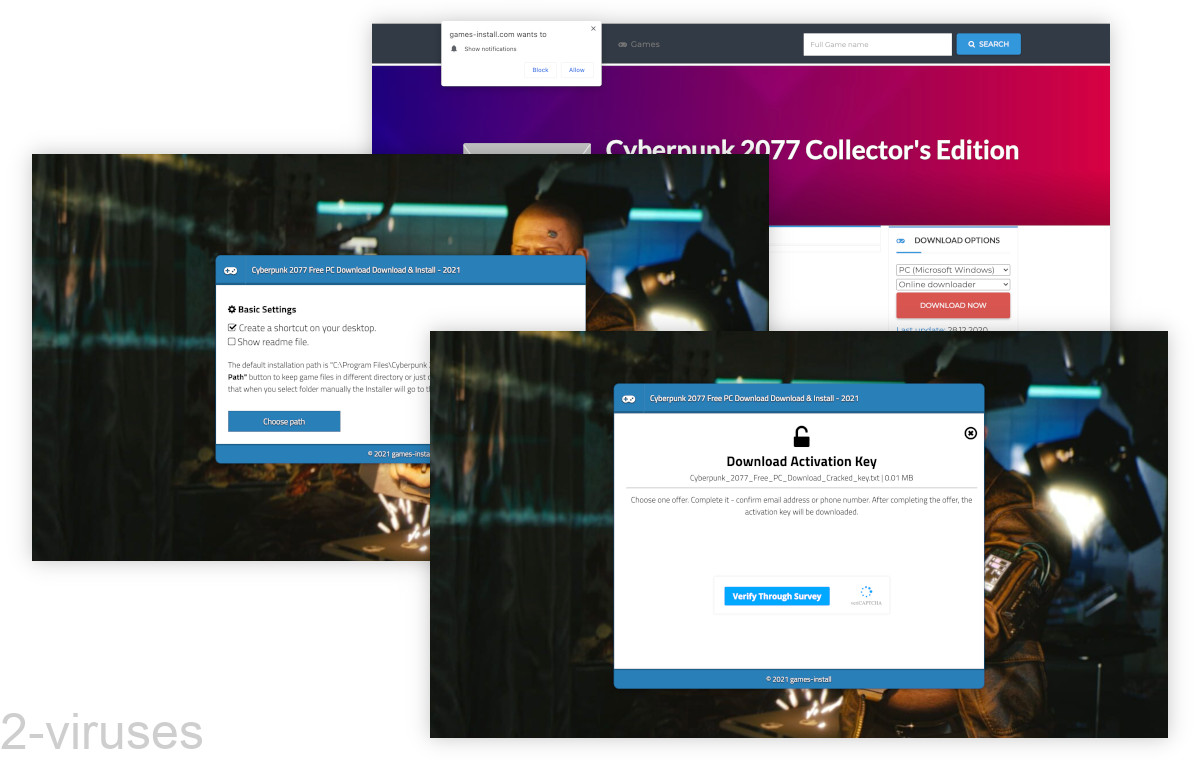 How Games-install.com works
Games-install.com spreads in search results
Pirating (illegally downloading programs for free) is risky. There's ransomware, trojans, and other malware hidden in some of those programs. This is not an exaggeration – trojans like AZORult and CopperStealer and ransomware viruses like Djvu are very successful and they spread by hiding in fake and pirated software. Cybercriminals make money where they can.
Some scammers, though, don't even bother to infect real files. Instead, they post webpages where they display fake download and installation processes. They do this to spread mobile subscription scams.
One such site is Games-install.com. I found it when I searched (using Google) for various video game names followed by the word "Free". Games-install.com offers some popular games and some bizarrely old games. It also has games that haven't even come out yet by the time of writing, like Psychonauts 2 or "Project Athia" (whose name has been changed to Forspoken, but I guess Games-install.com doesn't keep up with the news), as well as games that are currently not available on PC, like "Ghost of Tsushima".
Even though Games-install.com is a fake pirating site, it can indeed be found with search engines. Here's the thing- fake pirating sites can be easier to find on Google than real ones. This is thought to be caused by DMCA use – and even abuse by malicious websites – to curb popular pirating sites by stopping Google from listing them in search results ('Impostors' Manipulate Google With Fake Takedown Request).
It shows scam links during fake game installations
Once you click the Download button for your game, Games-install.com shows a License Agreement page, then pretends to download and install the game by showing boxes on its page.
Eventually, Games-install.com claims that you must complete an offer to proceed with the installation. Apparently, you need to download an "Activation Key" or "Cracked key" and, in order to do this, you need to verify that you're a human by completing a survey or doing another task.
Those tasks are all the subscription scams and other content that I mentioned earlier. But even if you complete the offers, no game is downloaded from Games-install.com.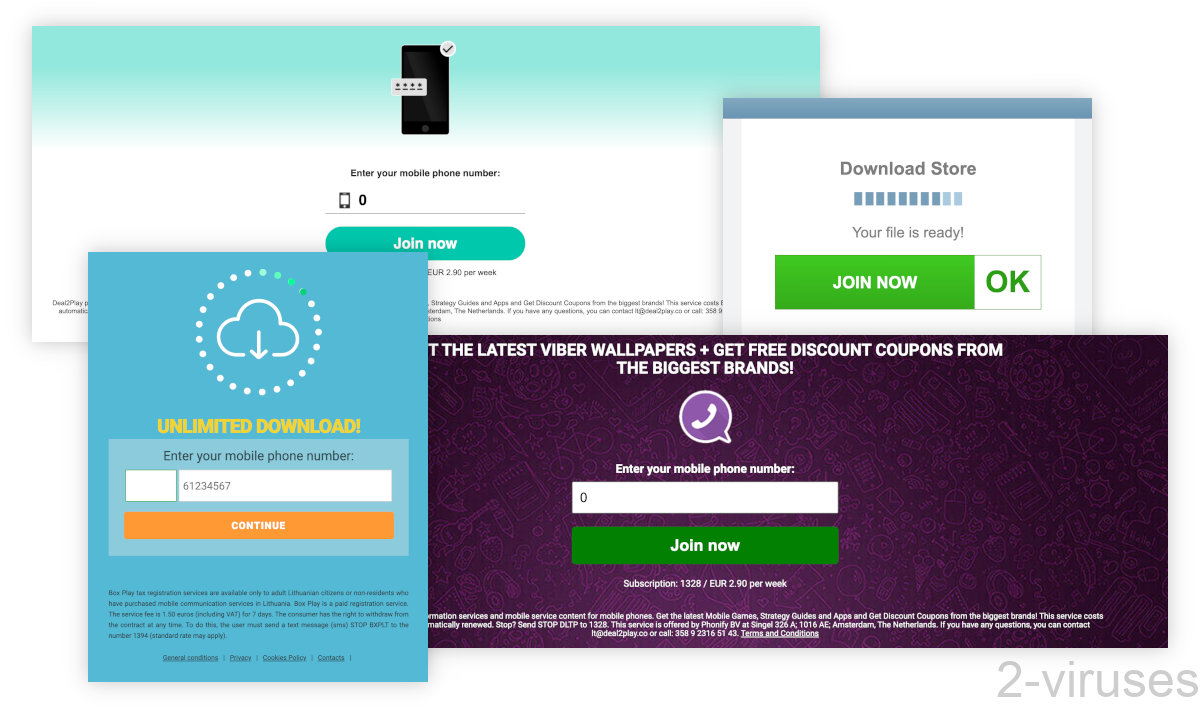 How to avoid being scammed by Games-install.com
Don't use suspicious websites
Any website offering unreleased games, movies, and other impossible products is a big red flag. If you find such a site, stay far away from it.
Also, it's best to never try to download anything from a website that is unknown. Before downloading a file, check what site you are on, open a new browser tab, and search for the name of the site. If it has no reputation or a bunch of bad reviews, stay away from it.
For instance, there's no discussion about Games-install.com at the time of writing this. Despite the site estimated by Similarweb to be getting tens of thousands of visits each month, nobody is talking about it. That's pretty suspicious.
Remove malware and cancel unwanted subscriptions
Fake pirating sites such as Games-install.com or, for instance, Crackheap.net, can cause malware to be downloaded. If you messed around with any such sites, it's recommended to scan your device with an antivirus program, like Spyhunter for Windows, Combo Cleaner for macOS, and others.
In addition, check your recently-installed programs and browser extensions. If you find items that are unfamiliar and unwanted, even if they were's detected by antivirus scanners, you might want to uninstall them.
If you're seeing pop-up ads from Games-install.com and other sites, see if you need to revoke some notification permissions.
If you revealed your phone number or other data while trying to download games from Games-install.com, check your email inbox and mobile services for unwanted subscriptions and premium services. If there are any, cancel them.
Automatic Malware removal tools