Crackheap.net is a malicious website that can lead to malware infections. It offers software cracks and serials, but leads to malicious websites and downloads trojan-infected files. Recently, Crackheap.net has been called out as one of the sites that spread the Copperstealer trojan.
Crackheap Net Malware quicklinks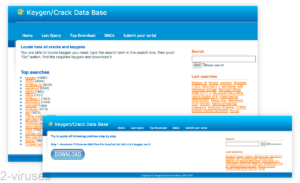 Crackheap.net in short:
Threat type
Trojan,

adware,

scam.

Problems with Crackheap.net
It's a pirating site,

it and related sites spread potentially unwanted programs and more serious malware.

How Crackheap.net spreads
Opened by other crack sites,

appears in internet search results.

How to avoid getting infected
Don't download files from Crackheap.net,

use antivirus programs (Spyhunter, others) to protect your computer.
Is Crackheap.net dangerous?
Crackheap.net spreads trojans and adware
We recently wrote about the CopperStealer trojan, a password stealer that targeted social media accounts. The researchers at Proofpoint mentioned Crackheap.net among the sites that were seen distributing this malware. I thought it would be good to look into these sites and see what we can expect from them.
In short, it's best to stay away from Crackheap.net and the related websites, such as Keygenninja.com. Antivirus vendors agree, with multiple scanners flagging Crackheap.net as Malicious. And not just because of piracy.
Here are some of the problems with the Crackheap.net site:
It links to malware and it's been seen distributing serious trojans (password, crypto wallet stealers, etc.).
It links to dubious websites, including fleeceware apps and notification hijackers.
It's a waste of your time. You won't get any working cracks or serials on Crackheap.net.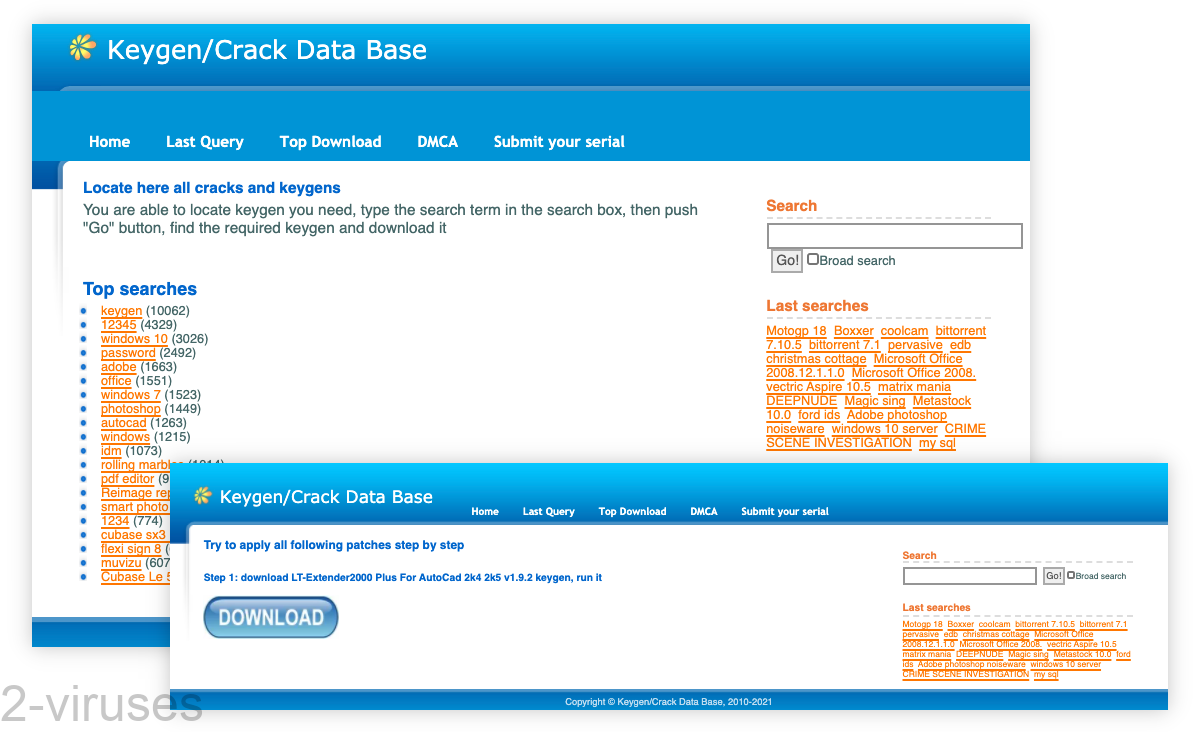 Dangers of malicious programs
The files downloaded on Crackheap.net and related sites tend to be password-protected archives that include potentially unwanted programs, trojans, adware, and other malware.
Reverse engineering enthusiasts on Tuts4you.com already noticed multiple crack sites for distributing malicious software.
Here are some examples of what currently popular malware does:
Log keystrokes, clipboard contents, saved usernames and passwords, take screenshots.
Detect cryptocurrency wallet addresses in the clipboard and replace them.
Install adware that injects ads into web browsers, redirects websites, and displays scam pop-ups.
Install scareware and other potentially unwanted programs.
This situation is made worse if you disable your antivirus protection before downloading files from Crackheap.net. It makes sense – cracks and pirated software are flagged by security programs, even when they're not dangerous. But when there's real malware, antivirus being disabled is a disaster.
Malicious sites promote one another
If you find yourself on Crackheap.net, you probably didn't intentionally go there. According to Similarweb's estimates, Crackheap.net currently gets most of its traffic from other sites: Keygenninja.com, Cracknet.net, Crackinns.com, Cracksgurus.com, etc. These sites open Crackheap.net when you try to download files from them.
Meanwhile, those other sites are mostly discovered through web search. People search for keygens and license keys for various programs and end up on fake and malicious crack sites, such as Crackheap.net.
Yep, malicious websites use SEO to spread. It seems to be a popular tactic. For instance, the fake Gootloader message boards and the Telegramdesktop download links also spread in web search results.
By the way, it appears that Crackheap.net is a new version of Cracknet.net; while Cracknet's popularity has waned, Crackheap's has sharply risen.
How to avoid malware on Crackheap.net
Crackheap.net is dangerous for so many reasons. It should be avoided, in fact, you should add it to the blacklist of your ad blocker or malicious site blocker.
Don't pirate.
Don't disable your antivirus security for cracks.
Use reputable websites to download software.
Crackheap.net's problems begin with it being a pirating site, though they don't end there. Crackheap.net can do whatever it wants, and it chooses to spread trojans and scareware.
If you do find yourself pirating, never disable your antivirus security when downloading cracks. Use antivirus tools like Spyhunter to scan your downloads, as well as to monitor activity, as some malicious programs can't be detected while they're not running. If you get an alert, check what name the antivirus uses to flag the file – is it a "Hacktool" as expected, or is it something else, like "Downloader" or "Trojan"?
If you want free software, remember that there are many legal ways to get your work done. Look for open source alternatives and take advantage of free trials. As for games, there are enough free giveaways nowadays (Epic, Uplay, etc.) that even the most avid gamers can feel sated for a long time.
Automatic Malware removal tools