Gamefabrique.com is a shady game pirating website. It promises free games, but it downloads adware bundles. This can result in unwanted programs being installed on your computer. And some of the games that Gamefabrique.com offers don't get installed at all.
Though not every download from Gamefabrique.com will result in malware being installed on your machine, the site is risky and should be avoided.
Gamefabrique Com Fake Games quicklinks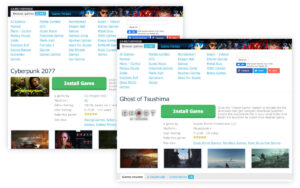 About Gamefabrique.com:
Threat type
Adware,

scam.

How Gamefabrique.com spreads
Links to it appear in internet search results.
Problems and issues
Gamefabrique.com downloads freeware bundles to install potentially unwanted software.
How to stay safe on Gamefabrique.com
If possible, do not pirate games or other software,

use antivirus programs (Spyhunter, Malwarebytes, others) to protect your computer,

block malicious websites.
How Gamefabrique.com scams people
Gamefabrique.com promises free games
I found Gamefabrique.com when I searched for "free cyberpunk 2077 download". It was on the first page of the results! This is probably how most people find it – by searching for free games to download.
In fact, Gamefabrique.com is estimated to get more than a million visits each month from countries all over the world, including the United States, India, Brazil, and Indonesia. But despite being relatively popular, Gamefabrique.com is a fake pirating site. Rather than downloading the game that it promised, it downloads a "download launcher".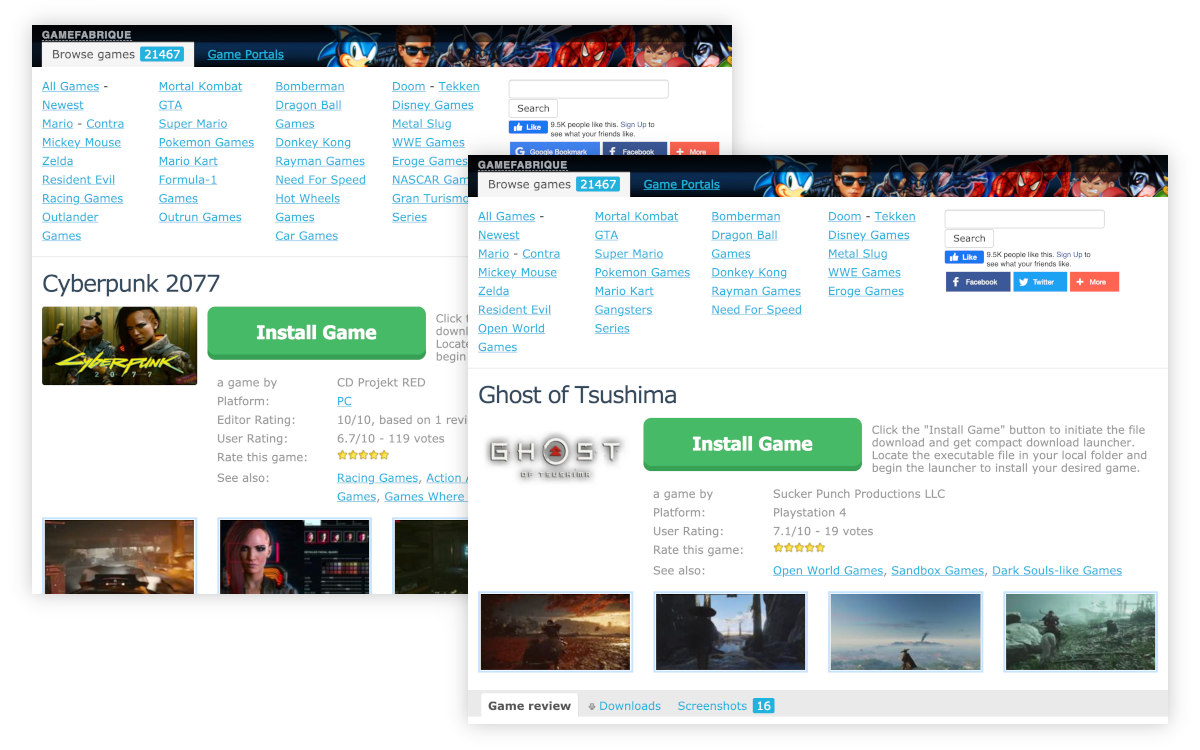 It installs potentially unwanted programs
If you download a game from Gamefabrique.com, you get an executable "download manager" (similar to other download sites, like Softfamous.com). This download manager begins by telling you that it'll download your game, then proceeds to show you optional offers – ads for unrelated and potentially unwanted programs (check out InstallCore for more on how that works).
This manager gets flagged by many reputable antivirus scanners (Virustotal.com). It's labeled as Adware, Riskware, and Malware.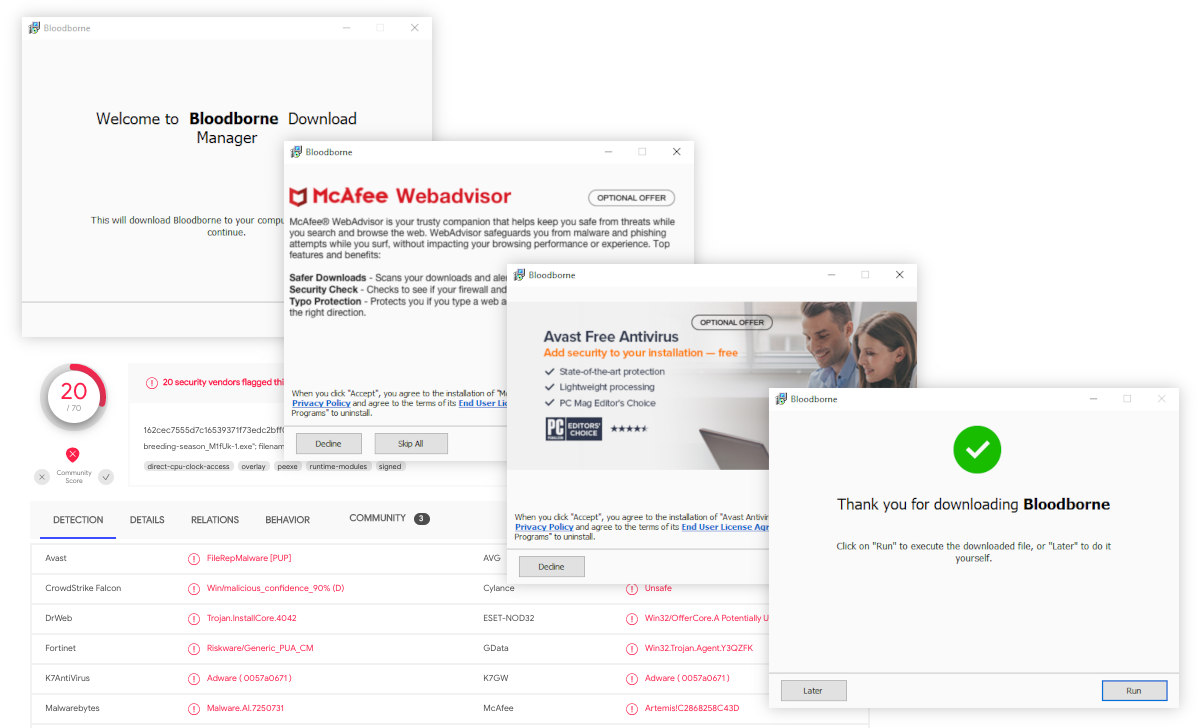 So, after showing the offers, does Gamefabrique.com install the game? Sometimes. It depends.
Gamefabrique.com is presented as a retro games site. When I downloaded Super Mario Bros, it did appear to install a Fceux emulator with the game. This matches with other people's experiences, where they said that Gamefabrique.com installed games just fine. (Ignoring the whole thing about piracy being illegal, of course.)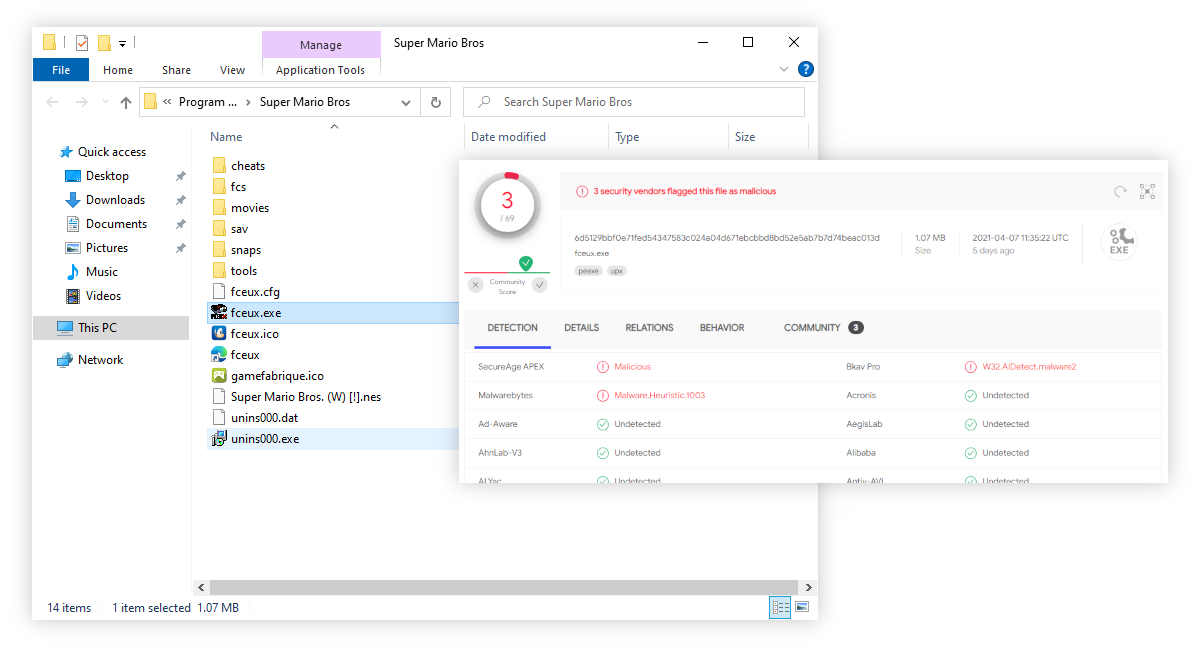 However, not all games that Gamefabrique.com offers are real. For instance, it lets you "install" games that are not currently available on PC (not even through emulation), like Bloodborne and Ghost of Tsushima. I thought it would be funny to try and install Bloodborne on my PC, alas, nothing interesting happened. Gamefabrique.com's download manager just showed me the offers and then quit.
Looking around the web, some people who used Gamefabrique.com did appear to get malware (Reddit.com). With pirating websites, you never know what you'll get.
How to avoid malware on Gamefabrique.com
Avoid pirating
Gamefabrique.com shows that pirating is still very dangerous. The safest thing you can do is not pirate any games (or any other software). Instead, use official stores and key resellers, follow free game giveaways, take advantage of sales (use sites like Isthereanydeal.com). For old games, check Gog.com, since it specializes in making old games available and playable on modern systems.
If you must download games illegally, find a community that can advise you. Stick to reputable sites. Don't use websites that you know nothing about. Always look up the website's name online to see other people's experiences with it.
For instance, one of the first results when searching for "Gamefabrique.com" is this Trustpilot page. It's full of complaints about Gamefabrique.com.
Use antivirus programs
Another thing you can do is use an anti-malware program to protect your computer. Something like Spyhunter, Malwarebytes, etc. Some good anti-malware programs, like Malwarebytes, also block malicious websites, which can help you stay safe and avoid getting scammed.
Sometimes, pirates are advised to turn it off or disable their security programs. Don't do it! You might think that the worst thing that'll happen is that you'll have to reset your computer and reinstall all your programs, but the truth is worse. Spyware trojans and file-encrypting ransomware spread inside infected pirated programs, cracking tools, and similar content. These malicious programs can corrupt your files, steal your accounts, and cause other permanent problems.
Luckily, Gamefabrique.com is not quite that bad. It still ought to be avoided, though.
If you ended up installing something you didn't want after you ran the Gamefabrique.com download manager, you can remove those programs manually in Settings -> Apps and features. Or you can uninstall them from the Control Panel as shown below.
Automatic Malware removal tools
How to remove Gamefabrique.com Fake Games using Windows Control Panel
Many hijackers and adware like
Gamefabrique.com Fake Games
install some of their components as regular Windows programs as well as additional software. This part of malware can be uninstalled from the Control Panel. To access it, do the following.
Start→Control Panel (older Windows) or press Windows Key→Search and enter Control Panel and then press Enter (Windows 8, Windows 10).
Choose Uninstall Program (if you don't see it, click in the upper right next to "View by" and select Category).
Go through the list of programs and select entries related to Gamefabrique.com Fake Games . You can click on "Name" or "Installed On" to reorder your programs and make Gamefabrique.com Fake Games easier to find.
Click the Uninstall button. If you're asked if you really want to remove the program, click Yes.
In many cases anti-malware programs are better at detecting related parasites, thus I recommend installing Spyhunter to identify other programs that might be a part of this infection.