SoftFamous, or Softfamous.com, is a software repository. It hosts programs, drivers, and mods for various operating systems and makes them available for download. Though many of the files on it are safe and not modified, some of the installers are bundled with optional offers, which causes antivirus programs to flag them as malicious. It might be safer to stay away from it and use developer sites to download your programs.
Softfamous Com quicklinks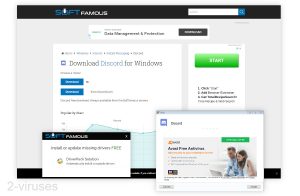 In short about SoftFamous:
Type of threat
Potentially unwanted programs.
Problems with SoftFamous
Some of the files are outdated,

some file descriptions are not accurate,

some of the installers are bundled with optional offers.

How to stay safe
Download software from official sites or use links found on developer sites,

scan the files that you download,

be careful during installation and refuse optional offers.

How to remove SoftFamous
Uninstall unwanted programs,

check for malware (with Spyhunter for PC, Combo Cleaner for Mac, Malwarebytes, or another program),

use an ad blocker.
How SoftFamous works
Bundling optional offers
Softfamous.com (as well as Softfamous.net) is a software download site. It has free programs (and trial versions) and software drivers. To many, it looks suspicious at first sight. People call it sketchy and complain about downloading malware from it.
That's not surprising. Software repository sites make money by bundling installers with optional offers. SoftFamous is the same. Every other download tries to get you to install some promoted software.
SoftFamous has its own download manager. You think you're downloading a program's installer, but you're actually downloading a download manager for the real installer. This download manager is the thing that makes you an offer to install some recommended program. The button layout is confusing and can easily lead to you agreeing to install the offer without meaning to.
SoftFamous does this to make money. It gets paid for successful installations of the offers.
Problems with malware
Not all the files on SoftFamous are download managers. Some are just plain installers for the programs, just as advertised. But there often isn't a way to tell if the program being offered is a bundler before downloading it, which makes using SoftFamous a bit risky.
The same goes for the offers that SoftFamous bundles. Some of them are not dangerous, such as antivirus programs – unwanted, as most people already have an antivirus program already, but not harmful. Others are a bit dubious, such as DriverPack Solution or Web Companion.
Because of the bundling, many of the files that are downloaded from SoftFamous get detected by antivirus programs as Malware, Adware, Bundler, DealPly, Riskware, Unsafe, even as Trojans (Virustotal.com).
It's kind of funny – I accidentally installed Avast from one of the offers by SoftFamous' download manager. Then, when I tried downloading more files from SoftFamous to test them, Avast kept removing them. Reminds me of this famous article by How-To Geek. Not much has changed since then.
Oh, and the ads. Some of the ads on SoftFamous look like buttons that could be mistaken for download buttons (like those that say "Start" or "Download"). They lead to junkware and browser hijacker sites. Be careful.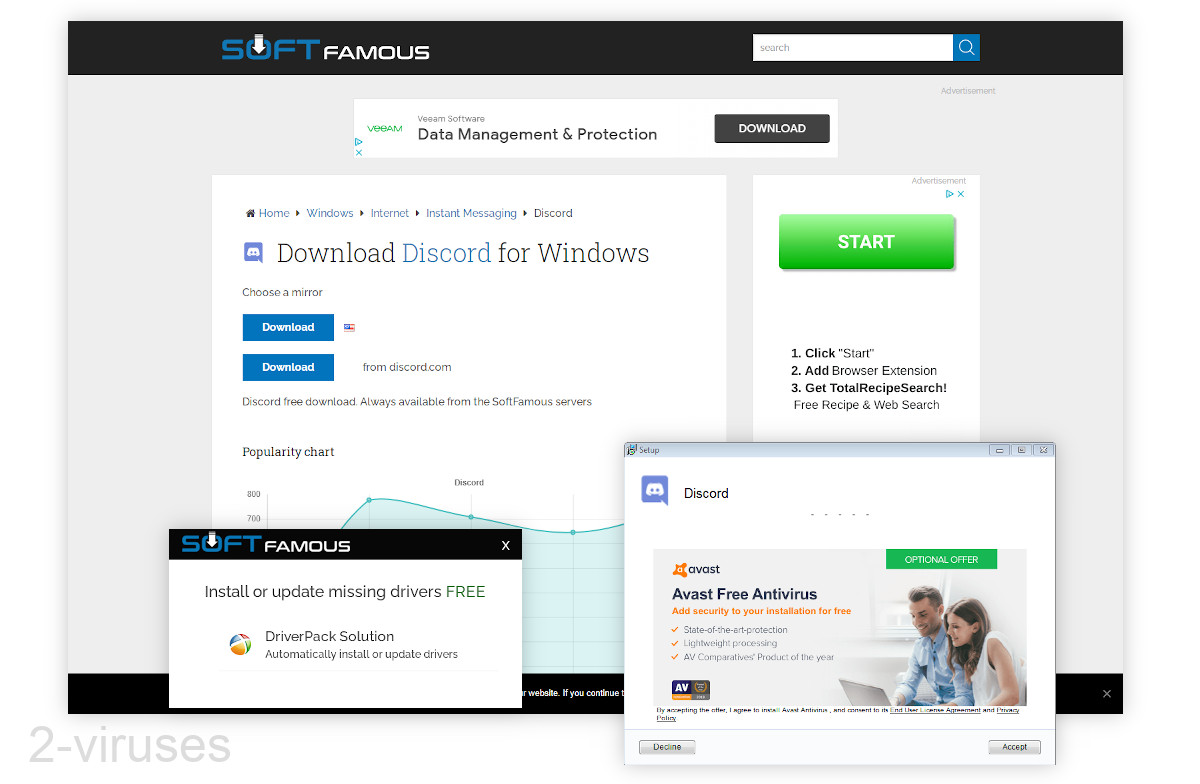 Outdated files and misleading descriptions
SoftFamous also has issues with misleading entries and outdated files.
For example, when I tried downloading GTA 5, I knew it couldn't be the real, legally acquired game. What I actually got was a Steam (a game store) installer. This sort of listing is confusing. SoftFamous shouldn't be promoting an item that it doesn't actually have.
In addition, many of the games on SoftFamous are promoted as offering a free trial even when they don't. Obviously, the editors of the site don't care much about accuracy.
Another problem is the outdated programs. For example, the Nvidia GeForce driver is months old. The same goes for the Windows Media Feature Pack. Different versions are required for different updates. But SoftFamous doesn't bother to offer a choice of multiple versions, which makes it useless for many users.
Overall, even though SoftFamous is not malicious, a lot is wrong with it:
outdated files,
wrong files (not the program that was promised),
downloaders that bundle other programs,
ads that look like download buttons.
The real problem with SoftFamous is that it's too opaque. Some developers and sites are very honest about how they make money and why they do the things they do, but SoftFamous doesn't post an explanation – not in its About page and not in its blog.
How to remove SoftFamous
There are alternatives to SoftFamous. Such as using the websites of software developers to download your programs. When downloading drivers and software installers, use the original developer sites. This way, you can get the latest programs and choose the versions that work on your setup.
If you did download files from SoftFamous, you should examine what programs have been installed on your computer recently and what browser extensions have been added. You can also scan your computer with an antivirus app, like Spyhunter for Windows, Combo Cleaner for macOS, Malwarebytes for either OS, or other programs that you are comfortable using. If you suspect that you might have installed a bad file, an antivirus scan will tell you if there's anything to worry about.
To avoid bad advertisements, you can use an ad blocker.
Automatic Malware removal tools
How to remove Softfamous.com using Windows Control Panel
Many hijackers and adware like Softfamous.com install some of their components as regular Windows programs as well as additional software. This part of malware can be uninstalled from the Control Panel. To access it, do the following.
Start→Control Panel (older Windows) or press Windows Key→Search and enter Control Panel and then press Enter (Windows 8, Windows 10).
Choose Uninstall Program (if you don't see it, click in the upper right next to "View by" and select Category).
Go through the list of programs and select entries related to Softfamous.com . You can click on "Name" or "Installed On" to reorder your programs and make Softfamous.com easier to find.
Click the Uninstall button. If you're asked if you really want to remove the program, click Yes.
In many cases anti-malware programs are better at detecting related parasites, thus I recommend installing Spyhunter to identify other programs that might be a part of this infection.