Fbkuraless1.live is a malicious site that pops up unexpectedly and shows a message that you've won a phone. It uses the names of Google, Facebook, and other companies to appear more legitimate, even though it's not associated with these companies.
Rather, Fbkuraless1.live is associated with various scam subscription sites. Fbkuraless1.live is meant to trick people into registering on a site that charges its members monthly payments.
Fbkuraless1.live has versions with different numbers in its address, such as Fbkuraless8.live. Also, it is very similar to Youwiningame.live, Promos4you.net, Goodsphone.com, and many other sites.
Fbkuraless1 Live Phone Giveaway Scam quicklinks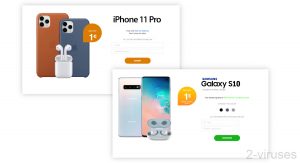 Fbkuraless1.live in short:
Classification
Scam.
How Fbkuraless1.live works
Advertised online, it appears on your screen unexpectedly,

it says that you have won a phone and redirects to a registration page, implying that you must register to receive your prize.

Dangers of the scam
If you reveal your personal information, it may end up in the hands of malicious actors,

your payment information is used to charge you a monthly subscription fee.

How to deal with Fbkuraless1.live scams
Ignore Fbkuraless1.live and related webpages,

block malicious websites with anti-malware apps and ad blockers,

find and delete malware manually and with apps like Combo Cleaner for Mac, Spyhunter for PC,  and others.
How Fbkuraless1.live scams people
Fbkuraless1.live is one of many scam sites that pretend to give away $1 phones to get you to reveal your payment and personal information. As a result of being tricked by Fbkuraless1.live, you may lose around $50 a month from your bank account.
Here's roughly how Fbkuraless1.live's scam works:
you find yourself on Fbkuraless1.live (through ads, redirects, etc.) and it's showing a survey, a prize draw, or just saying that you won something,
Fbkuraless1.live asks you to click a button to get your prize,
you're redirected to another site that repeats that you won a phone and then asks for your email and a password,
you're redirected to another site that asks for your payment information.
Basically, what happens is that Fbkuraless1.live tells you that you have won a prize (a new phone) and that you just need to fill out some info to get it. Then, Fbkuraless1.live opens a registration page for a subscription service. It may say "Account Verification" where it asks for your name, address, and credit card number.
You're supposed to think that you're filling out a form needed to get the phone that you just "won". The scammers really tried to make it look so. But technically, you're signing up for some random subscription service (Readflowz.com, Fungamesme.com, Easydietz.com, others). One that costs around $50 per month – more than any media subscription that I know of.
This is sort of like an unexpected prize scam that leads to a subscription scam.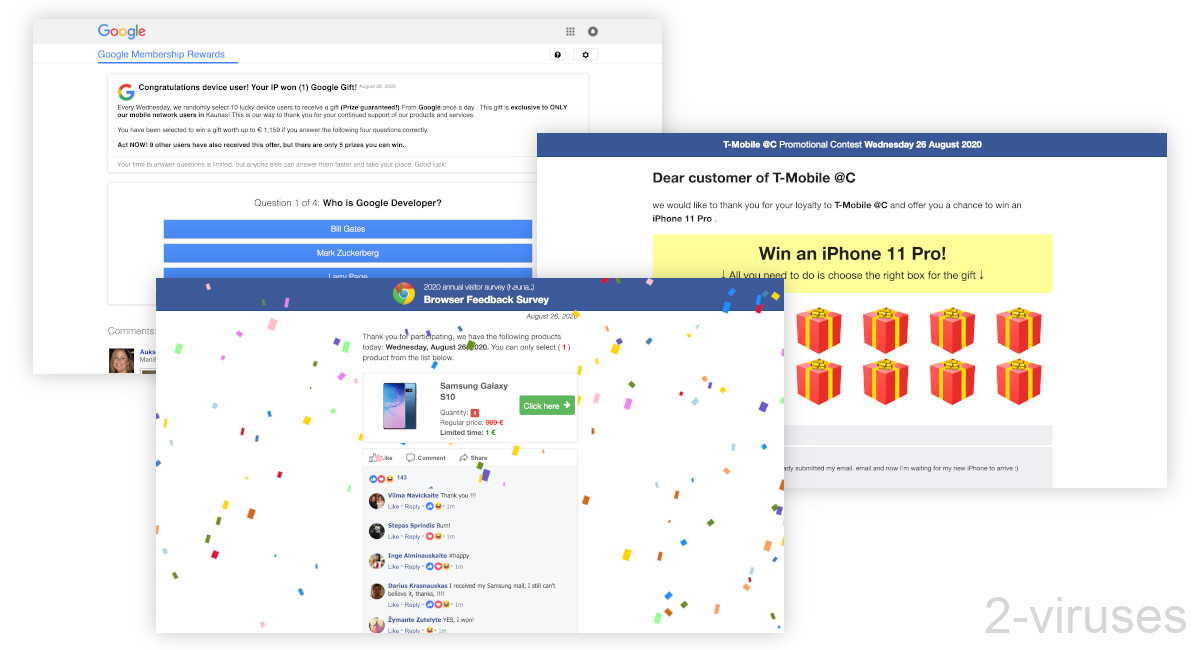 How malicious sites spread
Sometimes, Fbkuraless1.live shows up on your screen even though you did not do anything. You didn't click anything suspicious, you didn't even visit a dangerous website. It happens. Most likely, a benign site that you visited had a bad ad or was infected with malicious code that causes it to randomly load bad sites.
Websites can get infected, just like our computers. If you notice one site regularly open bad webpages for you, you can email its administrators (you can usually find the contacts at the bottom of the webpage) and tell them what's happening.
You may also get an ad for Fbkuraless1.live in your email, in your social media messages, even find it in video descriptions.
Once you're on Fbkuraless1.live, it tries hard to make itself look authoritative. Fbkuraless1.live steals its look from other sites – Google (Google Membership Reward), Facebook (Annual Visitor Survey). I even saw a version of Fbkuraless1.live that pretended to be by T-Mobile.
Fbkuraless1.live will say whatever it needs to say to trick visitors. Nothing is stopping it from lying. So, be very careful when you come across a site like this.
The thing is, just visiting Fbkuraless1.live does not hurt you. Typing in real personal information is what hurts you. If you close the site without interacting with it too much, you'll be okay. If you type in real information, that's when the scam gets dangerous.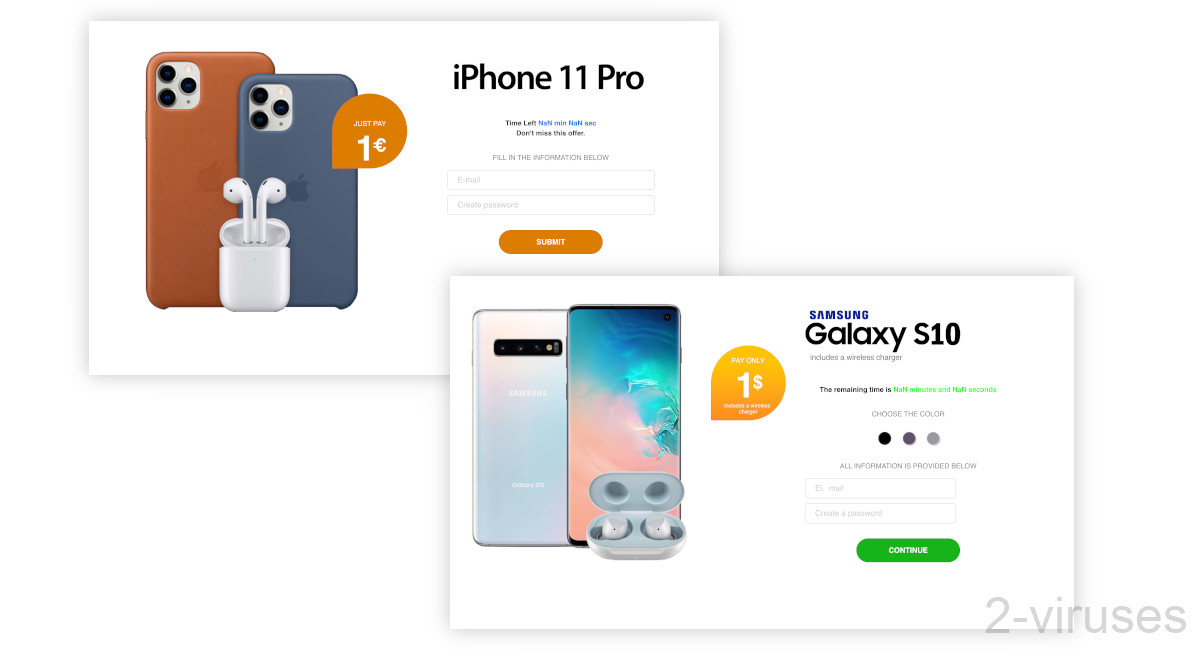 How to stop Fbkuraless1.live scams
If you only found yourself on Fbkuraless1.live once or twice, that's nothing to be concerned about. Malicious ads and redirects are a reality on the internet, especially if you visit sites that show aggressive ads. You could use an ad blocker or an anti-malware app that has a web filter – that would help you avoid some online junk.
If you are often redirected to Fbkuraless1.live, or if constantly see ads on your screen that lead you to Fbkuraless1.live, then your browser or your computer is infected with adware. Your notifications could be hijacked by a bad website (how to block notifications), you might have installed a bad browser extension or app, or you might have downloaded an adware trojan. It's advisable to scan your computer or phone with an anti-malware app (Combo Cleaner for macOS, Spyhunter for Windows, or any app that you like) and/or carefully check what apps, programs, and browser add-ons you have installed recently.
If you typed in your personal information when Fbkuraless1.live asked you to, and especially if money has been charged, contact your bank and ask for advice. Some people have had success canceling these unwanted subscriptions, but there's never a guarantee that scammers won't abuse your personal information.
Automatic Malware removal tools