Error # FXX000 notification is a scam campaign targeted against Max users. It falls into the category of tech support scams and only seeks to lure your money by providing false positive technical support that you don't actually need.

Error Fxx000 Mac Scam quicklinks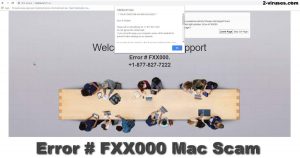 Basically, this notification is not dangerous if you treat it right – certain websites display it as an advertisement (that can be difficult to get close in some cases), but if you simply exit it without following any instructions displayed there, no harm should be caused. However, in some cases, the encounter with this ad can lead to infiltration of various
malware
, or your computer might be already infected and it is the reason why you are seeing Error # FXX000 scam notification. Obviously, the worst thing that can happen due to this infection – your can lose money by following their instructions.
If you have faced this scam notification and you think that there is something wrong with your computer now – continue reading the article and we will provide you with the instructions on how to solve this problem and protect your system. You can also ask us question in the comments section below.
Why Error # FXX000 Is A Scam
At the moment this scam message is hosted at a domain crezila.com/mac/, but it can be changed any time. Also, it changes regarding the web browser and operating system you are currently using. A lot of users struggle with this kind of notifications because this 'pop-up' notification just keeps coming back and you can't close that window (see below).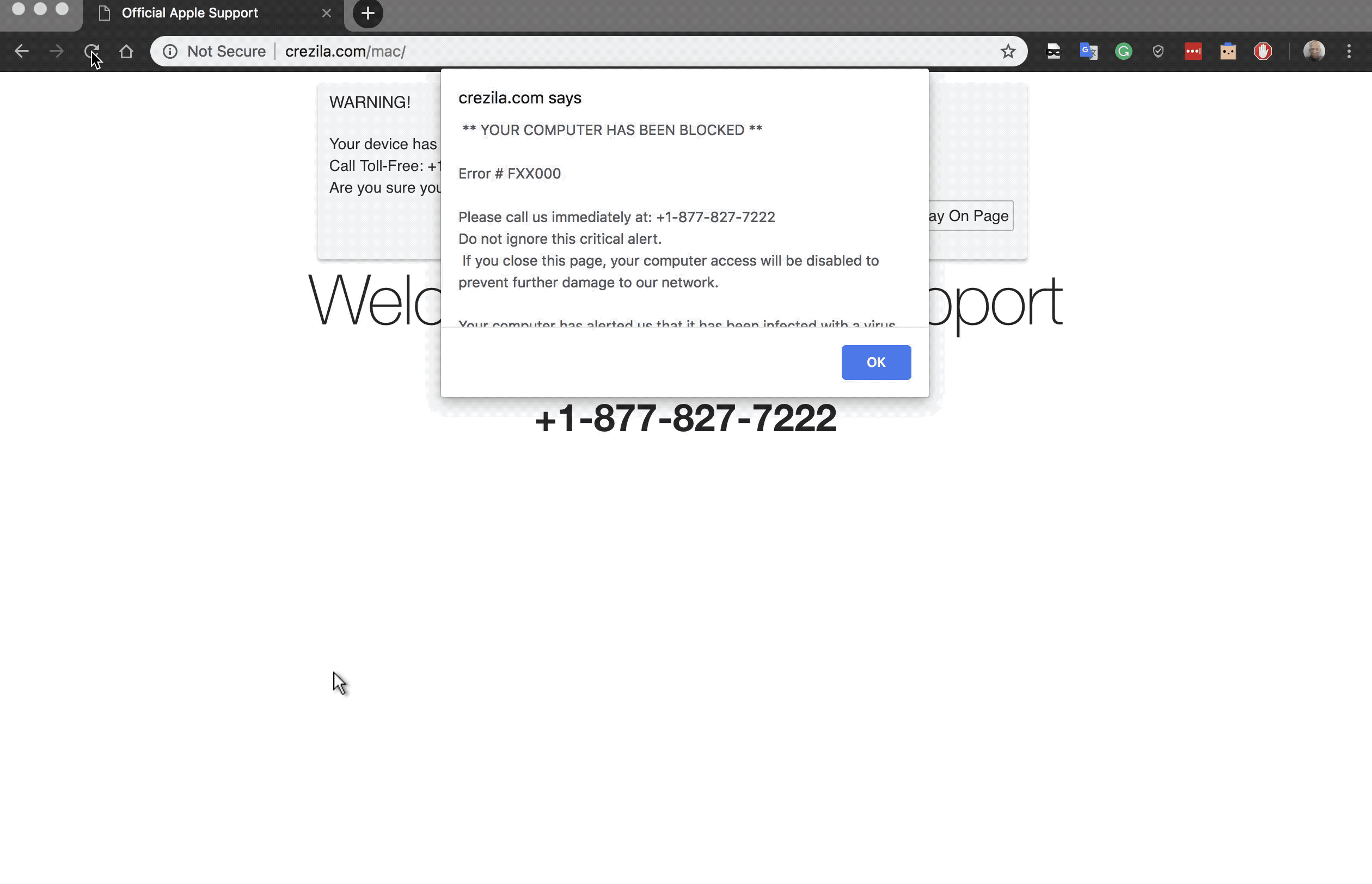 If you click "Leave Page" button, it will simply re-open the pop-up. If you click "Stay On Page", another window will be opened, with the same message. In addition to that, the message will be translated loudly through your speakers. The original text of the scam message:
** YOUR COMPUTER HAS BEEN BLOCKED **

Error # FXX000

Please call us immediately at: +1-877-827-7222
Do not ignore this critical alert.
If you close this page, your computer access will be disabled to prevent further damage to our network.

Your computer has alerted us that it has been infected with a virus and spyware. The following information is being stolen…

> Facebook Login
> Credit Card Details
> Email Account Login
> Photos stored on this computer
You must contact us immediately so that our engineers can walk you through the removal process over the phone. Please call us within the next 5 minutes to prevent your computer from being disabled.

Toll Free: +1-877-827-7222
Even though this scam campaign is primarily targeted to Apple users, it can also effectively display a little bit modified version of this message to the users of other operating systems and web browsers. It looks like this:
WARNING!

Your device has been blocked due to suspicious activity! Please call Support Now!.
Call Toll-Free: +1-877-827-7222 To find right solution. Error # FXX000
Are you sure you want to leave this page?
Leave Page | Stay On Page

Welcome to Apple Support
Error # FXX000.
+1-877-827-7222
As you can see, cyber criminals behind Error # FXX000 use clever social engineering techniques to trick the users. They claim that personal information such as Facebook login, credit card details, email account login, photos, and other files can be stolen due to the virus that is currently operating on the system. However, none of that is true because there is no virus in the first place.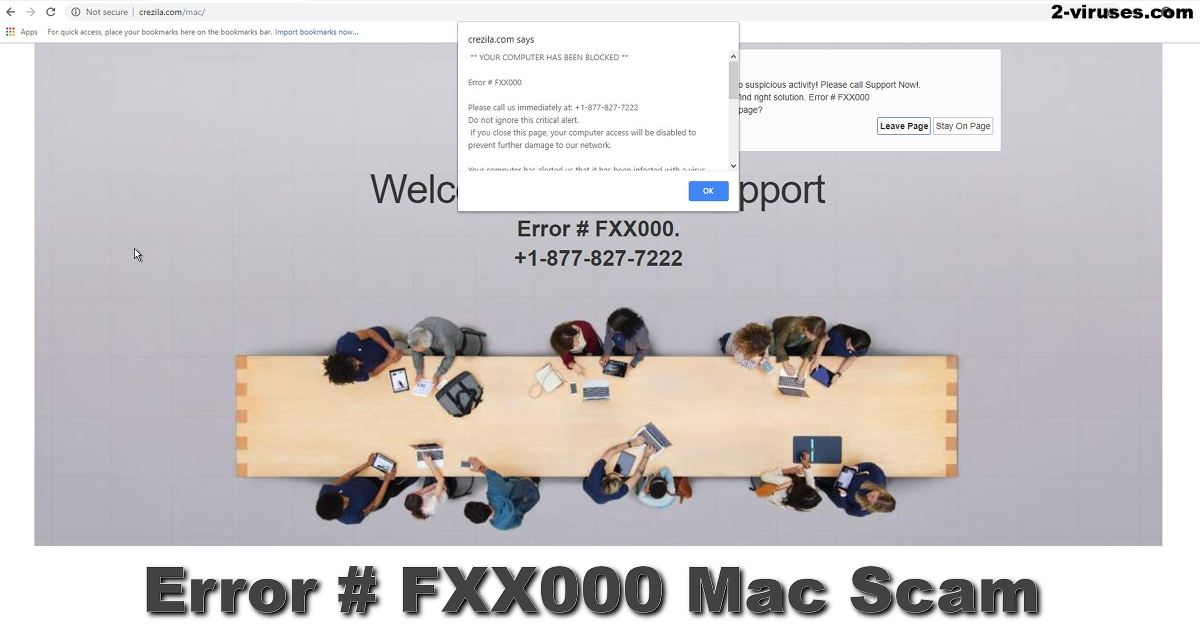 They want you to call 'toll-free' +1-877-827-7222 number for technical support. It is supposed to be a phone number of official Apple technical support, but once again – that is not true. If you do call this number, they will try to sell you some kind of rogue anti-malware application or provide live technical support for money.
There are many technical support scams that are really similar to Error # FXX000 – "Call Apple Support", Your Windows Is Infected With 5 Viruses!, ERROR # MS-SYSINFO32 and so on. They all try to look like legitimate notifications from official authorities, but you shouldn't fall for the trick.
 How To Solve Error # FXX000 Problem
If you are using Mac OS and you have bumped into this scam campaign more than once, we highly recommend scanning your computer with Combo Cleaner or Adwaremedic for Mac. In-depth scan with either of those programs will detect any potentially unwanted programs that might be operating on your computer and automatically remove them. Also, we have mentioned that this scam poping-up on your web browser might be resulted by a malware that is already on your computer, so a scan with anti-malware software should solve this problem as well.
If you are using Windows OS, the procedure is the same, except you should use Spyhunter. Also, you can look for a threat and remove it manually by following the instructions that are provided below the article.

Automatic Malware removal tools
How to remove Error # FXX000 Mac Scam using Windows Control Panel
Many hijackers and adware like
Error # FXX000 Mac Scam
install some of their components as regular Windows programs as well as additional software. This part of malware can be uninstalled from the Control Panel. To access it, do the following.
Start→Control Panel (older Windows) or press Windows Key→Search and enter Control Panel and then press Enter (Windows 8, Windows 10).
Choose Uninstall Program (if you don't see it, click in the upper right next to "View by" and select Category).
Go through the list of programs and select entries related to Error # FXX000 Mac Scam . You can click on "Name" or "Installed On" to reorder your programs and make Error # FXX000 Mac Scam easier to find.
Click the Uninstall button. If you're asked if you really want to remove the program, click Yes.
In many cases anti-malware programs are better at detecting related parasites, thus I recommend installing Spyhunter to identify other programs that might be a part of this infection.