"Call Apple Support" notification or pop-up advertisement might appear on your screen while you are browsing the internet. However, you should not follow instructions that are displayed there – it's an obvious scam to lure some money from naive users. Official Apple support would never ask you to contact them immediately and they have publicly stated that messages like this one are commonly used by various scammers.

%e2%80%9ccall Apple Support%e2%80%9d Scam quicklinks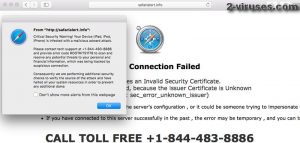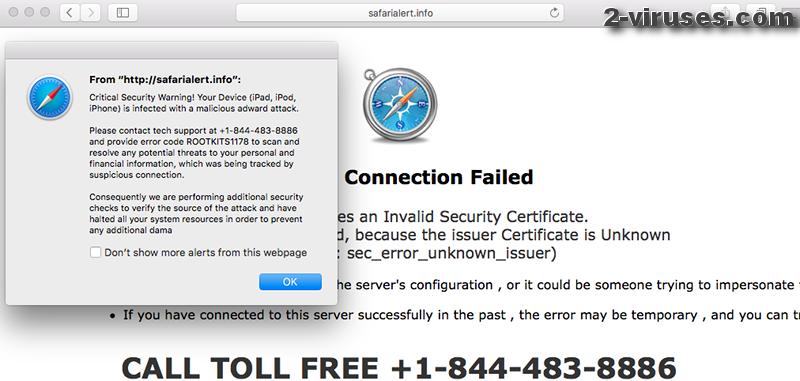 Now, there might be different reasons why you are seeing this scam message. It might be that you just bumped into a shady website that employs those messages to monetize web traffic. Or, it might be that your computer is infected by some kind of malware, such as
adware
, therefore you are getting notifications like this one. Probably the easiest way to tell which case is yours is to monitor the frequency of this pop-up. If you have seen it only once, it's probably just a coincidence and you should not worry about it. The same goes if you just notice this pop-up while visiting a certain website.
However, if you are seeing "Call Apple Support" notification constantly while browsing the internet, you should be concerned about your security. In this article, we will try to investigate the origins of this scam campaign and also provide you with valuable tips on how to get rid of it, so if it is relevant to you just keep reading to the end.
Why You Experience "Call Apple Support" Notifications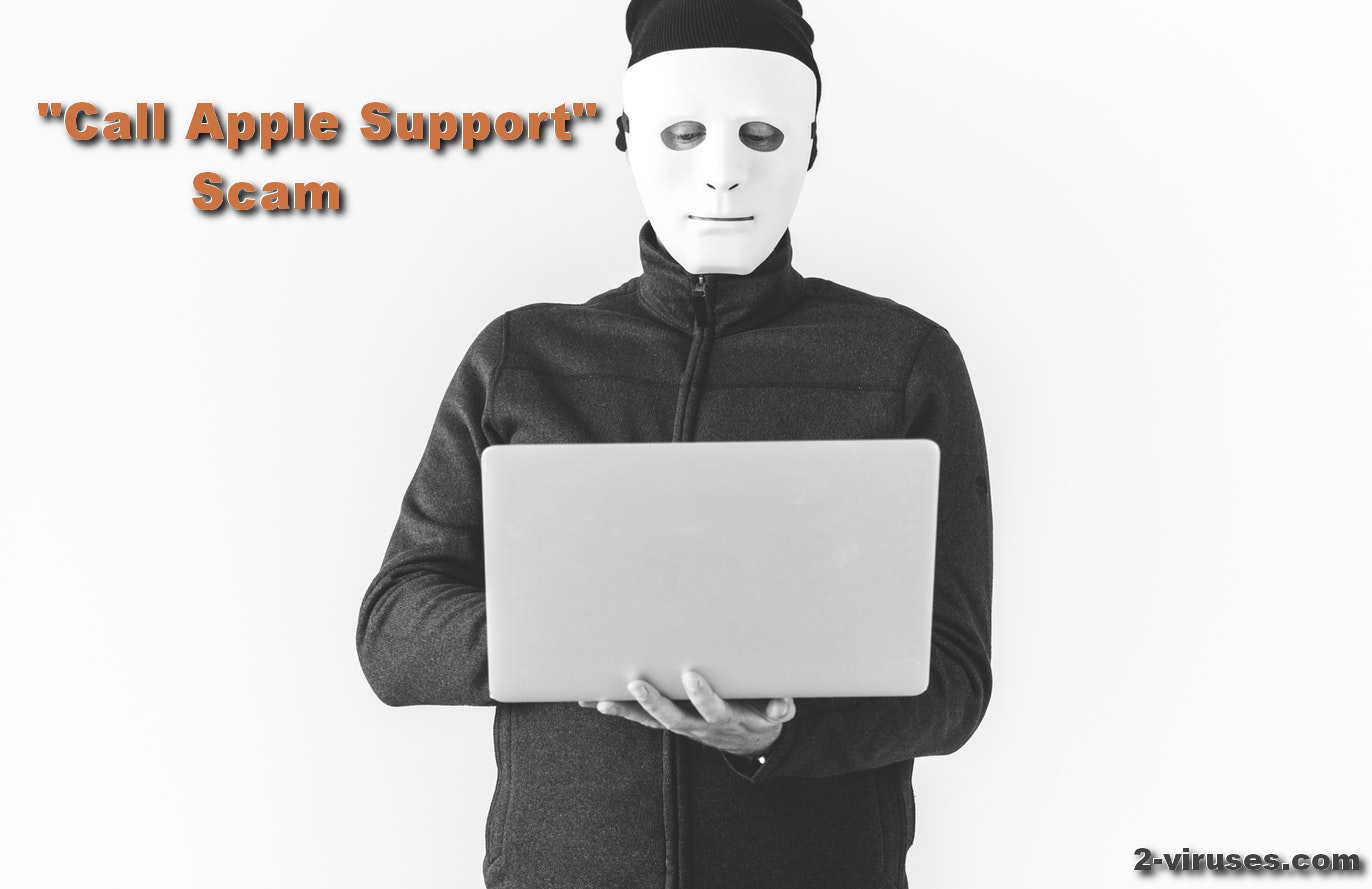 Usually, those excessive advertisements with "Call Apple Support" messages are only displayed to Mac OS and iOS users. The message displayed by scanners usually informs about some kind of security issue that needs to be resolved immediately and they offer to do that for you – you only need to dial one of those 1-8000 numbers. Unfortunately, instead of help, cybercriminals will "award" you by ripping off money. Actually, that's the only logical outcome since the problem they are reporting doesn't even exist.
There are a lot of technical support scams – ERROR # MS-SYSINFO32, Your System Is Infected With 3 Viruses!, COMPUTER BLOCKED, and so on. They all operate using the same exact scheme – tricking users into thinking that there are some kinds of problems with the computer and then forcing them to pay in order to fix the problem.
We have already mentioned that you might experience this notification just because of the coincidence. In this case, you should simply close the notification and not follow the instructions provided there. However, if the problems persist and you keep getting this notification over and over again, there is a great chance that your computer is infected with some kind of malware that is the reason of this scam being able to reach you.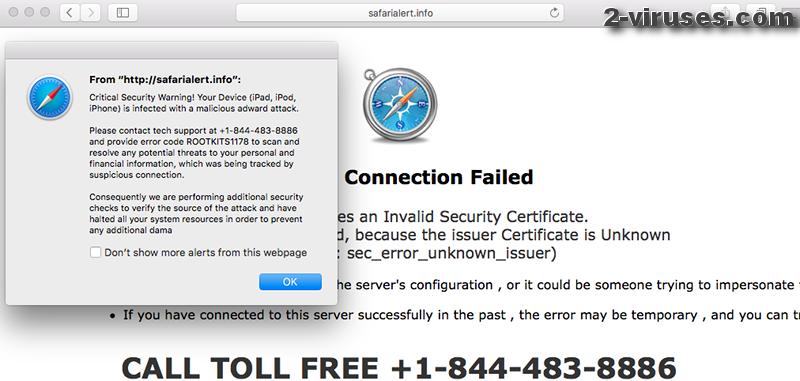 Those messages can come in all kinds of forms. It can be opened as a pop-up, you can get redirected to other websites (they use a lot of different domain names to display this notification), new tab or window can be opened on your web browser. Also, since some kind of malware is operating on your computer, there might be other symptoms – excessive advertisements, changed settings or slower work of the system. The computer might work slower because malware can automatically start processes that will require additional computing power. It might also generate various junk files.
How To Solve "Call Apple Support" Problem
There are a lot of users online, asking whether they should believe this message or not. It's obvious that you should ignore "Call Apple Support" notifications, but that's not enough if you want to have a clean and protected computer.
Since you have no idea what kind of malware is operating on your computer, it's very difficult to complete manual removal. Instead of that, you should use anti-malware software to detect and eliminate the threat. We recommend using Spyhunter for PC or Combo Cleaner for Mac for this task. They should immediately detect and remove all malicious files that are operating on your computer. Eventually, symptoms of "Call Apple Support" scam should go away.
However, in case you don't want to use anti-malware software for virus removal, you can use it just for the detection and then remove it manually. To remove malware manually, you will have to follow the instructions provided below. It's a step-by-step guide on how to get rid of this intrusive computer virus.

Automatic Malware removal tools
How to remove "Call Apple Support" Scam using Windows Control Panel
Many hijackers and adware like
"Call Apple Support" Scam
install some of their components as regular Windows programs as well as additional software. This part of malware can be uninstalled from the Control Panel. To access it, do the following.
Start→Control Panel (older Windows) or press Windows Key→Search and enter Control Panel and then press Enter (Windows 8, Windows 10).
Choose Uninstall Program (if you don't see it, click in the upper right next to "View by" and select Category).
Go through the list of programs and select entries related to "Call Apple Support" Scam . You can click on "Name" or "Installed On" to reorder your programs and make "Call Apple Support" Scam easier to find.
Click the Uninstall button. If you're asked if you really want to remove the program, click Yes.
In many cases anti-malware programs are better at detecting related parasites, thus I recommend installing Spyhunter to identify other programs that might be a part of this infection.