WIN.DLL0151930 is an error code used by tech support scams. It appears online and it claims that your computer is BLOCKED and that you must call a phone number to fix it. Although these WIN.DLL0151930 warnings insist that they represent Microsoft Support, they don't – they're created by scammers to trick people into thinking that their computer is in trouble.
If you see a WIN.DLL0151930 alert, just close the page.
Error Code Win Dll0151930 Fake Alerts quicklinks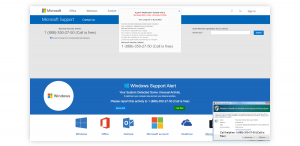 WIN.DLL0151930 alert in short:
Threat type
Scam.
How WIN.DLL0151930 tries to trick people
It claims that your computer is being hacked and that Microsoft is blocking it,

it insists that your copy of Windows is not genuine.

Dangers and problems
Scammers pretend to be Microsoft representatives,

they try to get remote access to your PC and then to sell you support services,

they try to get your personal and payment details.

How to remove WIN.DLL0151930 alerts
Close the alert,

find and remove all malicious items from your computer (with Spyhunter, Malwarebytes, other antivirus tools), especially any items that the scammers may have instructed you to install,

avoid websites that display malicious pop-ups.
About the fake WIN.DLL0151930 error
A scary warning
When a WIN.DLL0151930 warning shows up, it can be a little overwhelming. It plays jarring audio of alert sounds and attempts to expand to full screen so as to lock your screen.
ALERT! MICROSOFT FOUND VIRUS

Windows Error Code : WIN.DLL0151930

This computer is BLOCKED
The WIN.DLL0151930 warning discourages you from closing the window or turning off your computer. It claims that your Windows registration key is illegal, that your computer is being hacked, and that you must call the provided phone number to reactivate your computer.

Overall, the warning is concerning and it might cause you a lot of stress.
Dangers of the scam
If you were to call the provided phone number, the person on the other side would tell you to install remote access software (Fastsupport, Helpme.net), connect to your computer, take control of it, and install some crapware, all while pretending to be genuine Microsoft support.
In the end, the scammers want to convince you that they've rescued your computer from certain doom. They want to charge you hundreds of dollars. If you don't pay, they might lock your computer, such as by setting a new password and not telling you about it.
What causes the WIN.DLL0151930 warning
Unexpected redirects, pop-up ads, bad browser extensions, and adware viruses may cause the WIN.DLL0151930 page to appear on your screen:
Some websites regularly show dangerous ads. If the same website always opens the WIN.DLL0151930 warning, then be careful of the other ads that the site shows, too.
Websites are vulnerable to malware attacks, too. Some get infected with malicious code that forces them to open websites such as the WIN.DLL0151930 alert.
Malicious browser extensions and desktop programs may cause redirects to WIN.DLL0151930 warnings and other bad websites.
If the WIN.DLL0151930 pop-up appears only when you visit certain websites, then it's probably caused by an advertisement on the sites that you visit.
If the alert shows up unpredictably and pop-up ads open on their own, then an adware infection may be behind this.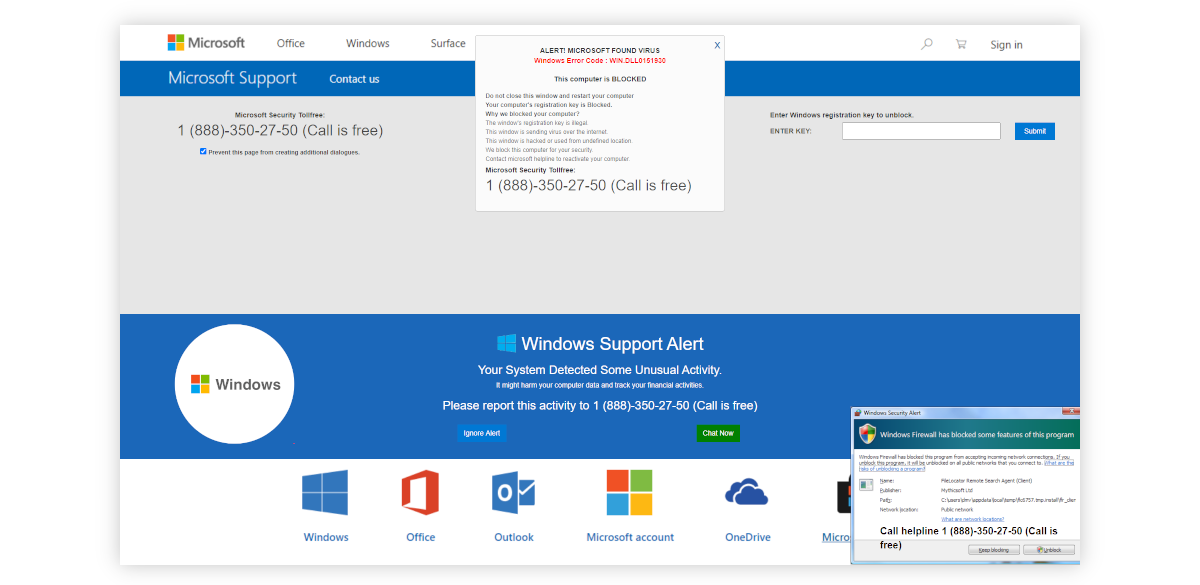 How to avoid tech support scams
Don't be scared by fake warnings
The WIN.DLL0151930 alert is very eager to scare you and to stress you out. However, the real Microsoft is not like that.
For example, the WIN.DLL0151930 page claims that your "window's registration key" isn't right and that's apparently enough for your computer to be BLOCKED.
However, the real Windows isn't like that. In recent years especially, pirated versions of Windows work just fine and Microsoft doesn't come after individual users for stealing their software (Techradar.com). So, even if your Windows version was stolen, you might never hear from Microsoft about it.
Recognize scam pop-ups
Familiarize yourself with scams. For instance, you can find a whole database on Popupdb.org that you can look at. Once you know how the fake pop-ups look, you'll never fall for tech support scams.
Also, remember that Microsoft does not show any phone numbers on its security alerts. It's just not done. If you want to contact Microsoft support, you have to do it yourself.
Check out Microsoft's article on tech support scams, too – Support.microsoft.com.
How to deal with the WIN.DLL0151930 scam
Don't fall for the scam
Close the WIN.DLL0151930 page. Don't interact with it and don't follow its instructions. If you're not sure how to close it because it's locked your screen, this post has some advice.
If the WIN.DLL0151930 page downloaded a file, go ahead and delete it. Most likely, it's just the webpage itself in that file – if you open it, it'll show the WIN.DLL0151930 warning again. But it could also be a malicious program.
Scan your computer with an antivirus program, like Spyhunter, Malwarebytes, and others. If adware viruses or other suspicious items are detected, remove them.
Block malicious pop-ups
Block malicious websites and ads with an anti-malware tool or with an ad blocker. Malicious advertisements are a big source of malware infections so, blocking those sites from appearing on your screen would help your security tremendously. Staying away from infected websites and from sites that willingly show malicious ads (pirating sites and free streaming sites are big offenders here) would also help.
Also, make sure to allow Windows and your antivirus tools to download and install the latest updates. This way, your PC will be more resistant to various malware threats.
Automatic Malware removal tools
Manual removal instructions
How to remove Error Code WIN.DLL0151930 - Fake Alerts using Windows Control Panel
Many hijackers and adware like
WIN.DLL0151930 Fake Alerts
install some of their components as regular Windows programs as well as additional software. This part of malware can be uninstalled from the Control Panel. To access it, do the following.
Start→Control Panel (older Windows) or press Windows Key→Search and enter Control Panel and then press Enter (Windows 8, Windows 10).
Choose Uninstall Program (if you don't see it, click in the upper right next to "View by" and select Category).
Go through the list of programs and select entries related to Error Code WIN.DLL0151930 - Fake Alerts . You can click on "Name" or "Installed On" to reorder your programs and make WIN.DLL0151930 Fake Alerts easier to find.
Click the Uninstall button. If you're asked if you really want to remove the program, click Yes.
In many cases anti-malware programs are better at detecting related parasites, thus I recommend installing Spyhunter to identify other programs that might be a part of this infection.