Fastsupport, or Fastsupport.com, is a remote access tool. It allows tech support specialists to help people solve technical issues. Sadly, malicious actors also use Fastsupport to hijack victims' devices.
Fastsupport.com is not malicious itself, but in the hands of a scammer, it can be very dangerous. Because of all the abuse, Fastsupport has become infamous and is often called a virus or scam.
If anyone told you to go to Fastsupport to fix your computer, be careful. Unless you absolutely 100% trust the person, you should not let them access your computer.
Fastsupport Virus quicklinks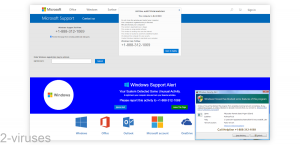 In short about the Fastsupport virus:
Type of threat
Tech support scam.
Dangers of Fastsupport virus
Scammers can access your computer,

they can change your settings, install malware, steal private files,

scammers will try to sell expensive but worthless support services.

How to avoid Fastsupport virus
Block malicious sites with anti-malware and ad blockers,

ignore warnings about your computer being infected,

do not call tech support without making sure it's official.

How to stop/remove the scam
End the Fastsupport session,

remove malicious programs (Spyhunter, Malwarebytes, etc.),

report the scam,

protect your payment information.
How the Fastsupport tech support scam works
Fastsupport is used by scammers to access victims' computers
While Fastsupport is a legitimate tool, it is used in many tech support scams.
A tech support scam is a scam where malicious actors convince you that your computer is infected, then sell you fake or low-quality security software and support. The scammers might also take your credit card info and other personal information.
Fake virus alert scams
Here is how a tech support scam might use Fastsupport:
Scammers set up websites or spam emails with messages like "Your computer is infected! Call us to fix it!". Then they spread the site/emails around to as many people as possible.
Some people believe the warning and call the phone number that is shared in the scam.
The scammers pick up the phone and instruct the victim to go to Fastsupport.com/Helpme.net and allow them remote access. Remote access means that someone else can see and control your computer remotely.
The scammers connect to the victim's computer. They may download junkware onto it and play tricks to convince the victim that their computer is broken or infected.
Then the scammers try to sell the victim support and software for hundreds of dollars.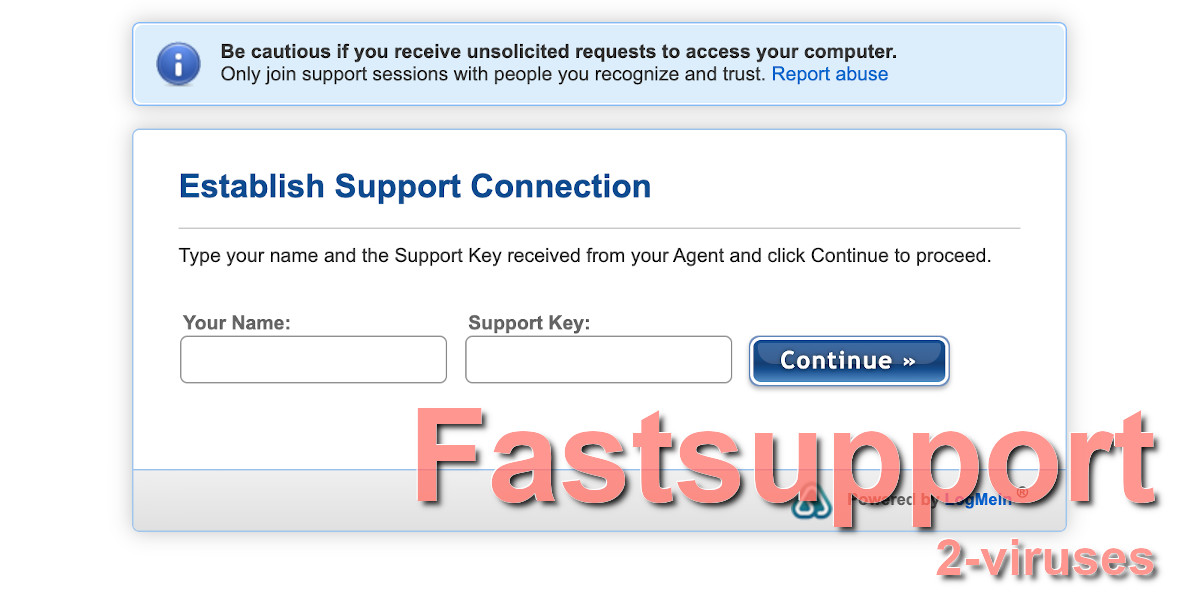 Fake support sites
Alternatively, scammers set up "independent" and "third-party" support sites for branded products. See this Redditor's story and the Roku activation scam for examples. Here's how that works:
User encounters a problem with a device or a service (for example, their printer doesn't work). They search for a solution online.
They come across branded unofficial support sites. These sites impersonate brands but are unrelated to those brands.
To get support for their problem, users call the numbers given by these unofficial sites.
The malicious support staff convinces users to go on Fastsupport and give them access to their computer.
The rest is as above. While on Fastsupport, scammers install junkware and show fake error messages to convince the user that their computer is infected. Then they try to sell overpriced support services and software.
There are other scams, such as refund scams. There, you're told that you have to allow access to your computer so that money can be transferred to your account. In reality, scammers want to transfer money from your account to theirs.
Fastsupport is misused by scammers
All the scams listed above require remote access to the victim's computer – and Fastsupport enables it.
On its own, Fastsupport is fine. If you specifically went and found a reputable support site and you agreed to use Fastsupport to solve an issue, then it's safe to use. You can even use remote access tools like Fastsupport to get tech help from a friend or relative!
However, legitimate tech support companies do not contact you first and they don't threaten to block your Windows or scare you in any way. Scammers, on the other hand, try to scare you as much as possible. Here's an example of a fake virus warning used by malicious actors: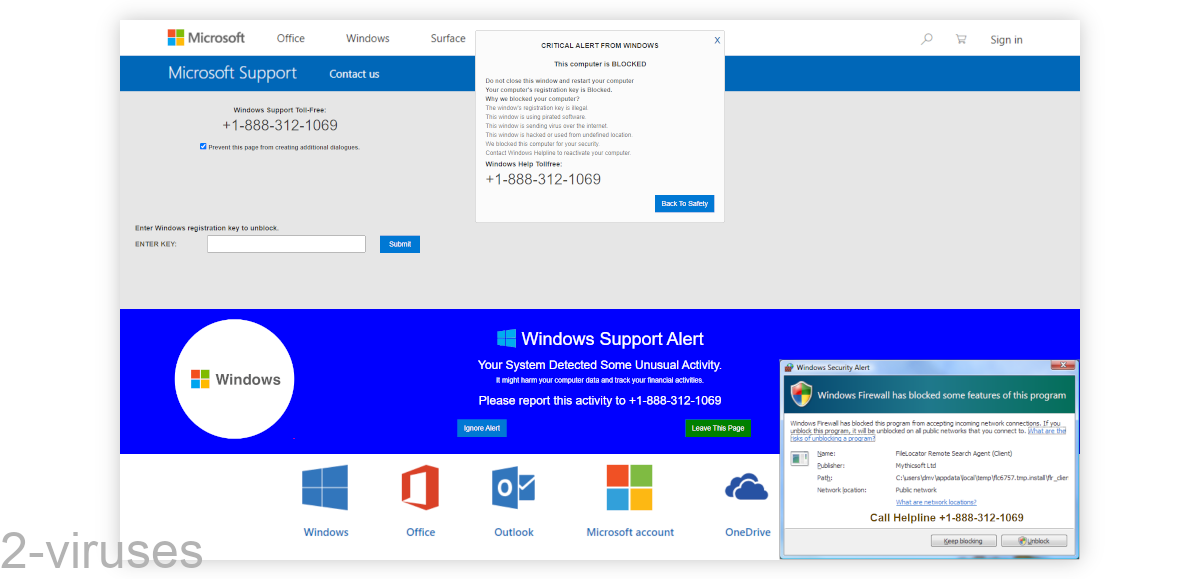 Nothing close to what real malware alerts look like.
How to avoid tech support scams
Close the scam webpages
Fake virus alerts
Many Fastsupport scams begin with a warning that your computer is infected/broken/is being hacked right now. There's usually a phone number that you're told to call – a big red flag.
Often, the warning can't be closed easily. Here, keyboard shortcuts can come in handy.
If you see over-the-top scary warnings, just ignore them. Scan your computer, restore browser settings, but don't call the number and you'll be fine. Scaring you is a tactic used by scammers to make you careless, so don't give in.
Fake support sites
If you have a problem with a service or a device, be careful when googling it. Fake support sites can appear high up in search results. It's best to visit websites directly instead of searching for them on search engines.
When in doubt of the authenticity of the site you're on, scroll to the bottom of the site and look for phrases like "independent support provider" and "third-party tech provider" to recognize unofficial sites. Truly malicious fake sites won't give themselves away like this, though. Just be careful and double-check everything.
Remove malware and block malicious sites
If you see fake virus alerts often, you may be visiting some shady websites (for example, pirating sites), clicking on bad ads, or have an adware infection. Not good, but nothing too serious. Nothing that would warrant the kinds of warnings that the Fastsupport virus delivers.
Use an anti-malware program with web protection to block suspected malicious sites for you. Consider using ad blockers, too.
Some scams are very well-crafted and falling for one is nothing to be ashamed of. If you were caught by a Fastsupport scam, it's important to know how to deal with that situation.
How to deal with Fastsupport virus
So, what if you failed to avoid the scam and allowed a suspicious person to connect to your computer over Fastsupport?
End the session by pressing the 'X' button on the Logmein window. It's a one-time session so the scammers won't be able to reconnect.
If you were instructed to install something or saw the scammer install something, remove it.
Scan your computer with an anti-malware program that you trust (Spyhunter, Malwarebytes, etc.). Remove adware and malware if any is detected.
Change your passwords and make sure that you have 2-step verification on for all important accounts. Then you'll know if anyone tries to hack those accounts.
If you provided your personal details and your payment information, like your credit card number, contact your bank and tell them honestly what happened. You can also report the scam to the responsible agency in your country.
In the USA, you can report the scam to the FTC. That'll help in case your personal info is misused by criminals.
Disable remote access on your computer if you don't use it. Open Windows settings, System, Remote Desktop. Make sure the switch is off.
Fastsupport is powered by LogMeIn, which is totally legitimate and used by many real support companies. And LogMeIn is aware of their services being abused. They try to warn people to not let strangers access their computer, provide an easy way to end a session, and report abuse. Check their post on avoiding scammers.
Automatic Malware removal tools