Driver Toolkit is potentially unwanted program by Megaify Software. It is a tool designed to download and install the latest drivers for your PC, and it appears to be compatible with Windows 10, 8.1, 7, XP operating systems. Despite looking like a legitimate tool, it is not going to fix unknown, outdated or corrupted drivers. Instead, DriverToolkit is classified in the same category as Master PC Cleaner and Advanced Mac Cleaner. These programs, seem like they have the potential of helping you protect/clean/update your operating system, are actually rogue and might be considered as rogue security software (Rogue security software).
Driverupdatertoolkit quicklinks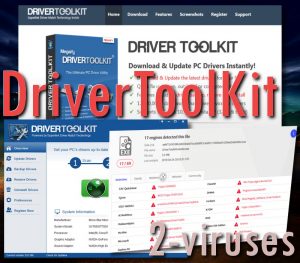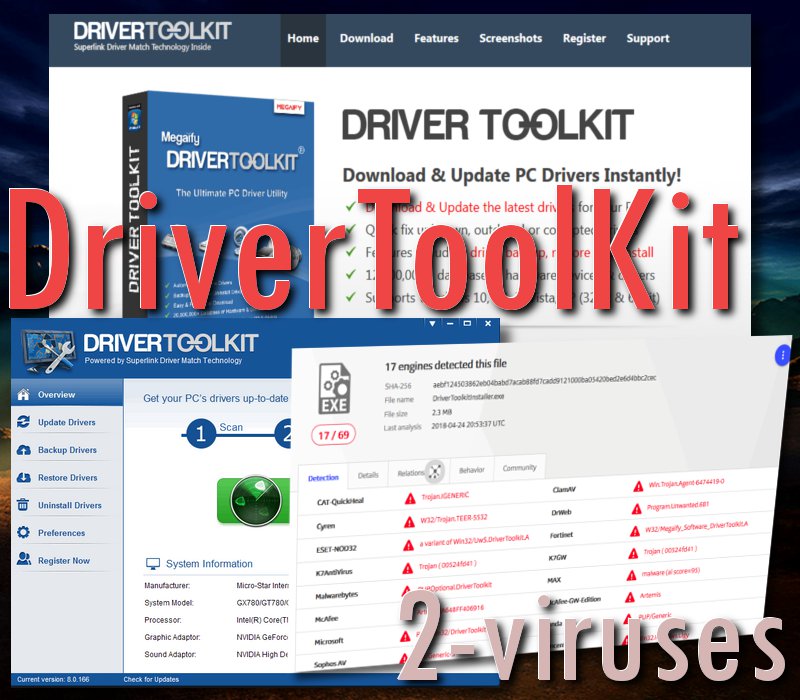 Why Driver Toolkit is a potentially unwanted program
We downloaded the DriverToolkitInstaller.exe to test it. Just as we predicted, multiple scanners detected this file as malicious. Some of them labeled this program as a PUP, some as Trojan, and others simply as malware. It appears that unreliable developers are really interested in creating low-quality products that are supposed to update your drivers. We have discussed such tools like Driver Navigator, Driver Reviver, DriverAgent Plus and many other similar applications. Even Microsoft has mentioned that purchasing or downloading such software applications is a waste of money and space in computers.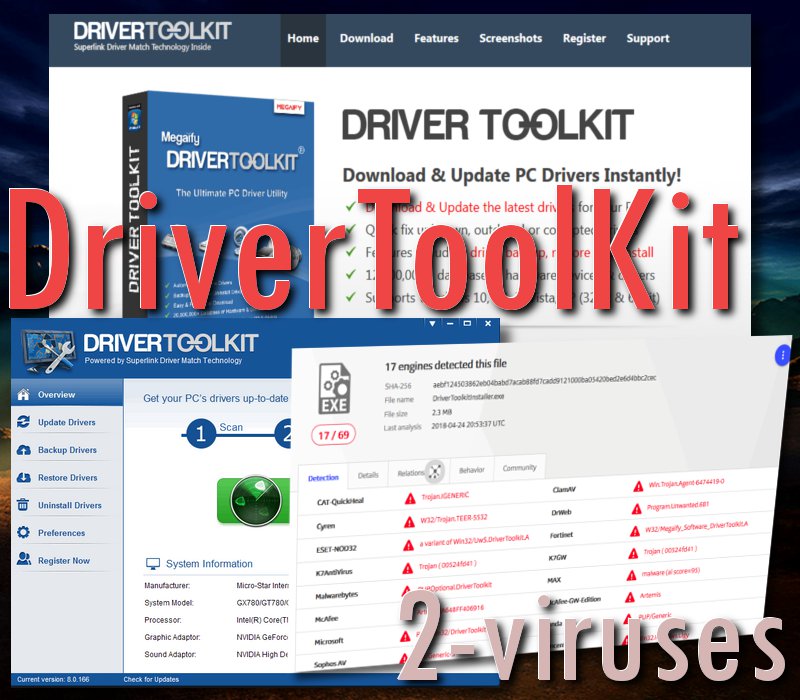 Instead of fixing real issues in your operating system, Driver Toolkit potentially unwanted program (PUP) will show false positives. This means that the program will warn you of severe issues that are not even relevant to your computer. For instance, the program will state that the only way of restoring your computer back to normal is to purchase the full version of Driver Toolkit. In its official website, the single solution package of this program costs $29.99, and if this price seems steep, you should not that is a special offer. Originally, the package costs $59.90.
We cannot say that the Driver Toolkit program is dangerous, or will cause severe issues in your computer. However, it will aim to trick you into purchasing its full version for a very high price. Considering that driver-updaters are not considered essential software to have, we do not think that you should waste your money on them. Instead, you should purchase programs that are considered very helpful and will not only update the outdated.
Security researchers have also stated that people do not need to update their drivers regularly. Some of the updates are installed together with Windows Updates. Therefore, you should update operating systems to the latest versions instead of using old ones that might be full of vulnerabilities. Therefore, you should not waste money on the useless services, provided by Driver Toolkit unwanted program.
How to prevent Driver Toolkit infection and remove this malware
One of the common ways that potentially programs use for distribution is bundling. While you are installing freeware, you should always pay attention whether additional programs are not going to be arriving as well. For instance, while downloading a free media player, you could also be recommending getting the DriverToolkit program. You will receive a free version, incapable of helping you update your drivers, but will only urge you to purchase the full version. Of course, you might be urged to download the tool during browsing. This suggestion should be ignored.
If you have accidentally, or willingly, installed the Driver Toolkit potentially unwanted program, we recommend you to get rid of it. Simply find this program in your Control Panel and choose to eliminate it from your computer. If you are having problems with this manual approach, we insist that you download Spyhunter. These anti-malware tools are designed to detect potentially dangerous or unwanted files. Therefore, after running a scan with these programs, you will be informed of any suspicious activity in your computer.
How to remove Driver Toolkit using Windows Control Panel
Many hijackers and adware like
Driver Toolkit
install some of their components as regular Windows programs as well as additional software. This part of malware can be uninstalled from the Control Panel. To access it, do the following.
Start→Control Panel (older Windows) or press Windows Key→Search and enter Control Panel and then press Enter (Windows 8, Windows 10).
Choose Uninstall Program (if you don't see it, click in the upper right next to "View by" and select Category).
Go through the list of programs and select entries related to Driver Toolkit . You can click on "Name" or "Installed On" to reorder your programs and make Driver Toolkit easier to find.
Click the Uninstall button. If you're asked if you really want to remove the program, click Yes.
In many cases anti-malware programs are better at detecting related parasites, thus I recommend installing Spyhunter to identify other programs that might be a part of this infection.
Automatic Malware removal tools