Driver Tonic is a driver update and registry cleaner application. It is a utility promoted by its official pages Pctonics.com and Drivertonics.com and it can be distributed through freeware downloads.
Upon installation, Driver Tonic scans your PC to identify the drivers that it believes need to be updated and registry issues that it thinks need to be fixed (with the paid version of Driver Tonic).
Driver Tonic is not dangerous, but it is also not worth keeping in your system. In this guide you will find more detailed information about the behavior of this application, its distribution methods, and ways to get rid of it.
Driver Tonic Pup quicklinks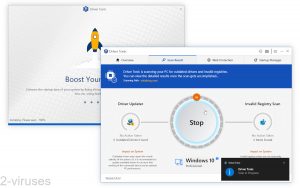 According to the description, Driver Tonic improves the performance of your system. It scans your PC for outdated drivers and invalid registries and then offers to fix any issues that it finds.
At first glance, it might seem that the motives of Driver Tonic are quite genuine. However, the program is a classic PUP – potentially unwanted program. Some anti-malware scanners warn about Driver Tonic being unsafe:
Driver Tonic is very similar to other PUPs, such as Mac Tonic or Win Tonic.
Frankly, Driver Tonic is just another poor PC utility that's more interested in your wallet than in providing a good service:
Distribution of Driver Tonic
Downloaded and installed in the background with other programs,

advertised by adware viruses,

promoted by malicious ads online.

Results of using the program
Constant pop-up warnings,

drivers recommended for devices you don't have,

PC startup is slower than before,

the program causes anxiety by presenting issues as more serious than they are.

Protect the PC from PUPs
Download software from original sources,

install programs very carefully to catch optional offers,

be skeptical of unsolicited warnings about the poor state of your PC.

How to remove Driver Tonic
Remove the program using the Control Panel,

scan your computer for bundlers and adware using security tools like Malwarebytes.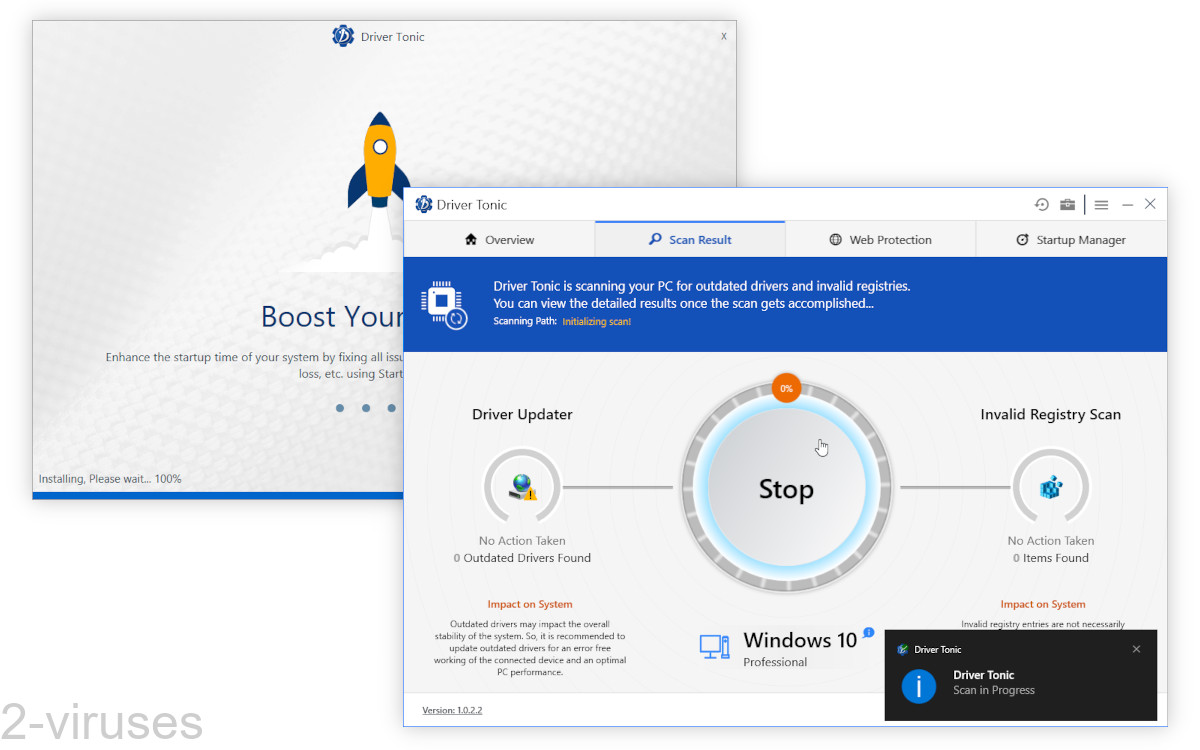 How does Driver Tonic work?
Downloaded from the internet
Though Driver Tonic can be downloaded on its own, it may also be added to PCs during the installation of other free software thanks to bundlers such as InstallCore.
For example, video recording or video streaming utilities, download managers, PDF creators, and some other programs may offer you to install Driver Tonic as an optional offer. This method to promote third-party utilities is known as "bundling".
Driver Tonic was also integrated into Win Tonic installer, which used to be advertised (by malicious affiliates, probably) with fake virus pop-ups ("Your Windows computer could be infected with (4) viruses!")
After users mistakenly install the program, they have no clue how exactly it came up, so they think that maybe Driver Tonic is a virus. It is definitely not correct to think of it as a virus or malware – rather, it's a PUP (potentially unwanted program).
Driver Tonic – potentially unwanted
Generally, optimizers, driver updaters, and registry cleaners are considered to be useless, unhelpful, and sometimes referred to as snake oil.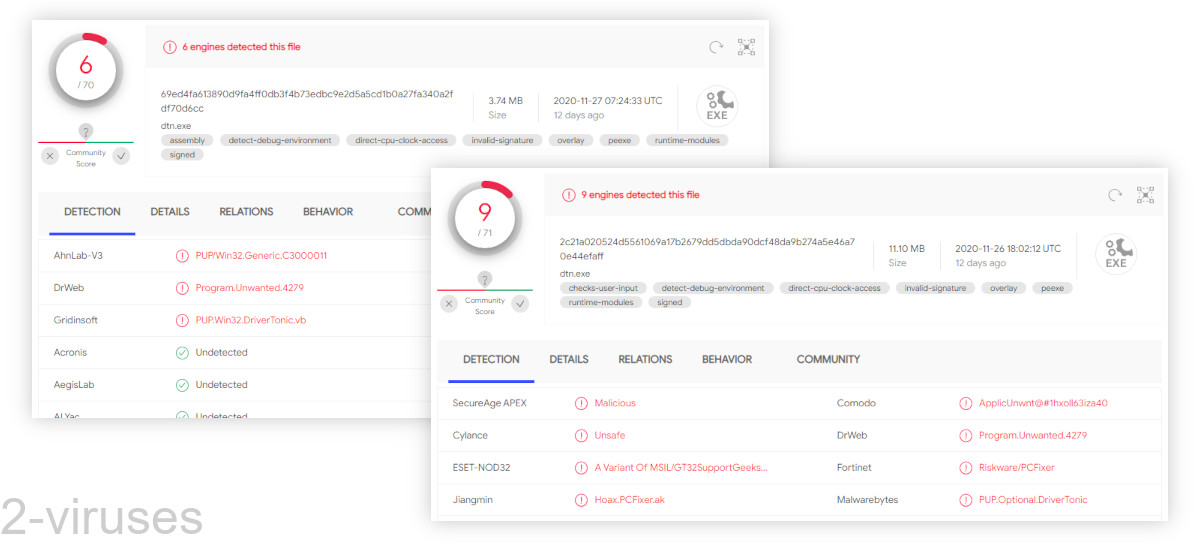 Such programs detect harmless items as problems and they overstate their usefulness.
For instance, Driver Tonic offers to renew your drivers, but Windows Update does that for free – and it has much better resources than Driver Tonic's devs for making sure that the drivers work well with your devices.
Driver Tonic also offers a registry cleaner, which may or may not be helpful. The registry is a list of settings that should not be messed with unless you know what you're doing.
Not malicious
The good news is that Driver Tonic is very honest in its promotional material about what it can offer you. It's not a miracle cure for all PC ailments, but it can probably be helpful to some users.
In addition, Driver Tonic is certified by AppEsteem, which means that it is honest in its advertisements, installation, and presentation. Hopefully, this means that Driver Tonic and related Tonic programs have fixed all the issues that they used to have.
How to avoid unwanted Driver Tonic installation
Avoid unwanted programs
Always be careful when you surf the Internet. There is a huge number of websites today that promote tech support scams (fake virus alerts), fake antivirus programs, and bogus tech support.
Even when you install free software from the websites that are legitimate, take the time to thoroughly examine what else the installer suggests you to install. Don't skip any steps of the installation procedure.
Use anti-malware programs to protect your PC. Driver Tonic is in the gray area of potentially unwanted programs, so decide whether you want your security tool to warn you about such software. Different anti-malware vendors have different philosophies for how they classify software, so make sure that their views match your interests.
Remove Driver Tonic
Driver Tonic is furnished with its direct uninstaller, too. You may access the list of all your available programs in the Control Panel or your Settings and uninstall this utility right away, without any complications. However, remember that PUPs are spread by means of adware which could remain in your PC even after manual removal of Driver Tonic.
If you wish to remove all potentially unwanted software, it is recommended that you perform a system checkup and cleanup with Malwarebytes or another anti-malware program that can detect and eliminate all unwanted utilities that may still remain in the system.
Automatic Malware removal tools
How to remove Driver Tonic PUP using Windows Control Panel
Many hijackers and adware like
Driver Tonic PUP
install some of their components as regular Windows programs as well as additional software. This part of malware can be uninstalled from the Control Panel. To access it, do the following.
Start→Control Panel (older Windows) or press Windows Key→Search and enter Control Panel and then press Enter (Windows 8, Windows 10).
Choose Uninstall Program (if you don't see it, click in the upper right next to "View by" and select Category).
Go through the list of programs and select entries related to Driver Tonic PUP . You can click on "Name" or "Installed On" to reorder your programs and make Driver Tonic PUP easier to find.
Click the Uninstall button. If you're asked if you really want to remove the program, click Yes.
In many cases anti-malware programs are better at detecting related parasites, thus I recommend installing Spyhunter to identify other programs that might be a part of this infection.