The peak of cryptocurrency trend has significantly induced the creation of all kinds of threats that are more specialized and targeted towards cryptography. In the past few years, cyber world has seen dozens of crypto-jacking trojans like Crypto-Loot Miner,CoinHive.One of such trojans is the CryptoShuffler, whose initial release was in 2016, but as the years went by the creators managed to update the Cryptojacker to the malicious version that we detect now. So if you are invested in crypto-mining, virtual money or just know someone who does, this article will be beneficial to read.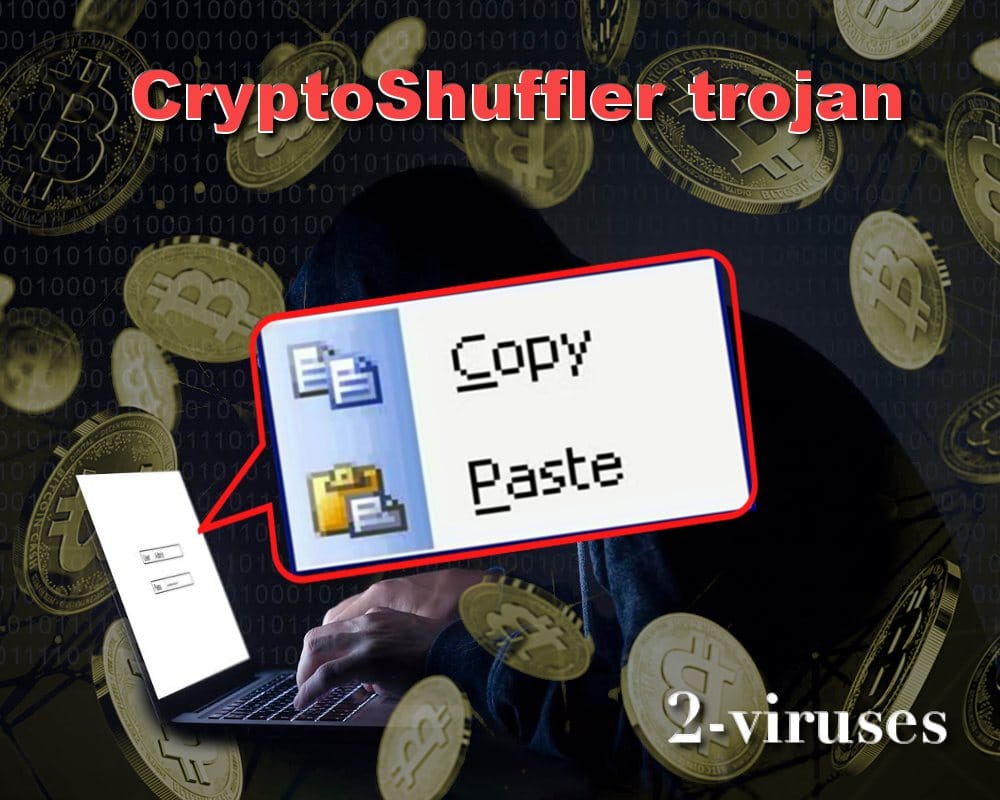 The working principle of CryptoShuffler is fairly simple and very quiet compared to the other crypto ransomware. This, however, makes the threat harder to spot, so you can lose a significant amount of cryptocurrency until you will notice that something suspicious is happening. Back in October 2017 Kaspersky that this trojan has passively collected around $140,000 in BTC in a one year period. And at that time this crypto threat wasn't functioning in its full mode all the time, therefore without the further ado let's get to the core of CryptoShuffler.
What's so special behind the CryptoShuffler?
The CryptoShuffler is a silent trojan that works via 'clipboard'. It doesn't ask for ransom, use any difficult algorithms nor generate malicious ads, but simply aims to stay unnoticed by the victim while tracking what user copies and pastes. Trojan runs in the background and tries to infect the svchost.exe, which would make Windows unable to detect the threat. The secrecy is needed so that CryptoShuffler could monitor the copied virtual wallet addresses when users are making the transfer.
When users pay for something in the BTC or any other crypto-currency they have to enter a long specific address of the recipient. Because the address' string contains random capitalized/regular letters, numbers and sometimes has around 30 characters, most users just copy and paste it, since it would take a while to write it down manually. And this lazy weakness is how the CryptoShuffle trojan earns his revenue. It watches what things are being copied into computer's temporary storage and recognizes crypto walled addresses from Bitcoin, Ethereum, Zcash, Monero, Dash, Dogecoin and some others currencies. Then in a matter of seconds after the recognition of a valid identification code, CryptoShuffle copies its own wallet address replacing the original when the victim is entering transaction data.
Many of us don't double check if the address we copied is matching the address we inserted as the recipient's identification. If your computer would be infected with CryptoShuffle malware without the doubt you would see two completely different codes. Other than this trickery for inattentive users, CryptoShuffle doesn't cause more harm. On the contrary, it stays away from all the intricate ciphers, processes and etc. which tend to slow down the system, so the infected victim would take no action for as long as possible and trojan could redirect more and more money into his pocket.
So is there anything you can do to tame this invisible crypto thief?
Ways detect and delete CryptoShuffler trojan from your computer
Before cyber crooks completely empty your virtual and actual wallet you should try testing if you already have CryptoShuffler trojan. Try to copy an actual crypto identification number and paste it into the recipient's address area in a template for a crypto transaction (don't proceed it, of course), then compare both addresses if they are the same or slightly different. If there is even the slightest change then you know that you have an uninvited crypto jacker loitering somewhere in your PC's memory.
In this case, when the CryptoShuffler malware is such a slick and hard-to-find parasite the best tool that can help you is either Spyhunter or Malwarebytes anti-spyware software. We have tested them alongside other products and discovered that no other tool match with what these malware removal applications are offering. Briefly, they will scan your computer, detect the CryptoShuffler trojan and delete it without leaving a trace, allowing you to not worry about losing any more money.
Since CryptoShuffler spreads together with spam email attachments, together with torrents, bundles and other suspicious programs, infected USBs, for the prevention make sure to practise the safe internet browsing techniques, not to download any software from unknown websites, and to periodically scan your PC/external drives just to see if you have no unwanted parasites whether it will be a silent crypto jacker or a flashy ransomware.
Automatic Malware removal tools