Complete System Care is a potentially unwanted program, scareware, and a bundler. It's not a good program to use if you want to get more performance out of your system – it's more likely to waste your time with bogus detections and more junkware installations.
Complete System Care quicklinks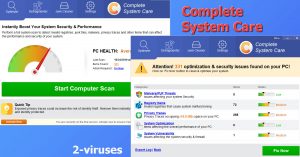 Complete System Care might look somewhat professional, and yeat, many competent antivirus tools are configured to warn users about it. This type of tool usually spreads malicious ads, is downloaded by fake virus warnings online, installed when included with other free programs, and downloaded by people who just want to make their PC run faster.
Complete System Care is in the same league as Universal PC Care, Smart PC Care, PC Speeder Pro, and other Windows "optimizers" – it's not really useful, but it still tries to convince users that it's needed.
This potentially unwanted program may not be real malware, but it's still better off removed:
Classification

PUP (potentially unwanted program)
Rogue application

Problems with Complete System Care

Redundant features
Unrealistic promises
Bundling a PUP
Running more often than is needed, scheduling runs for every time you log in

Distribution

Manual installation
Bunded with free programs
Spread by ads and redirects

Uninstall Complete System Care
Complete System Care is not useful
A registry cleaner
Complete System Care offers to optimize, repair, and secure your PC.
This PUP is a registry cleaner – and that's always suspicious. Sometimes, cleaning the registry is made out to be some sort of a panacea for PC errors, but registry-cleaning programs mostly just find regular, harmless keys that can be left alone without worrying. There is a multitude of unique Windows hardware and software configurations and expecting a program to know what's really best for your computer is a bit much.  Be careful with registry optimizers because even the best of them have occasionally broken people's OS with their meddling.
So, Complete System Care finds a bunch of registry issues, but a lot of those errors are neutral registry keys that have been associated with specific issues years ago. Sure, if your machine is experiencing a specific problem, you might need to modify a registry key by following the instructions that Microsoft themselves put up. Of course, Complete System Care claims that it will defragment your registry and that'll somehow make your PC run faster, they even recommend doing this twice a month, yet the idea makes no sense. Your registry is probably a few hundred Megabytes at most, modern computers will not see a performance difference if the registry is a tiny bit neater. Edit your registry when you need to and don't worry about it too much.
Complete System Care offers other functions, too, such as a startup manager, malware scanner, junk files remover. These are hardly worth mentioning because they're very redundant. Windows offers free tools for cleaning out your disk of unneeded files, managing which programs run when, scheduling your programs, and a lot more. In fact, a program like Complete System Care should be removed first. It starts up every time you log on and scans the computer way too frequently.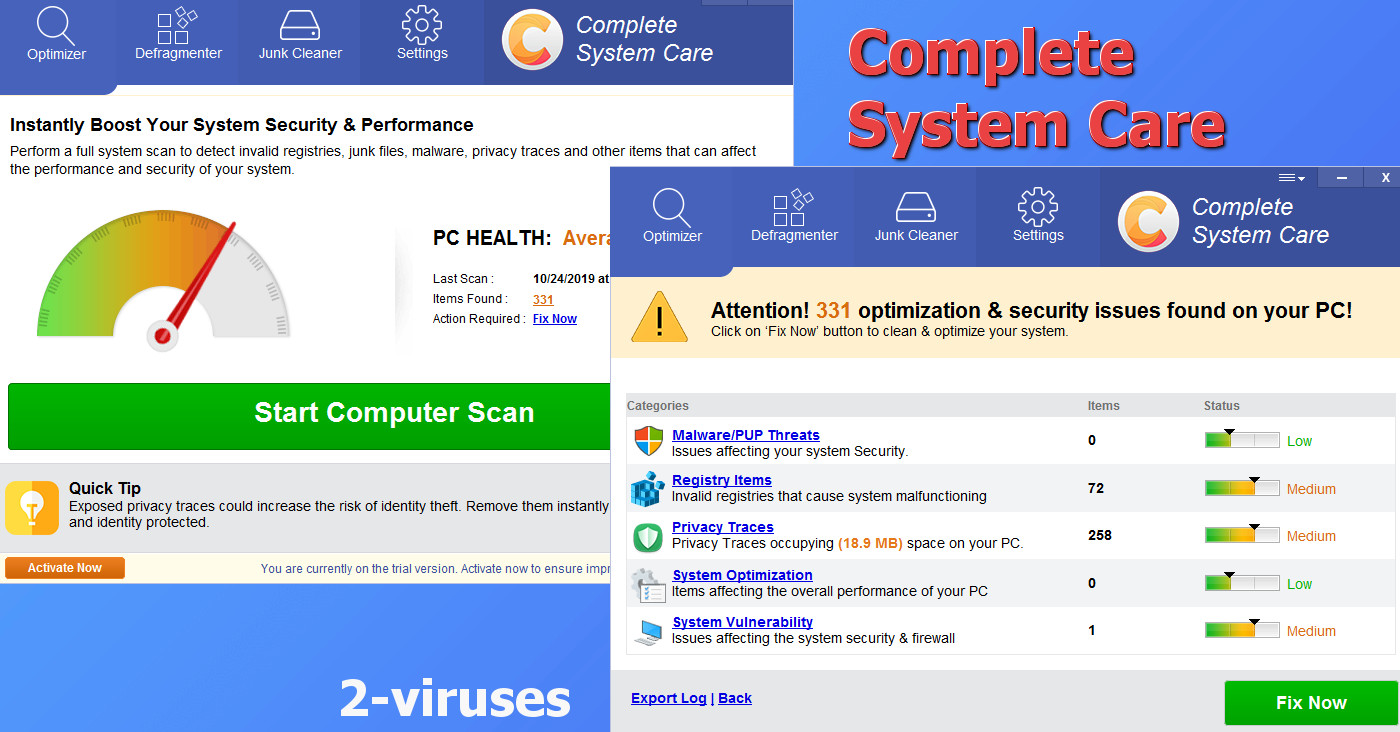 Scareware
So, Complete System Care finds a bunch of harmless little files and settings and displays all them as  "issues" as if they're somehow bad. Even zero issues is made to look like it's less than perfect. Removing unneeded programs, cleaning out junk files can have a positive effect on your PC, but this optimizer is being too alarmist. There is definitely psychological manipulation going on here. Browser cookies and logs are not objectively issues – they might be, depending on your outlook, but don't allow Complete System Care to scare you. Be critical.
Ultimately, Complete System Care is meant to make money for its creators, so it's in their interest to make your PC seem like it's in danger. Even a brand-new system will have some issues according to this PUP.
Oh, by the way, Complete System Care tries to install Advanced Driver Booster, which claims that your drivers are too old, that replacing them will improve the state of your computer, etc. Again, this is a potentially unwanted program that is actually useless, since Windows installs up-to-date drivers on its own. Drivers are important, but when they work well, there's no need to change them. Advanced Driver Booster says that updating them will improve system performance, but that seems dishonest since it's inaccurate in many cases.
Complete System Care removal
You can use Complete System Care and it probably won't break things, but it's advisable to get a more honest program, or just use the tools that Windows provides. Most people don't need to clean their PC often anyway, so it's not a big deal to do it manually.
If you decide to remove Complete System Care (and Advanced Driver Booster), you can do it manually, or use an antivirus program, like SpyHunter, to remove it (it should catch leftover files that manual removal might skip). It's also important to avoid similar optimizers in the future, since a lot of them are just a waste of time.
Automatic Malware removal tools
How to remove Complete System Care using Windows Control Panel
Many hijackers and adware like
Complete System Care
install some of their components as regular Windows programs as well as additional software. This part of malware can be uninstalled from the Control Panel. To access it, do the following.
Start→Control Panel (older Windows) or press Windows Key→Search and enter Control Panel and then press Enter (Windows 8, Windows 10).
Choose Uninstall Program (if you don't see it, click in the upper right next to "View by" and select Category).
Go through the list of programs and select entries related to Complete System Care . You can click on "Name" or "Installed On" to reorder your programs and make Complete System Care easier to find.
Click the Uninstall button. If you're asked if you really want to remove the program, click Yes.
In many cases anti-malware programs are better at detecting related parasites, thus I recommend installing Spyhunter to identify other programs that might be a part of this infection.