Smart PC Care software is not what it's supposed to be. The program is promoted as all around tool for optimizing Windows OS and cleaning old/bad files, yet we have found this tool to be unwanted or even dangerous in some cases. That is the reason why we consider it to be a potentially unwanted program.

Smart Pc Care Virus quicklinks

Even though a
potentially unwanted program
is technically not a computer virus, but it is very close to it. So if you have Smart PC Care installed on your computer and think that it is a useful application that will optimize your system, think twice – it can cause more damage than actual benefits it can provide.
Also, the program itself can be distributed using deceptive methods and excessive advertising. It can get installed on your computer against your own will and that's definitely a bad trait that makes things for Smart PC Care even worse. Therefore we do not recommend keeping this tool installed – you should remove it as soon as possible. Unfortunately, that can be a difficult thing to achieve too, since developers of Smart PC Care make it complicated – they want you to buy the premium version of this software, not to remove it.
That's why we are here – to assist you through the process of Smart PC Care removal. In this post, we will review the features of Smart PC Care and provide you with the instruction on how to get rid of it effectively.
Smart PC Care – Unwanted and Rogue Tool
One of the main reasons why this tool is considered to be unwanted – they force users to pay for the premium version of Smart PC Care even though it is not valuable at all. In addition to that, they might report false problems and cyber security threats to you even though in reality they don't even exist. That's straight up lying in order to make money.
There are plenty of similar tools that are categorized either as PUP (potentially unwanted program) or rogue application – PCProtect, Pc OptiClean, Master PC Cleaner, and so on. They all operate using the same exact scheme. Such applications get installed using aggressive advertising campaigns or simply are infiltrated into computers without the consent of the user. Then, they start to automatically scan the system and most of the time there are hundreds of errors and bugs found. Obviously, users then want to fix those problems using Smart PC Care or other similar tools that were infiltrated into the system. Unfortunately, in order to do that, they are asked to pay and purchase a premium version of the application.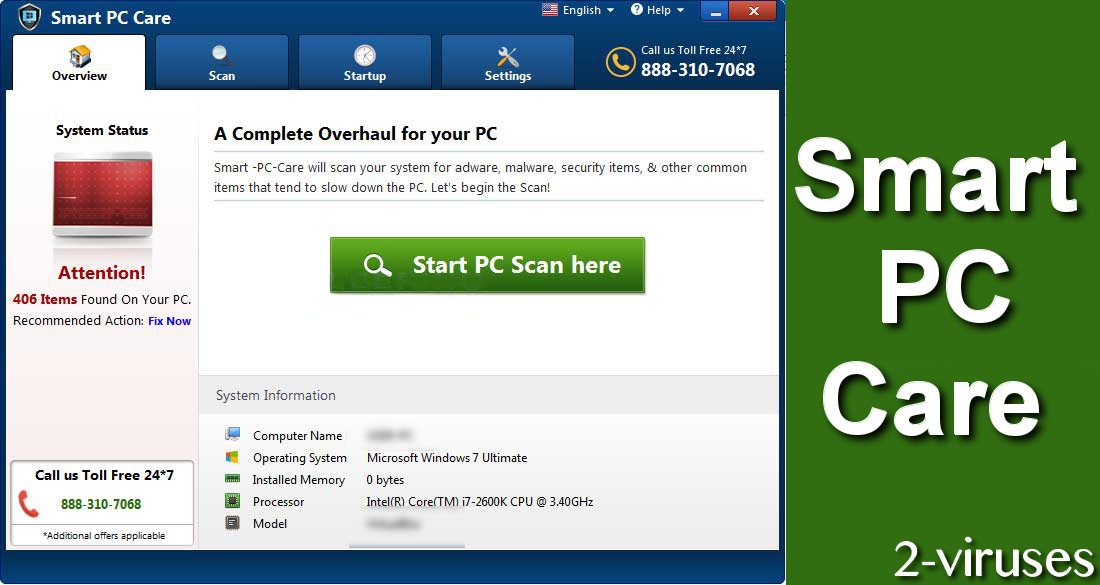 There is nothing wrong with purchasing software that could benefit your system one way or another. However, in this particular case, Smart PC Care is simply trying to rip you off – most of those errors are fake, they just want to create an image that the computer needs help and sell their services this way.
And that's not even all – there are more bad qualities of Smart PC Care. This malicious program can also Infiltrate other infections into your system. That's right, if you keep it installed on your computer, it might offer to add other free tools to your system or even do that without asking you. This way your computer can get heavily infected with various viruses and that's why you should eliminate Smart PC Care as soon as possible.
In addition to that, there is a possibility that Smart PC Care might be secretly collecting your private information and leaking it to third parties. PUP's and malware tend to monetize infected computer this way. This could lead to the data leakage and you can lose your money as a result.
How Smart PC Care PUP Landed on Your Computer?
We have already told you that Smart PC Care employs deceptive distribution methods. It might be that you find this program to be useful and have downloaded it by yourself. If so, please reconsider removing it.
However, most of the time this tool is installed on a computer secretly. It can come as a bundle to some free software that you download from the Internet or it can be infiltrated by other malware that is already operating on your computer.

Either way, to protect your system from a virus like this one you should always have a real-time protection active and running in the background. Free anti-malware software like Plumbytes can offer you that – it features real-time protection and can assure that no malicious files will be uploaded to your system.
How To Eliminate Smart PC Care Infection
This potentially unwanted program should be listed on the list of programs that are installed on your computer. That means you can simply head to the control panel and remove it as any other regular program – find instructions on how to do that below this article.
Unfortunately, Smart PC Care Virus might put some malicious files in separate folders of your computer. You need to remove them too because they can be used to restore Smart PC Care after you remove it. However, that might be difficult to do manually and that's why we recommend using professional anti-malware software Spyhunter. Use either one of these tools and the infection should be detected and removed automatically just in a couple of minutes.

Automatic Malware removal tools
How to remove Smart PC Care Virus using Windows Control Panel
Many hijackers and adware like
Smart PC Care Virus
install some of their components as regular Windows programs as well as additional software. This part of malware can be uninstalled from the Control Panel. To access it, do the following.
Start→Control Panel (older Windows) or press Windows Key→Search and enter Control Panel and then press Enter (Windows 8, Windows 10).
Choose Uninstall Program (if you don't see it, click in the upper right next to "View by" and select Category).
Go through the list of programs and select entries related to Smart PC Care Virus . You can click on "Name" or "Installed On" to reorder your programs and make Smart PC Care Virus easier to find.
Click the Uninstall button. If you're asked if you really want to remove the program, click Yes.
In many cases anti-malware programs are better at detecting related parasites, thus I recommend installing Spyhunter to identify other programs that might be a part of this infection.