MyCouponsmart is an adware, meaning that this program, despite looking like a regular software for your computer, is an actual creation of greedy crooks, which are the only ones that benefit from all the promotions you'll start seeing when the virus will install. MyCouponsmart does not hide its behavior from the users, yet makes it seem like it is a good and necessary feature worth keeping. It is known to be an identical copy of another virus called MyCouponize.
Mycouponsmart Virus quicklinks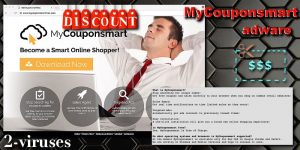 This questionable Mac program is new, yet seems to be bothering quite a lot of users, who claim to be unable to remember when they even installed/seen such application. That is because MyCouponsmart virus uses slick techniques to invade people's computers, as well as obfuscation methods to prevent security programs from marking it as a malware. However, even the most amateur Mac user, after the installation of MyCouponsmart adware will notice the big difference when surfing online, because it will leave excessive amounts of ads on every page victim visits, just like RarGenie, ZU-Coupon or CouponRockstar.
Because Black Friday 2018 is coming soon and everyone will be looking for online deals, MyCouponsmart adware is on its peak right now, generating the revenue from gullible users. If you keep on reading this 2-viruses.com article, you will find out more about adware behavior, why MyCouponsmart is acting the way it does and how to remove it permanently, so please inform yourself before you fall for the potentially dangerous deals.
Is MyCouponsmart a virus
Bottom line up front, MyCouponsmart is not a virus. However, it does have untrustworthy behavioral tendencies, like spreading camouflaged in some other program's installer or posting tons of Affiliate deals for users. Everyone knows already that digital marketing at the moment is Growing rapidly and is even believed to be the future, so it is not surprising that this application creator chose to gain their revenue by posting various ads, redirecting users to other sites with sponsoring products/services and etc. Posting ads is an easy way to get a passive income without constantly having to work, yet MyCouponsmart developers are abusing this idea and with the help of malicious scripts decided to overcome some challenges that other reliable marketers face and get only the best part.
When the MyCouponsmart adware gets into the system it does not wait and quickly like a virus get authorization to alter your search engine and content you see online, so malevolent deeds can be started. At first, it may not be as noticeable but after a while, you will definitely understand that something is going on with your Chrome or Safari. Each browsing session will become very slow, whenever you'll click on something various pop-ups with deals will start appearing, website layouts will get distorted because of the number of ad banners, hyperlinks will take you to unrelated sites, and etc.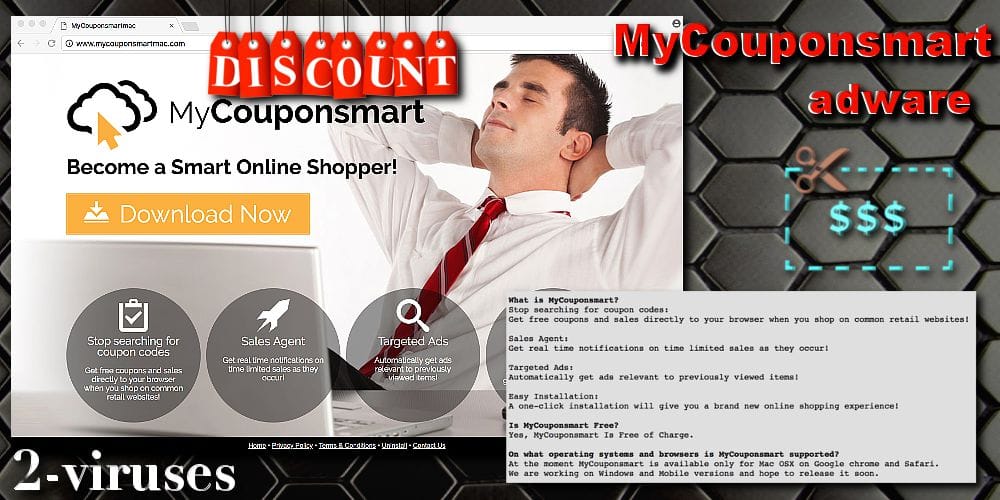 The paradox is that this application actually lets its users know exactly what it is going to do to their Macs and all the possible dangers like Third-party content, personal and non-personal information gathering and sharing with others, tracking and using contextual advertising. However, because most of the people never read the privacy policy or get excited to get better deals from MyCouponsmart program they don't notice these things. Take a look at a few excerpts from this adware Provacy Policy:
We may collect some personal information that you explicitly provide (for example, in the process of registration to the Services or if you send us an email or message) and which identifies you personally, such as your name, email address, services purchased, etc. ("Personal Information"). We also collect some Personal Information that are collected in an anonymized way and do not identify you, in order to provide you with better advertisement and for tracking and anti-fraud needs, this information might include some search quires and IP address.

We also collect some non-identifying information regarding your use of our the Software, Services and Site, including but not limited to, type of device on which Software is used and installed, applications with which the Software has interacted, advertisements viewed, the type of browser you are using, the keyboard language, the URL you have come from and the time spent at that URL, and your domain type and server ("Non-Personal Information").

Personal Information shall be used to provide you with relevant advertisement and shopping deals as well as to personalize your experience and in order to process your inquiries, respond to your requests and improve our services. The Non-Personal Information shall be used to ensure the adequate operation, improve, modify, enrich or adjust the Software, Services and Site. PLEASE NOTE: We reserve the right to use and disclose Non-Personal Information to third parties, including, advertisers, sponsors, business partners, investors, affiliates and consultants, at our sole discretion.
As you now can see, MyCouponsmart adware is truly potentially malicious and can easily breach your data or share it with someone who will. The fact that it shies away from the reponsibility of whatever happens during your online surfing and entering third-party websites, proves again that you cannot expect anything good from this virus. It's a well known fact that Malvertising is a common practice amongst virtual marketers, therefore the only way to prevent the harming your Mac and risking your privacy is to remove MyCouponsmart virus, as early as possible.
How did MyCouponsmart virus get into your Mac
Even though MyCouponsmart adware has an official site called MyCouponsmartmac.com, which is like a cover page, the download button does not seem to work. That gives an impression that this potentially unwanted program can be spreading mainly via bundles with other programs, more specifically fake Adobe flash updates. These realistic-looking updates are one of the main malware spreading vectors in Mac computers.
When users visit some dubious website they get a pop-up window saying that they need to update their Adobe flash player in order to continue browsing or etc., but these messages are fake and contain installers that have hidden unwanted programs inside them. Typically people usually go with the Standart setup mode and end up bringing all these viruses, like MyCouponsmart adware, into their systems voluntarily. Such dissemination technique is still really successful nowadays and is a most believable MyCouponsmart virus intrusion way.
How to remove MyCouponsmart adware from Mac
MyCouponsmart adware can easily be removed from your Mac computer just like any other regular software – going to Finder, then Applications and dragging MyCouponsmart app icon to the Trash, later clicking the button 'Empty Trash'. However, that may not be enough to clean your system fully. Sometimes such adware viruses can place some of their malicious files and leave leftovers that won't be fully deleted during such manual elimination, therefore you'll need a help from much more sophisticated and specific software like Combo Cleaner.
Such anti-malware tool will be able to detect MyCouponsmart and all related files that are harmful to your Mac, as well as any other invasive threat that could've installed from the same bundle or from the malicious ads, that were posted by MyCouponsmart in your browser. If you suspect that this adware might have caused so much harm that your system seems to be running slower and using your computer is not as smooth as before, then you can simply run a quick scan with Spyhunter which will find the root of the problem, if there is one, and take care of it.
Automatic Malware removal tools