Apple.com-scan.live pop-ups attack Mac and its associated browsers – Safari, Google Chrome, and Mozilla Firefox. The contents of these alerts can be definitely quite frustrating, especially when you do not realize that apple.com-scan.live are not genuine alerts from Apple. In fact, the alert says that it is somehow related to the AppleCare Protection Plan. Still, what you see is the typical online scam produced by adware in your Mac and leads you to cyber frauds who hunt for your money. Apple.com-scan.live pop-ups are similar to other fake alerts we previously discussed, such as apple.com-cleaning-os.live, apple.com-fixing.live, "Your Mac OS X is infected (4) by viruses", etc.
Apple.com-scan.live pop-ups are misleading notifications that not only appear randomly in your Mac browser. They additionally are able to hijack your browser by switching it into full-screen mode, to make it impossible or at least hard for you to shut down the window. Once apple.com-scan.live alerts initially appear, this is the tricky message they display:

Com Scan Online Scam quicklinks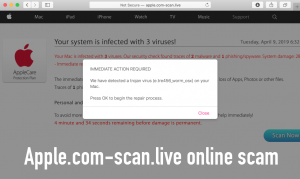 Your System is infected with 3 viruses!
Your Mac is infected with 3 viruses. Our security check has found traces of 2 malware and 1 phishing/spyware. Current system damage: 28.1 % – Immediate Removal Required!
The immediate removal of viruses is required to prevent future system damage, the loss of data, photo and other files. 
Your Personal and Banking Information Are At Risk
To avoid more damage, click on the "Scan Now" button immediately. Our deep scan will provide help immediately!. 1 minute and 48 seconds before the damage is permanent.
Why are apple.com-scan.live pop-ups dangerous?
It is clear from the quotation above that apple.com-scan.live notifications give pretty scary information about the status of your Mac. The message about your Mac being infected with viruses is not the pleasant news, is it? The trick is that these fake AppleCare Protection Plan messages have some other things in mind. You will be suggested to click on the "Scan Now" button as clear from the screenshot. Then the pop-up will show certain imitation of online system scanning and will instruct you to download some software supposedly to fix the above-mentioned problems and eliminate reported viruses.
The software promoted by apple.com-scan.live alerts is often referred to as a PUP (potentially unwanted program). As for today, the pop-up promotes Cleanup-My Mac, even though other fake system optimization tools may be offered depending on the Mac regional settings. Cleanup-My Mac advertised by apple.com-scan.live alerts resembles Mac Cleanup Pro, Mac Tweak Pro, Mac Tuneup Pro and other pseudo system optimizers that are not worth paying attention to.
Why do apple.com-scan.live pop-ups attack your Mac
The answer to this question obviously bothers many Mac users these days. There are several reasons why apple.com-scan.live alerts bombard your screen. First of all, you could visit some hacked websites that eventually redirected you to suspicious domains, including apple.com-scan.live. Or you could click on some links through spam emails or through social networks. It is sad to admit that the Internet is not a safe place today, so surfing the web may unexpectedly result in you visiting websites representing a potential risk to the safety of your Mac. This is yet another reason for you to be very careful online, even when outwardly some websites seem to be reputable.
In case apple.com-scan.live pop-ups appear randomly in your computer beyond your control then it is quite possible that your Mac is infected by the adware. According to the research, a lot of potentially unwanted programs like adware are spread by means of bundling. This term implies that there are some additional extra programs promoted along with free applications. So, you may find the cost-free software online and its installer may suggest other programs to consider. Typically this information is clearly presented in the EULAs (End User License Agreements) related to free software, or directly in the installer. But the problem is that some people fail to carefully read these important details, so they agree with all offers by default and install a lot of programs that they do not really need. It is quite likely that the adware causing apple.com-scan.live pop-up scam was installed exactly as described above.
How to get rid of apple.com-scan.live online scam?
When you see apple.com-scan.live alerts first thing you should do is to stay calm. Do not panic! This is what online frauds want you to do when you see these fake notifications. Do not interact with these frustrating notifications and do not click on the "Scan Now" button as they suggest. Shut down the pop-up window, or force quit your browser using the built-in "Force Quit Applications" utility. Check the list of applications enabled in your Mac. You may sort them according to the date of installation. If you locate suspicious programs enabled, move them to the Trash.
Scanning your Mac with the reliable security software is another very important step you should implement. Remember that simply closing the pop-up window causing apple.com-scan.live fake alerts does not remove the adware as their most possible source. So, we recommend that you select Spyhunter anti-malware programs to completely fix your Mac and its browser-related problems.
Automatic Malware removal tools