Browser Blocked Based On Your Security Preferences pop-up is another fraudulent message. Currently, we have analysed a number of similar fake notifications like Your Mac Might Be Infected and You are using an older version of Chrome. The Browser Blocked Based On Your Security Preferences alert states that an adware_pop.exe adware virus has been detected on your computer and your banking account details, together with other confidential information, might be put at risk. Therefore, recipients of this message are warned about the possibility of becoming victims of https://www.ontario.ca/page/how-avoid-or-recover-identity-theft.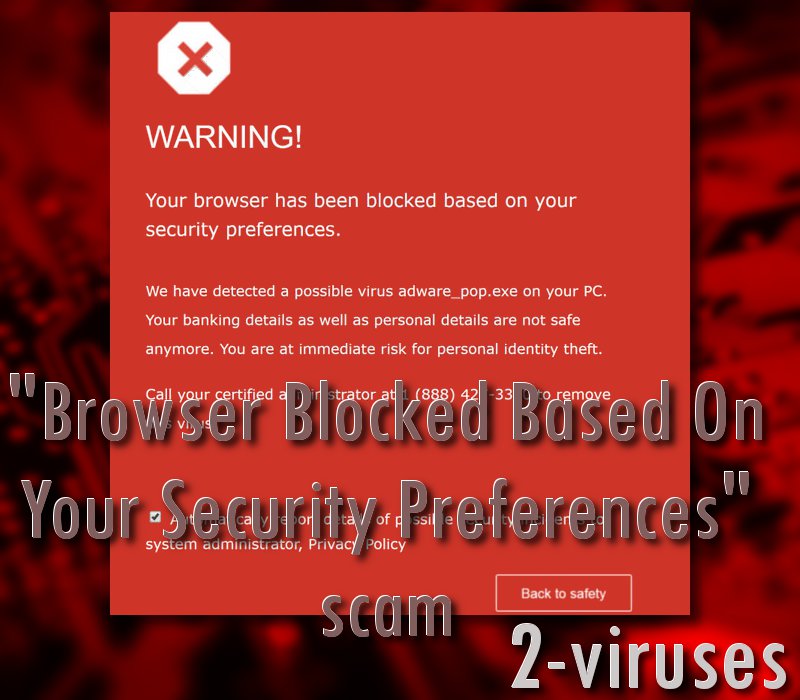 In order to solve this issue, owners of compromised computers are urged to call certified administrators thru 1(888) 427-3330 number. However, this contact information will only lead you to scammers, hoping to trick you into installing rogue software. In addition to that, they might require users' personal information (Why You Shouldnt Taunt Fake Tech Support Scammers).
Browser Blocked Based On Your Security Preferences pop-up is designed to infect people with malware to steal users' personally-identifiable information
Browser Blocked Based On Your Security Preferences scam will not solve any real issues you might have on your computer. The fact that this fake notification is displayed on your screen could mean that you have become a victim of a malicious program. However, we reassure you that the pop-up will not offer helpful assistance.
The result might be the opposite: technical support scams are known to steal victims' money or trick them into installing malicious software. In some cases, fake technicians will recommend people to purchase pricy security software (Fake tech support spiders on the world wide web). Please remember that if you do decide to buy software from them, you will be spending money on a potentially unwanted program (PUP) or a real malware virus.
People have reported seeing Browser Blocked Based On Your Security Preferences scam the moment they launch their Chrome or Mozilla browsers. In addition to that, the message might be displayed during your visits in rogue website. Many online-streaming websites automatically redirect visitors to unknown websites. Majority of them will urge you to install some rogue tool, allow notifications or to participate in various gambling activities, surveys or etc.
Security researchers also report that advertisements frequently feature malicious scripts. They might run after you click on the ad, and the drive-by download will take place. In this way, hackers have been known to distribute ransomware viruses, Trojans, key-loggers, crypto-miners and other cyber threats. We have unsure about which malicious software can arrive thru Browser Blocked Based On Your Security Preferences scam, but we are hoping you won't click on this advertisements, nor will you call the recommended number. Malvertising was a big issue in 2017, and there are no indications that the situation is changing in 2018. Malicious ads are even more persistently circulating on the Internet. Therefore, be very careful online.
Why am I seeing this deceptive Browser Blocked Based On Your Security Preferences notification?
As we have mentioned, Browser Blocked Based On Your Security Preferences scam might be displayed because your computer is infected with malware. Have you recently installed any unknown programs? If you have, the installation might have brought more applications than you anticipate. If you are using Windows operating systems, open Control Panel and review all of the programs you have installed. If you find any suspicious tools, please remove them. However, the problem with the fake notifications might continue even after this removal.
Therefore, we hope that you will decide to run a scan with an anti-malware tool. Malwarebytes, Spyhunter are extremely efficient programs that will help you manage your computer and improve its performance. By running regular scans, you will be able to prevent malware infections from spying on your online activities or stealing your personal information. Since fighting malware on your own is difficult, we hope that you will consider getting some help.
Automatic Malware removal tools