The BNB giveaway scam is another fake giveaway that seeks to steal people's BNB. Scammers created a bunch of websites to mimic the look and feel of Binance.com, then put up the rules for a (fake) giveaway.
If you see a BNB giveaway page, make sure to verify that the event is actually happening. It is likely to be a scam. The scammers responsible for the fake BNB giveaways just want to convince some people to send them money.
The BNB giveaway scam spreads on social media, through malicious ads, and through infected websites.
Bnb Giveaway Scam quicklinks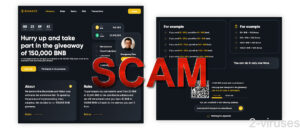 About the fake BNB giveaway:
Threat type
Scam,

phishing.

How the BNB giveaway scam works
It's on a fake Binance site,

it asks for people to transfer BNB and promises that double the amount will be sent back.

Dangers of the scam
Lost money and time,

lost login credentials.

How to avoid giveaway scams
Ask others for help in recognizing scams,

block malicious websites and ads,

protect your device from malware with antivirus tools (Combo Cleaner for Mac, Spyhunter for PC, others).
Fake websites with fake giveaways
BNB is a pseudo currency used in Binance's ecosystem. It has real value, especially to users of Binance.
So, some malicious actors have set up a giveaway scam for BNB. They created a bunch of websites that copy the look of Binance sites, including the photo of Changpeng Zhao, the founder of Binance.
The BNB giveaway scam works by the same rules as the fake Bitcoin giveaways: you're told to send an amount of the currency to a wallet and promised that you'll be sent back double the amount – or more!
At the bottom of the scam page, there's a list of new transactions by the participants of the fake giveaway being updated in real time. It's all completely made up, though. If you look up the wallets used by these scams on other websites, they're often just empty – there's no way they'd be able to send back the promised amount.
Anyone can spoof a website and write a bunch of fake comments. Scammers often impersonate trustworthy sites for scams: Apple and Microsoft for tech support scams, Amazon and Facebook for phishing and fake giveaways. Binance for this scam. Be careful and always verify giveaways on official sites before you believe them.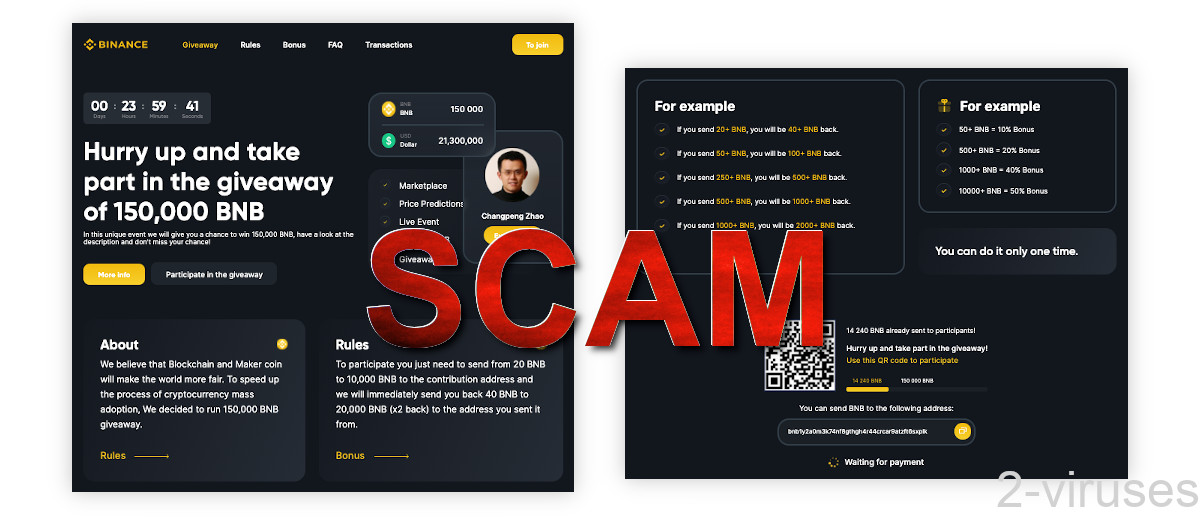 Harm caused by the BNB giveaway scam
If you transfer any currency for this giveaway, you'll definitely lose it. Since the malicious webpage says that "you can only do it one time", it encourages people to send more – and so they might lose a not-insignificant amount.
You might also lose time. Some fake giveaways, like the Coin Master Spins scam, make their money by sending victims to fill out endless surveys and quizzes on clickbait sites and by asking them to install shady apps.
Some BNB giveaway scams (and other scams) might also ask you to log in to your wallet manager. Be careful and don't use links on untrustworthy sites to log in to your accounts. Untrustworthy links could lead to phishing sites – malicious sites that impersonate trusted websites in order to steal people's login credentials.
How to avoid phishing scams
Don't send your money to other wallets just based on the promise that you'll get your money back. If you're not sure whether a page can be trusted, always ask others for help. For instance, the BNB giveaway scam could definitely be recognized by the more experienced members of your crypto trading community – a forum (Bitcointalk.org), a Discord server, etc. So if you come across a giveaway like this BNB one, make sure to ask others for their opinion – is the giveaway legit?
Scam pages like the BNB giveaway are easily searchable online, including on social media sites like Youtube. You might find them if you look for them intentionally or if you see them shared by spam accounts. A great thing to do if you find a BNB giveaway scam site is to report it as malicious to Google (Safebrowsing.google.com) and other companies who can then restrict the visibility of these sites.
In addition, scams and other malicious pages are promoted by malicious ads. You might be able to avoid such ads by blocking dangerous websites. Anti-malware programs and malicious site blockers can help you here. But not all new scams will be blocked in time. So, remember to always be careful.
Bad ads are sometimes caused by adware infections. Use antivirus apps (such as Combo Cleaner for macOS, Spyhunter for Windows, others) to remove them and protect your computer from future infections.
Automatic Malware removal tools