AweCleaner for Mac, or just AweCleaner, is another Mac cleaner. It's neither harmful not useful, and I would argue that users are better off sticking with Apple's tools that are available for Mac owners for free. That said, while AweCleaner is flagged by some anti-malware scanners, it isn't quite malicious and there's no need to worry about it causing any real harm.
Awecleaner For Mac quicklinks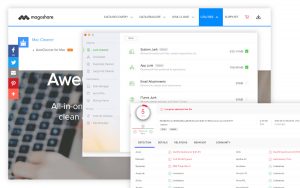 Details on AweCleaner:
Classification
PUP – potentially unwanted program.
Problems with AweCleaner
Features that are already available for Mac owners for free,

AweCleaner is a paid app with a limited trial version.

Installation
Reviews and promotions by affiliates and by AweCleaner's distributors.
Removing AweCleaner
Uninstall AweCleaner,

check your computer for other malware (Combo Cleaner, Malwarebytes, otehrs).
Problems with AweCleaner
Redundant features
AweCleaner for Mac is yet another macOS utility, a cleaner. AweCleaner is flagged by a few antivirus programs, which doesn't necessarily mean that it's dangerous – only that it ought to be avoided.
Cleaners are generally seen as a very risky category of software, as they often have features of scareware. Scareware are programs that try to scare people into buying them. They fake detections and try to present issues as more serious than they are. Others bundle adware infections. The good news is that AweCleaner does not try to scare the user. The bad news is that its functions are so redundant that it seems insulting to Apple that AweCleaner is a paid program.
AweCleaner's functions include:
App uninstaller.
Duplicate file finder.
Large file finder.
Disk manager.
Memory optimizer.
Startup manager.
Browser file cleaner.
File shredder.
While it's true that your Mac will severely slow down when you completely run out of free space on your disk and AweCleaner and other Mac cleaners can help with that by deleting a few files, they're not a good long-term solution. After all, AweCleaner also takes up space, uses processing power, and costs money.
Alternatives to AweCleaner
An alternative way to find and remove unnecessary files from your Mac is to use macOS default tools that are provided by Apple. While it can be a little complicated to do yourself, it is usually enough to clean files once a year or once every few months. Besides, manual removal gives you an opportunity to be more careful and not remove an important file by accident. No need to keep an unnecessary app like AweCleaner on your Mac.
Besides, almost all of the features that AweCleaner offers are available for free from Apple – Support.apple.com. Apple already has tools for optimizing storage, reducing clutter, and taking advantage of cloud storage.
Web browsers have their own settings and tools for managing data.
Other AweCleaner's features, such as "memory optimizer" (Activity Monitor) and startup manager (System Preferences -> Users & Groups -> Login Items), are also readily available on macOS.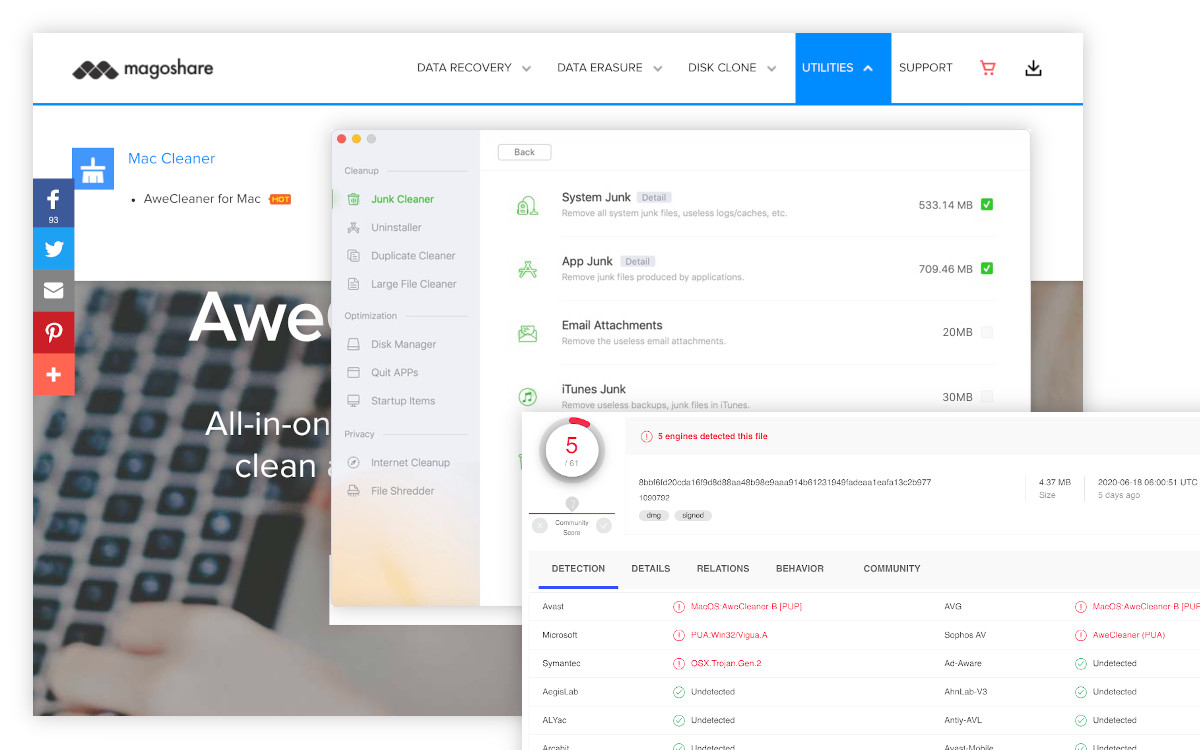 How Mac cleaners get installed
Some Mac cleaners hitch a ride with other apps and get installed as optional offers. In such cases, you might not know about them until after they're installed.
More specifically for AweCleaner, Magoshare.com – the site to download AweCleaner from – has a bunch of blog posts with titles like "List of Top 10 Junk Cleaner for macOS Catalina" and "How to Speed Up Slow iMac System?" that promote AweCleaner and advertise it as free to download, which is a little dishonest, considering that AweCleaner's free version has limited functionality. Anyway, you can see how people searching online for ways to speed up their Mac could come across these blog posts and thought them to be unbiased reviews.
How to remove AweCleaner
Overall, AweCleaner is a mostly harmless but also useless application and most people would be better off without it. AweCleaner is in the same league as Apeaksoft Mac Cleaner, iMac Cleaner, Mac Master by FonePaw, and other Mac cleaner apps. It's generally best to avoid them.
AweCleaner costs $29.95 for a lifetime license and there's a 30-day money-back guarantee, which is good because AweCleaner's trial version is so limited.
There is no link to Uninstall instructions on Magoshare.com but you can just consult Support.apple.com on the topic of app removal. In short, if you want to delete AweCleaner, just go to Finder -> Applications and drag AweCleaner to Trash.
You can also use an anti-malware app (Combo Cleaner, Malwarebytes, or another reputable app) to remove AweCleaner and to scan your computer for any other PUPs and malware. While viruses for Macs don't really exist, there are plenty of malware and adware infections that you should be careful of. AweCleaner is a very harmless item in comparison to true Mac malware.
Automatic Malware removal tools