Apeaksoft Mac Cleaner is a utility for speeding up Macs. It's paid but the features that it offers are already available for free to all macOS users. That and some other issues lead Apeaksoft Mac Cleaner to be declared as a potentially unwanted program. It's better to not use apps like Apeaksoft Mac Cleaner and to stick to more reputable applications.
Apeaksoft Mac Cleaner quicklinks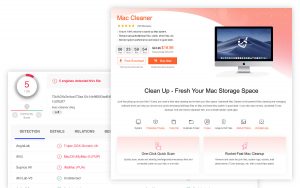 Details on Apeaksoft Mac Cleaner:
Type of threat
PUP (potentially unwanted programs).
Problems with Apeaksoft Mac Cleaner
Lack of unique features,

possibly dishonest presentation,

bad reputation among some anti-malware scanners.

Alteratives to Mac cleaners
Utilities that are already present on macOS,

browser tools for managing site data.

Removing Apeaksoft Mac Cleaner
Uninstall the app manually,

check your computer for suspicious apps with scanners such as Combo Cleaner.
Is Apeaksoft Mac Cleaner safe?
Apeaksoft Mac Cleaner is labeled as PUP by a few antivirus apps (VirusTotal link). This means that, while Apeaksoft Mac Cleaner is not malicious, users are still warned that it might exhibit some dishonest behaviors.
There are so many distinct Mac optimizers and cleaners that are called "Mac Cleaner" – iMac Cleaner, Qbit Mac Cleaner, Super Mac Cleaner – that it's difficult to write about them. So, this Mac Cleaner will be referred to as Apeaksoft Mac Cleaner.
Apeaksoft makes various mobile utilities, such as data recovery apps, screen recorders, audio converter, etc. But Apeaksoft Mac Cleaner is a little different – it's for macOS devices. And as potentially unwanted apps, including adware, that target macOS devices certainly exist, it makes sense to be cautious and careful.
Apeaksoft Mac Cleaner promises to help you monitor your Mac, delete junk files, and a few other things that could be useful but are entirely redundant. Apeaksoft Mac Cleaner wants to scan your computer for large, old, unnecessary files, but it decides for itself what it considers to be unnecessary files. In making Mac optimization quick and easy, Apeaksoft Mac Cleaner creates the risk of deleting important files and settings. In addition, the app takes up space on your Mac and uses precious hardware resources. In the end, Apeaksoft Mac Cleaner just counterproductive to improving your Mac's performance. It's not malware, it doesn't steal data or anything – it's just potentially unwanted and likely unhelpful.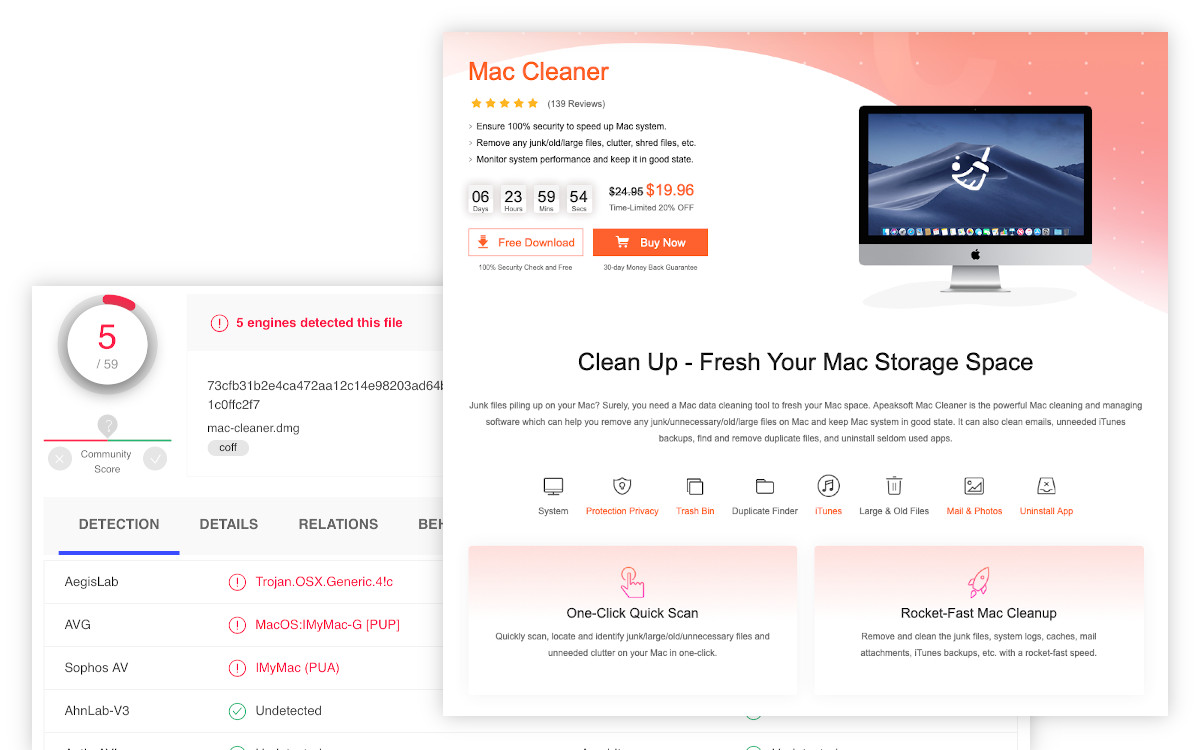 Alternatives
On Apeaksoft.com, Apeaksoft Mac Cleaner's home website, this app is described as helping you clean your Mac and check its status. Supposedly, it can free up Gigabytes of storage by deleting junk files.
However, these functions are redundant to a lot of free tools that are already available to macOS users:
Junk files can be found and deleted from the Storage Management window in your Mac.
You can monitor your Mac's activity on Activity Monitor. You can use Activity Monitor to track and quit processes.
Web browsers already have easy-to-use tools for managing site data, such as cookies, cache, and browsing history. They give you a lot of freedom in managing this data.
When your Mac becomes sluggish, installing a third-party application like Apeaksoft Mac Cleaner will not fix it. You should instead check your Mac for infections, do a one-time sweep and remove unnecessary files, definitely go through your apps and uninstall ones that you don't use, and review your login items and turn off the apps that you don't need. When downloading and installing new apps, you should scan them with an anti-malware app and look up the developer's reputation online.
Even if Mac optimizers were useful, they should not be run too frequently. Too often, optimizers work as a placebo. Apeaksoft Mac Cleaner will always find something to be deleted – temporary files, caches, etc. That's because apps build caches to be able to work faster. It's futile and potentially harmful to keep deleting unnecessary files. But some people enjoy the feeling of keeping their computer clean, even if the junk they just deleted was actually potentially useful data.
How to remove Apeaksoft Mac Cleaner
Open Finder, click on Applications, and look for Mac Cleaner. Drag it to Trash. Delete the installer from your downloads, too, if it's still there.
Let an anti-malware app, like Combo Cleaner, sweep through your other apps and check if there are any more potentially unwanted apps installed.
If you bought a subscription to Apeaksoft Mac Cleaner, then check it and cancel it. You don't want to get a surprise charge in your credit card a year from now.
Automatic Malware removal tools