Mac Master by FonePaw is a macOS system optimizer. It's supposed to help revive, optimize, and clean up your Mac. Mac Master does nothing new, mostly offering to delete unnecessary files. Like many other Mac optimizers, it gets labeled as a PUP by antivirus scanners. Mac Master is not dangerous, but it is also not very helpful and not really worth paying for.
Mac Master By Fonepaw quicklinks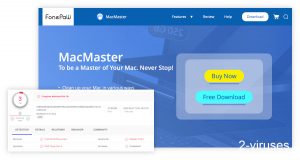 About Mac Master:
Type of threat
PUP (potentially unwanted program).
What Mac Master does
Finds unnecessary files, including old files and duplicates,

shreds files,

uninstalls apps.

Issues and problems
Redundant functionality,

limited free trial and restrictive refund options,

iffy reputation and warnings by anti-malware programs.

How to remove Mac Master
Uninstall Mac Master,

check your Mac for other PUPs (with a trusted anti-malware tool, like Combo Cleaner).
How Mac Master works
Mac Master by FonePaw is a Mac cleaner. According to Fonepaw.com, it's an app for cleaning up your Mac "in various ways". These sorts of apps should always be scrutinized. Some of them are built to always find some issues with your computer so that they appear more useful. It's probably why Mac Master is configured to start on your login. This way, it doesn't need you to run it – it can just scan your Mac by itself and then prompt you from time to time.
Like other cleaners, FonePaw's Mac Master:
finds large and old files,
check for duplicate files,
looks up cookies and other browser data,
helps uninstall apps,
it can shred files.
In other words, all things you can already do yourself for free just by using the features present in macOS and in your browsers (Support.apple.com). I'll just say again that Mac Master is a paid app.
Removing unnecessary files once in a while is good, but most people don't need to do that often. A few GigaBytes here and there won't do anything for your Mac's speed. And deleting temporary files, cache, and cookies might not be helpful. Some of these files, though unnecessary, hold useful data in quickly accessible files while barely taking up any space. And if you do need to delete those files, like for privacy reasons (What happens when you delete cookies), your browsers provide all the needed tools for free.
That's why it's good to be skeptical of cleaners. They can give you a list of unnecessary files, but you should be critical about which of the files you actually wish to remove. Mac Master
All the while, Mac Master takes up hardware resources with its regular scans, slowing down your Mac.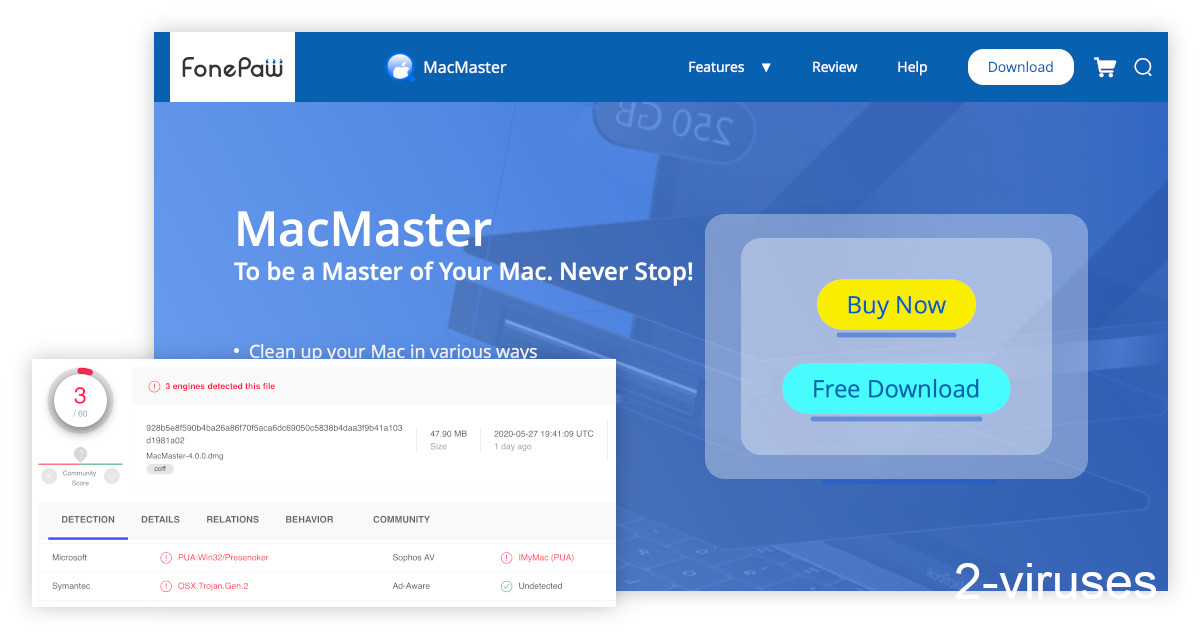 Issues and problems
Mac Master is safe to use, but it is a potentially unwanted program. Some anti-malware apps warn their users about it (VirusTotal link). This is a sign that Mac Master doesn't have a good reputation. Same as Qbit Mac Cleaner, Tweakbit Mac Repair, and many other optimizers for macOS devices.
The company that made Mac Master, FonePaw, also offers a lot of other apps, utility tools, and programs, including a tool for spying on other people's phones. Not everyone is super happy with FonePaw (Trustpilot link). A frequent complaint is about not being able to get a refund. That's because FonePaw has a bunch of restrictions for when it refunds purchases, even while Mac Master's free version has limited functionality. Most people understandably assume that a refund can be obtained for any reason. But, according to FonePaw, if you buy the wrong program (they have a lot of different utility programs), if you don't understand how to operate it, if it doesn't work, or if you just don't want or need it anymore – you're not eligible for a refund. So, be aware of that if you ever buy anything from FonePaw.
How to remove Mac Master
Uninstall Mac Master if you're unhappy with it. Mac Master can be removed like any other application, from the Launchpad or from the Applications folder that you can open with Finder. To remove Mac Master from the Applications folder, just grab its icon and drag it to the Bin (How to delete apps).
If you have issues removing Mac Master, it might be because the app is running in the background. Quit Mac Master's process in Activity Monitor or start your Mac in safe mode by holding the Shift pressed while booting your computer until you see the words "Safe Boot" in the corner of your screen. This will stop Mac Master from running automatically (at least, until the next reboot).
If you paid for Mac Master, you might want to ask for a refund. Even if Mac Master makes it hard to get it.
Also, it's advisable to check for malware and PUPs with an anti-malware app (Combo Cleaner, others) just in case. That said, Mac Master is a potentially unwanted program, not malware, and doesn't really cause any harm. It's still better to avoid this type of app, though.
Automatic Malware removal tools