Auto System Speedup proposes that it optimizes, protects from errors, and cleans your PC to make it run smoothly. But, like the other PCVARK products, it's nothing more than a scam. Auto System Speedup severely exaggerates its results to rope people into subscribing to its protection plan for periodic payments. So, before you buy it, it's important to know what you're getting into and why some cybersecurity software detects it as dangerous.
Auto System Speedup quicklinks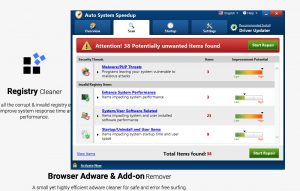 Auto System Speedup has a lot in common with System Clean Pro, PC Repair PRO, One Click Speedup, and many other products which are all distributed under different names, yet a lot of them are nearly the same. This — creating a new version of their program and giving it a new name — is done by many malware distributors, and though it does not prove that Auto System Speedup is somehow malicious or harmful, it is only the first point against it.
How is Auto System Speedup distributed?
Auto System Speedup is only a new version of other PCVARK's PC optimizers, so it hasn't had its name established and a good reputation built up. So, instead of word-of-mouth and name recognition, it needs to use advertising and bundling to try to get users.
One way that PUPs (potentially unwanted programs), including Auto System Speedup, use is free bundles. This means that Auto System Speedup can be included as an optional add-on in the installation of another unrelated program. For example, you might have downloaded a media player or a crypto miner and found Auto System Speedup unexpectedly installed on your computer.
Advertising is also used to promote Auto System Speedup. It helps that the program has a slick and professional-looking homepage from which it can be downloaded. The page offers unsubstantiated claims like that Auto System Speedup is "trusted by millions of users" or "world's most liked and preferred PC protection utility" — misleading (or false) data used in advertising is not very ethical.
Is Auto System Speedup useful?
Auto System Speedup does offer some useful features, like a startup manager, error fixer, or an adware cleaner. However, the useful features are redundant to Windows' own built-in functions. So, essentially, Auto System Speedup is a superfluous user interface replacer. Instead of installing an intrusive and not-free program, you could be managing your start-up programs and fixing system errors using Windows tools.
Third-party programs in general should be installed carefully. After all, access to your PC is being given to people with their own user agreement and privacy policy. There have been scandals of software installing unwanted in the background and of bloatware being installed against user permission. The reason why these things are outrageous is that it looks like a company accesses data without getting your permission. Somewhat like how Auto System Speedup tries to install another piece of software on your computer: Driver Updater, a useless driver-updating utility. Another example is the ad-clickers that were being distributed disguised as registry cleaners.
The functions that Auto System Speedup offers are not very good. For example, the registry fixer. While Windows does provide an interface for managing registry keys, Microsoft advises against allowing third-party programs to edit them. That's because an error could not only change your settings in an unexpected and potentially destructive way, but even break the OS and require you to reinstall it. The risk is small, but the reward of a faster running PC is unlikely to materialize, either.
If Auto System Speedup does manage to improve your system's performance, it's going to be offset by its constant running, scanning, and updating you with pop-ups. The program requires system resources and is intrusive — it starts every time you log on and likes to nag you about "issues", some of which are apparently present even on a fresh installation of Windows. Don't give in to the temptation of clearing your PC of all the errors that Auto System Speedup finds: this program is incentivized to find as many problems as it can. For example, cookies, temporary files, or an "outdated" driver are hardly problems and many people would prefer they remain unfixed.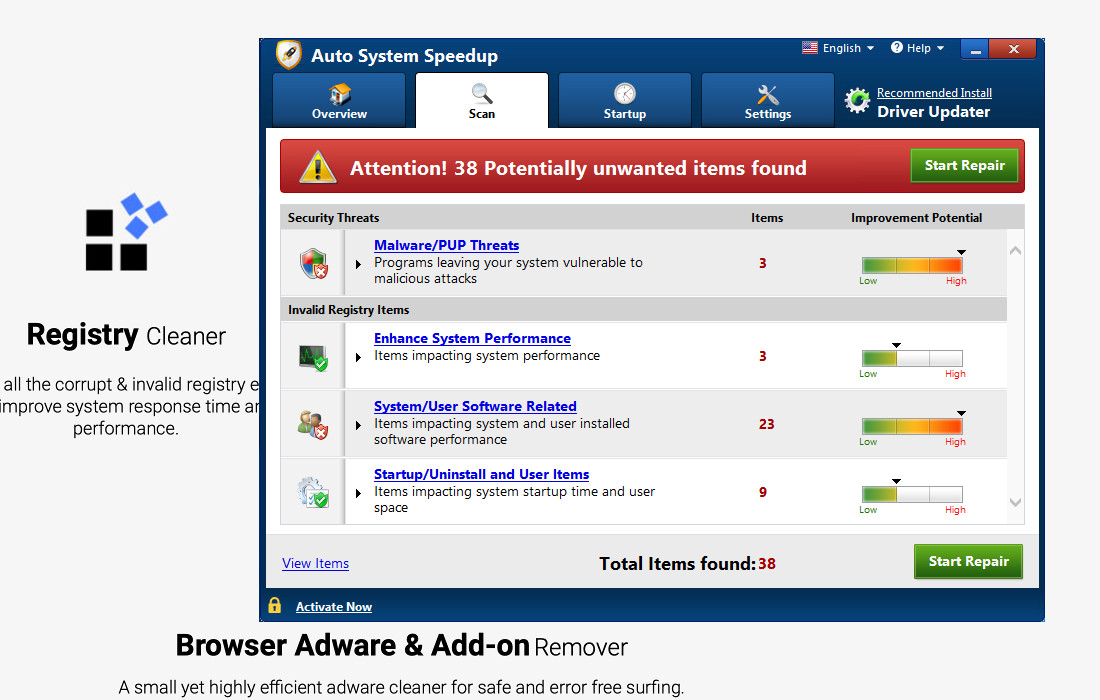 How to remove Auto System Speedup
Auto System Speedup is a somewhat legitimate program, so manual removal using the control panel should work just fine (unless some malware in the background is interfering with your settings).
Like all potentially unwanted applications, Auto System Speedup's manual removal should be followed up with an antivirus scan to make sure that the unwanted programs are actually gone. PUPs and viruses spread in little groups of two or three, like Auto System Speedup does with Driver Updater, so it's more than likely that more PUPs have found a home on your computer. Whether you remove them or not is up to you, but it might be good to know which of your installed programs are viewed with suspicion by security experts.
Strong antivirus programs like Spyhunter can recognize PUPs even when they're not really viruses, so if your antivirus program doesn't have a problem with Auto System Speedup, it might be valuable to try another tool.
Automatic Malware removal tools
How to remove Auto System Speedup using Windows Control Panel
Many hijackers and adware like
Auto System Speedup
install some of their components as regular Windows programs as well as additional software. This part of malware can be uninstalled from the Control Panel. To access it, do the following.
Start→Control Panel (older Windows) or press Windows Key→Search and enter Control Panel and then press Enter (Windows 8, Windows 10).
Choose Uninstall Program (if you don't see it, click in the upper right next to "View by" and select Category).
Go through the list of programs and select entries related to Auto System Speedup . You can click on "Name" or "Installed On" to reorder your programs and make Auto System Speedup easier to find.
Click the Uninstall button. If you're asked if you really want to remove the program, click Yes.
In many cases anti-malware programs are better at detecting related parasites, thus I recommend installing Spyhunter to identify other programs that might be a part of this infection.