ApplicationEvents is a browser add-on that's been getting installed into people's Macs without their authorization by a malicious program. This add-on tries to get access to the Safari browser and, if denied, crashes the browser and causes other inconveniences.
Applicationevents Search quicklinks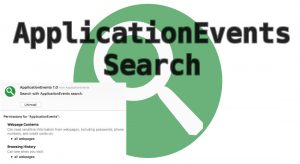 The ApplicationEvents add-on can be found in the Applications folder, as well as in Safari extensions. It appears sporadically, usually once every few hours. This add-on takes control of your mouse, reappears after being deleted, and seems to be correlated to Mail not working on the infected Mac.
ApplicationEvents is not the only such extension: similar ones include SimpleProExtension, TechNetSearch, StudyDisplay. These add-ons all try to take over your browser's search engine, control which sites you go to, ads show you ads.
ApplicationEvents should be removed before it causes serious problems:
Classification
Distribution

Adware bundles
Other malware
Malicious ads

Harm

ApplicationEvents is installed in your browser
ApplicationEvents comes back after being removed
Laggy browser
Large number of ads on unusual sites
Browser errors

Removal

Remove malware from the computer (Combo Cleaner)
Remove ApplicationEvents from installed extensions and applications
What is ApplicationEvents
ApplicationEvents seems to be a very persistent browser extension. It's obviously malicious (and yes, there are dangerous programs for Macs). Possibly to escape notice, the different versions use names that sound like system services or files. A system file isn't expected to be malware, so pretending to be something like that is good cover. It also proves further that ApplicationEvents is malicious and needs to be removed as soon as possible.
If you look at the permissions for ApplicationEvents:
It can read information on all the webpages you visit (including passwords and credit card information).
It can see your browsing history.
It might seem strange that a browser add-on is malicious, but this is not unusual. Malicious actors love getting access to your browser — it's where you do online shopping, private messaging, etc. Even if ApplicationEvents doesn't steal your passwords, access to your browser is great for showing you ads. Constant pop-ups, floating ads, banners that don't belong to the site. This allows fraudsters to make a lot of money from advertising while not creating any content. Search hijackers, for example, replace your default search engine and simply inject promoted content into the results.
Adware isn't just a huge distraction, it can also be dangerous. If ApplicationEvents promotes to you investment scams, tech support scams, misinformation, adult content, sweepstake scams — you could actually lose money. Worse is if the computer is a family computer and children have access to it.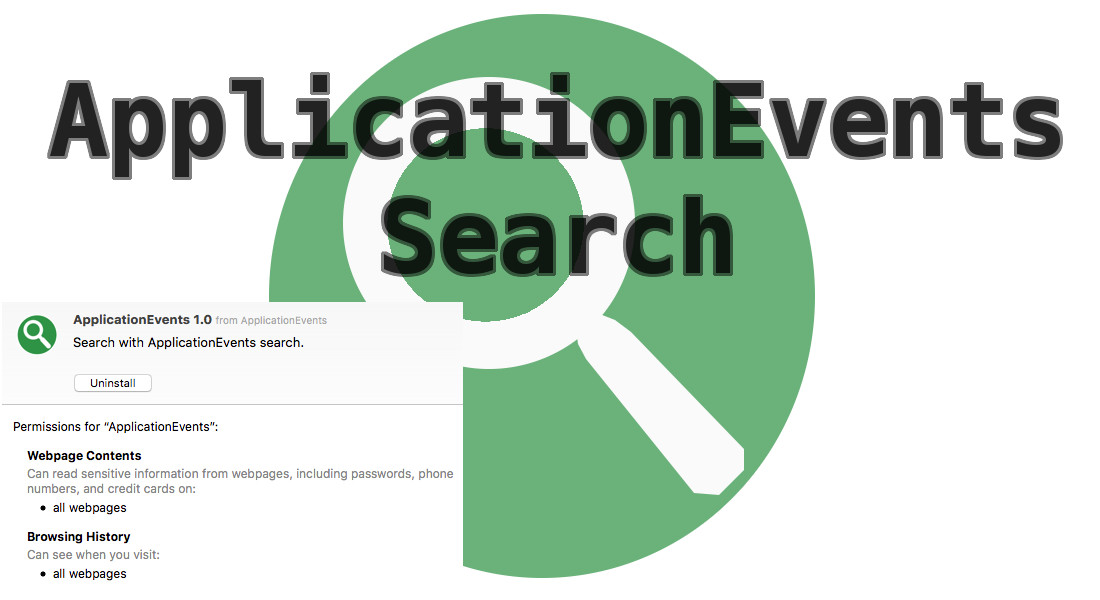 How ApplicationEvents spreads
The extension can be installed by malware already present on the computer, like various fake utility tools, PDF readers, Mac optimizers, etc. Basically, if you were to scan your Mac with an anti-malware program, chances are, you'd find a couple of issues. Removing ApplicationEvents thus needs to happen together with cleaning your Mac of any malicious applications if they're found.
Bundling might be a way that ApplicationEvents got inside your Mac. Some applications are distributed in one package and are installed together, without properly warning the user. This way, they seem to appear out of nowhere.
It's also possible that bad ads are responsible for the installation. It's usually easier to remove browser hijackers like ApplicationEvents if they were installed by you, with no other malware, so that's good. But the fact that you saw malicious ads is a problem because it could cause more malware infections in the future. Consider using real-time protection that would block dangerous sites form showing.
How to remove ApplicationEvents
Removing this unwanted application is a challenge — it's very persistent, a lot of those who just remove ApplicationEvents from their applications and their list of browser extensions see it come back after a while.
People tried to get rid of ApplicationEvents by fixing issues found by anti-malware programs and had success. You can use any competent cybersecurity tool, like Combo Cleaner, to remove the components of malicious software.
It's also very important to not allow more malware to be installed on your computer, so take care to scan every installer before you run it, avoid dangerous sites, ignore suspicious ads, and always use 2-factor authentication.
Automatic Malware removal tools
TopRemoving ApplicationEvents Search from Safari (Mac OS X)
Click on the Safari menu.
Choose Preferences.

Click on the Extensions Tab.
Click on the Uninstall button near the ApplicationEvents Search. Remove all other unknown or suspicious entries too. If you are not sure whether you need the extension or not, you can simply uncheck the Enable check-box to disable the extension temporarily.

Restart Safari.
(Optional) Reset your browser's settings
If you are still experiencing any issues related to ApplicationEvents Search, reset the settings of your browser to its default settings.
Click on the Safari menu on the top left corner of the screen. Select Reset Safari.

Select which options you want to reset (usually all of them come preselected) and click on the Reset button.

If you cannot reset your browser settings and the problem persists, scan your system with an anti-malware program.