Anydoctopdf is one browser add-on that sets Freehdsearch.com as the new tab page when installed on the Chrome browser. Anydoctopdf is suspicious because of all the unnecessary and undisclosed changes it makes to your browser, and it fits the classification of a browser hijacker — an application that tries to take control of your browser in order to more easily deliver ads.
Anydoctopdf Redirects quicklinks
Anydoctopdf is not directly dangerous and can even be used regularly if you like it. However, it's also problematic — promoted by adware viruses, hijacks your search engine for no good reason, and the function it offers (PDF converting) is useless to most people. Thus, you should only use it if you are sure that it's useful to you and if you're aware of the features that make Anydoctopdf suspicious.
Is Anydoctopdf safe?
Anydoctopdf is not outright malware. However, it can be considered a PUP (potentially unwanted software) and a browser hijacker. It uses the PDF-converting function as bait to get people to install it, then changes their browser settings, such as which search engine is used, to get the opportunity to monetize the add-on.
Freehdsearch.com, the search engine that Anydoctopdf sets, is a very minimalistic one that lacks any features that other browsers use, such as image search or unfurled results. It was also malfunctioning for me, sometimes failing to find any results at all. If that experience is similar to the other people's, they're unlikely to be fine with this half-working page being set as their default browser. More likely, they might be confused and exasperated. Anydoctopdf has nothing to do with Web search and does not even warn about the new search in its store page.
Hijacking the browser's search certainly is convenient to Anydoctopdf, which has access to your search queries now. If the advertisers know what you searched for, they can make sure that the ads shown to you are going to be effective.
Another potential problem with Anydoctopdf and privacy is the fact that using it to convert files means you're sharing those files with a remote server. Normally, converting to and from PDF files can be done without any browser add-ons and that wouldn't require you to upload the files anywhere. Sure, Anydoctopdf promises to delete the converted files quickly, but this is still unlikely to be necessary: nearly any file can be quickly saved as PDF without the need of any additional software.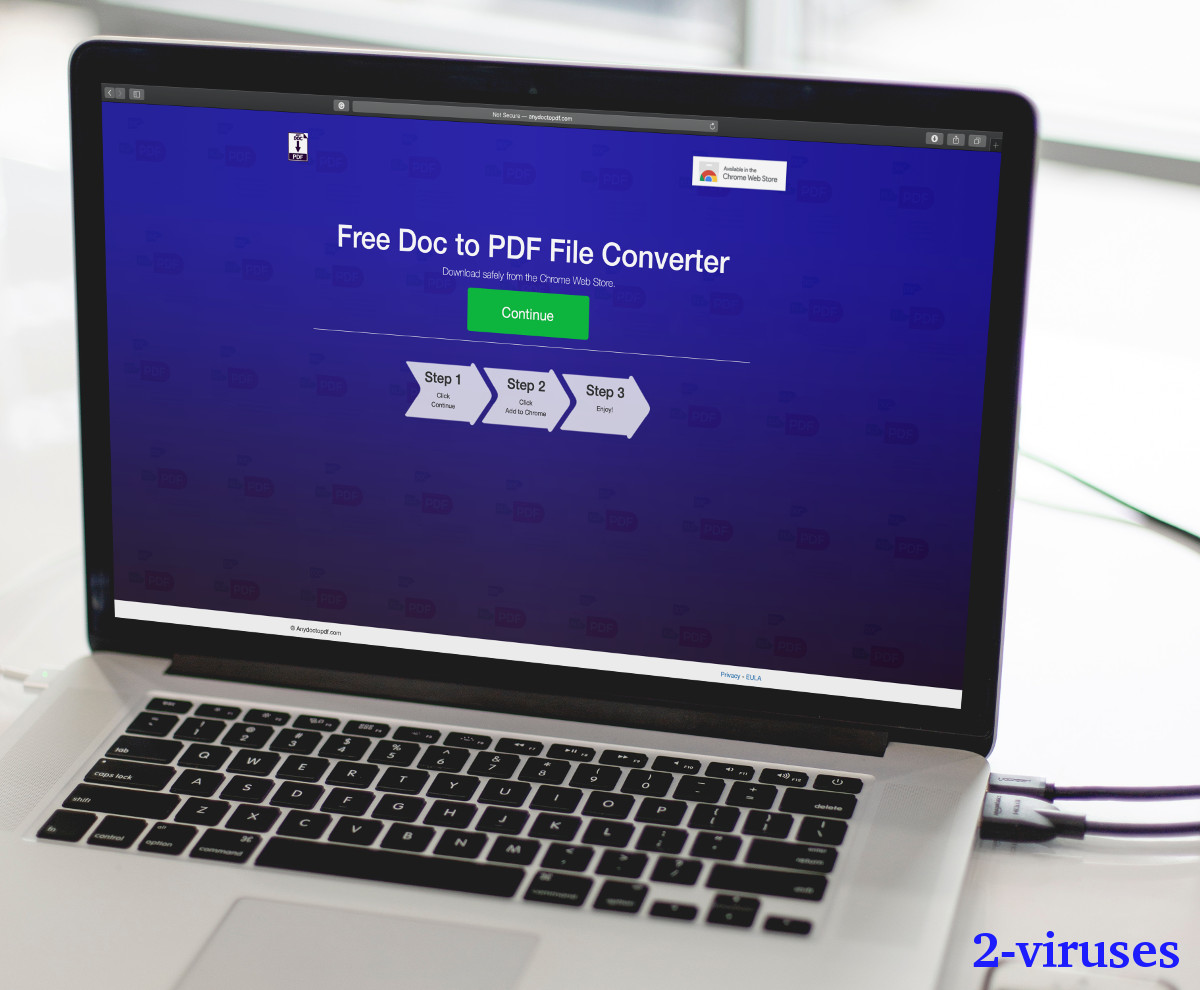 How browser hijackers spread
Anydoctopdf can be simply installed through the Web Store. But it's also promoted using illegitimate adware networks that are known to infect people's computers with notification spammers and other malware. In fact, that is how I first found it. It's problematic that, sometimes, Anydoctopdf uses the same distribution methods ad other, more dangerous malware:
Adware viruses.
Pop-up ads and redirects instead of normal ads.
Search.
Freeware bundlers.
Pop-ups and redirects are generally ads encountered of shady websites, like fmovies.to and y2mate. The ads there aren't just aggressive, they're also often malicious, promoting scams, malware, and other problematic content. That means that you should probably scan your device to see if any other potentially unwanted applications are on it, since they're all promoted in similar ways to Anydoctopdf. Adware viruses, by the way, are programs which also deliver similar ads, but they do it even more intrusively since they can infect your computer and work on any website, not on just a few.
Anydoctopdf is possible to find manually, though it would be difficult: This add-on is only one in a sea of browser extensions that convert documents between types: Pdfconverttools.com, search.hdocumentconverter.app, Converter.mysearches.co FileConvertor, ConvertoWiz — it seems to be a popular function.
Bundling is another way that unwanted programs arrive on your computer. Most of the time, this manifests in applications seemingly appearing out of the blue. A carelessly downloaded and installed freeware program could have included a few offers, like Anydoctopdf. Bundlers are often deservedly considered PUPs, too. The practice of bundling is looked at with suspicion because of how easy it is to cause the user to install a program without agreeing to it, without even knowing.

How to remove Anydoctopdf
To free the browser from Freedhsearch.com, Anydoctopdf needs to be removed, no way around that. Luckily, as I said, the functions that it offers are totally unnecessary for the vast majority of people, so it's not a great loss. At the same time, if you like it, you can keep using it. Just keep in mind that Anydoctopdf can show you ads that might be dangerous and it could act like spyware if the developers wanted.
If you decide to uninstall Anydoctopdf, Chrome has made the process very simple, so that shouldn't be a problem. Just right-click on the icon of Anydoctopdf which should be displayed next to the omnibox and choose the "Remove from Chrome" option. Follow the guide below to check your settings for any damage.
There is a danger that Anydoctopdf might return after being uninstalled, or that various add-ons are added to your browser without your knowledge. Random installations of browser extensions are likely not a problem with your Web browser — instead, there might be malware on your computer that's responsible. Scan your device with Combo-Cleaner (Mac OS), or Spyhunter (Windows) to find out if there is adware or other malware on it and then remove it from your computer before it causes any more problems.
Automatic Malware removal tools
TopHow To remove AnyDocToPdf redirects from Google Chrome:
Click on the 3 horizontal lines icon on a browser toolbar and Select More Tools→Extensions

Select all malicious extensions and delete them.

Click on the 3 horizontal lines icon on a browser toolbar and Select Settings

Select Manage Search engines

Remove unnecessary search engines from the list

Go back to settings. On Startup choose Open blank page (you can remove undesired pages from the set pages link too).
If your homepage was changed, click on Chrome menu on the top right corner, select Settings. Select Open a specific page or set of pages and click on Set pages.

Delete malicious search websites at a new Startup pages window by clicking "X" next to them.

(Optional) Reset your browser's settings
If you are still experiencing any issues related to AnyDocToPdf redirects, reset the settings of your browser to its default settings.
Click on a Chrome's menu button (three horizontal lines) and select Settings.
Scroll to the end of the page and click on theReset browser settings button.

Click on the Reset button on the confirmation box.

If you cannot reset your browser settings and the problem persists, scan your system with an anti-malware program.