Undoubtedly, pretty much anyone who has a computer and internet tried watching a movie or a TV show online – and not necessarily in a legitimate way. Despite the great and affordable selection of online media service providers and strict copyright claim laws taking down stolen content, there are plenty of websites that offer even the newest movies for free. Fmovies.to is one of these questionable domains that allows visitors to stream all kinds of videos and series without signing up or paying. But is it really free? How does it maintain the site if there is no official earnings and users are not required to support it?
Rarely people think about these things until they get in trouble and get malware on their computer. Mind you, no matter how shady Fmovies.to and its sister domains are, they themselves are not malware, but their online marketing techniques can very easily cause a system's infection if you are not careful.
Specifically, Fmovies.to's notifications allow creators of the site to make money and finance movie streaming – for the price of visitors' virtual safety. (Understanding malicious web advertising)
Although we do not recommend using illegal websites like Fmovies.to, we understand that people have their own reasons for using them. Therefore, we prepared instructions on how to stop Fmovies.to notifications and protect your computer from unwanted threats.
Fmovies To Notifications quicklinks
Fmovies.to in short:
Classification
Adware.
Problems with Fmovies.to
It uses notifications to spam ads,

it shows ads that occasionally lead to dangerous sites.

How to avoid ad spam
Use ad blockers,

disable notification prompts.

How to stop Fmovies.to ads
Disable notifications from Fmovies.to and other sites,

remove malicious and unwanted programs (Spyhunter for PC, Combo Cleaner for Mac, Malwarebytes).
What Fmovies.to pop-ups do
Fmovies.to shows pop-up ads when you click on random spots on the site. It also sends notification ads, which appear as pop-ups even when Fmovies.to is closed.
Fmovies.to takes users to websites that paid to be advertised. These sites which you land on are typically based on your IP location to fit your interests, influence you to buy and load faster, therefore they can be very different for everyone. During our research, we were taken to Bodelen.com, Alibaba.com, 'Your system is infected with 3 viruses' and other scams, Oleobet.com, Bonus365.site pages.
Some of these ads are safe, if unwanted. Some are ads for gambling sites and adult sites, which is problematic knowing that children might visit Fmovies.to. And then some of the ads are just scams, such as "Your system is infected with 11 viruses" or "Apple Security Alert" that try to steal people's money and personal information.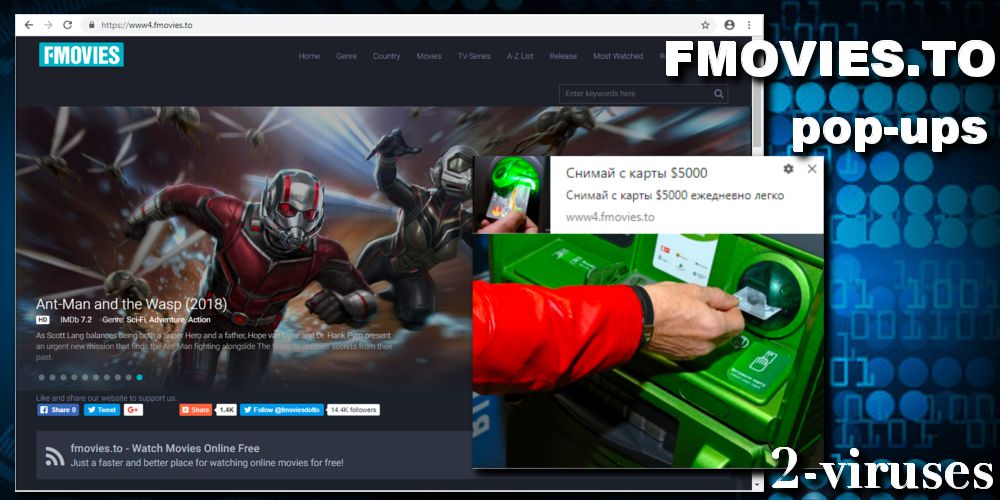 At the moment, almost 50 million people per month get to see Fmovies.to notifications. (See SimilarWeb.com analysis url="https://www.similarweb.com/website/fmovies.to"]). Fmovies.to has thousands of videos and has been active for a while, building more and more subdomains – 4fmovies.to, 9.fmovies.to, player1.fmovies.to, player3.fmovies.to, as well as sister domains like Fmovies.name and Fmovies.co.
Luckily, some security programs detect Fmovies.to as "Malicious" as you can see on this Virustotal.com page, but plenty still don't. That's understandable – the dangerous part of Fmovies.to is restricted to its pop-up ads and notification spam, which are arguably avoidable.
That is why having good online safety browsing skills is imperative in these situations, where you need to not just trust your antivirus, but also your ability to recognize malware.
What causes Fmovies.to notifications
If you are seeing ads on Fmovies.to, that's pretty normal. It's how the site makes money. It opens new tabs in your browser when you just click on random spots on Fmovies.to. This can be very disorienting, but it's just ads by Fmovies.to.
But if you're getting pop-ups from Fmovies.to on your screen even when you don't have the page open, that's caused by something else: notifications. You might have enabled the pop-ups when visiting the site.
Many domains, even legitimate ones like Google or Facebook, use the alert feature to directly post updates, news, ads to their visitors who give the permission. Timely updates can be very useful.
And then there are some that abuse this authorization and deliver malware, such as Sandsitedrhec.club, Tert1ary.com, Cinebo.net. If Fmovies.to has access to your notifications, you can never be sure what will be sent to you.
Web push alerts can only appear if you voluntarily enable it on the typical white box asking to 'Allow' to show notifications, which appears below the URL line once Fmovies.to site is opened. Some sites use very deceptive messages to get visitors to subscribe to these notifications (any site that asks you to "click the Allow button" is trying to do this).
You can configure your browser to hide notification prompts. And you can use ad blockers to block the ads that Fmovies.to opens. Then again, Fmovies.to might try to block you if it detects that you're blocking its ads.
How to stop Fmovies.to pop-ups
Although ad blocking has been a controversial topic for taking away money from website creators and posting their own ads instead, in this case, Fmovies.to is a pirating site, so it's arguable how ethical it is to give it money.
Besides, ad blockers will protect you from the scams and frustrating ads that Fmovies.to opens.
As for the Fmovies.to pop-ups that appear on your screen even when the page is closed, you need to disable web push notifications:
Chrome – open Settings, scroll down to Site settings (under Privacy and security), click on Notifications.
Edge (Chromium) – open Settings, click Site Permissions, Notifications.
Firefox – open Settings, Privacy & Security, scroll down to Permissions, and click on Settings next to Notifications.
Safari – in the Safari menu, choose Preferences, Websites, Notifications.
Because these third-party malicious links might contain malicious software, such as browser hijackers, adware and even ransomware, we advise getting Spyhunter for Windows, Combo Cleaner for macOS, or Malwarebytes anti-spyware scanners, which will analyze your full system for free and let you know if there's any malware that you need to delete. These malware removal programs are developed to discover all kinds of threats, that is why it's the best solution when you are not quite sure whether your PC/Mac Got infected with something or not.
Automatic Malware removal tools