Adserv.site redirect virus transfers users to all types of third-party websites. In comparison, it functions identically to infections like Touch.peak-serving.com and Iupot.com. All of these threats promote suspicious websites that will attempt to deceive you into downloading/purchasing low-quality programs or other goods.
We noticed that products by Solvusoft can be one of the destination links of Adserv.site redirection. Our team of researchers has already discussed one of Solvusoft's programs: WinThruster and it was labeled as a potentially unwanted program (PUP). Therefore, wasting money on this application is unnecessary.
Adserv.site redirect virus introduces many fraudulent websites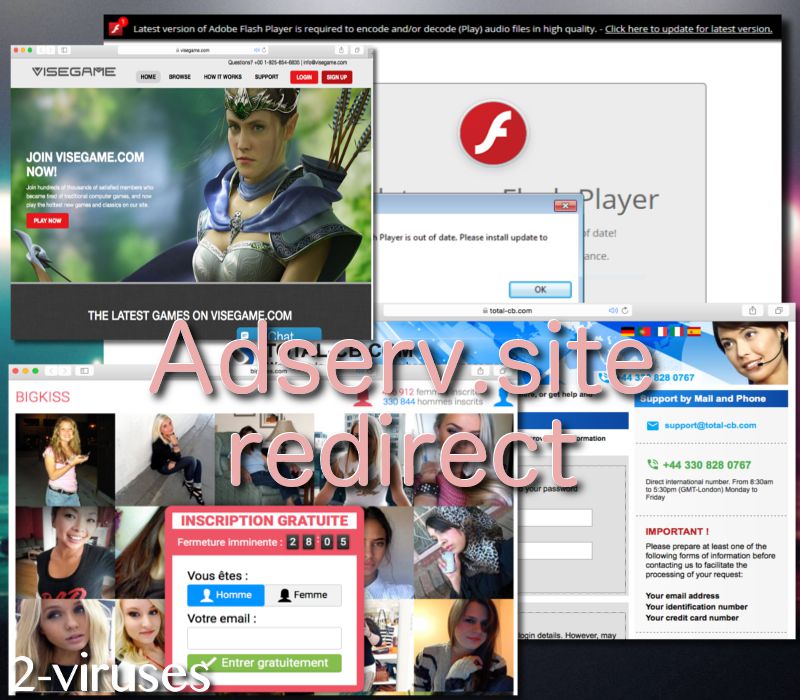 Adserv.site malware infection is the most annoying for people from Denmark, South Africa, Iraq, United States and Spain. Quite a colorful variety of different cultures that are being forced to sit through repetitive redirection. This process occurs without any warnings and users' active windows unexpectedly shift from one domain to another. The final website displayed would normally show a technical support scam, fake survey or lottery, offer to update drivers/software/browser, or a different fraudulent content (Spam, deceptive practices, and scams).
We also noticed that Adserv.site website is hosted on the same IP address as many websites of scammers. For instance, Financialfreedomformula.biz will probably lure you with promises of easy-money, but by being gullible you might actually lose cash through such fraudulent services (Money-making scams). In one of the domains, hosted on the suspicious IP, we noticed a service that offered women to purchase tasers, stun guns, mace and pepper sprays. Infection also promotes installations of suspicious security tools that will presumably show false positives and urge you to waste money on full versions. Tools like PCBooster or MacShiny might be described as the best tools to purchase, but you should not believe these false statements.
Fraudulent messages from Adserv.site suspicious domain can be triggered due to two main reasons The first one indicates that your browsing skills are poor and you should stop visiting little-known websites or the ones that provide shady services. Redirection to Adserv.site website might be taking place because your visited domains are triggered it. However, the reason might also be the fact that your operating system is invaded by malware samples (Examples of the Most Damaging Malware). The most presumably infection: an adware parasite. These threats generate huge amounts of suspicious content.
Because an adware has invaded you computer, it is possible that your online activity will be constantly tracked. Your visited websites, bookmarks, interactions with ads, recent search queries will be gathered by an adware with spyware capabilities. In some cases, users' personally-identifiable information is put in jeopardy. Credentials to various accounts could also be stolen by vicious third-parties, aiming to exploit this data for identity theft or other cyber crimes.
Stop an adware parasite from continuing to influence your computer system
We are not sure which adware parasite is responsible for Adserv.site redirect virus. One of the manual ways of finding out the truth is looking at the list of active programs. This information can be found in Windows Task Manager. If among the ongoing processes you detect some suspicious names, please find information whether it legitimately belongs in your device. If not, then follow instructions below and remove the potentially malicious program from Control Panel.
On the other hand, we also urge users to get a reliable anti-malware tool for the purpose of protecting devices from malware in the future. Spyhunter is one of the efficient tools that will help you protect your computer system from potentially dangerous content.
However, you should also try to be more cautious during your browsing activities. For instance, try to avoid installations of redundant applications. Especially try to refuse propositions to install programs via online ads: this is the fastest way of becoming infected with malware. Furthermore, during installation processes of freeware tools, always select advanced/custom modes. Then, read Eula and Privacy Policy documents, together with other conditions that might be mentioned or highlighted in the Setup Wizard.
How to remove Adserv.site redirect using Windows Control Panel
Many hijackers and adware like
Adserv.site redirect
install some of their components as regular Windows programs as well as additional software. This part of malware can be uninstalled from the Control Panel. To access it, do the following.
Start→Control Panel (older Windows) or press Windows Key→Search and enter Control Panel and then press Enter (Windows 8, Windows 10).
Choose Uninstall Program (if you don't see it, click in the upper right next to "View by" and select Category).
Go through the list of programs and select entries related to Adserv.site redirect . You can click on "Name" or "Installed On" to reorder your programs and make Adserv.site redirect easier to find.
Click the Uninstall button. If you're asked if you really want to remove the program, click Yes.
In many cases anti-malware programs are better at detecting related parasites, thus I recommend installing Spyhunter to identify other programs that might be a part of this infection.
Automatic Malware removal tools