WinThruster software is developed by Solvusoft Corporation, a US-headquartered company. It is advertised as a registry cleaner and a system optimizer. The developers of the program promise that by installing and activating its full version users will be able to improve the functionality of their computers and the systems will function in a faster way.
Winthruster Virus quicklinks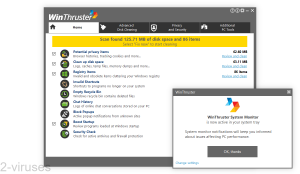 The fact that WinThruster is the product of Solvusoft Corporation, a Microsoft Gold-certified software development company, probably gives more credibility to the program, however, there are some complaints from the people who installed it. They mentioned that there were no enhancements noticed after they purchased this optimizer and that the performance of their Windows operating system was instead diminished.
WinThruster looks very similar to SlimCleaner, PC Speed Maximizer, Auto System Speedup, and some other programs. Even their interface is basically the same, as well as the functionality and behavior within the system. All these programs ask for the license to be purchased in order to fix the so-called problems allegedly revealed upon completion of their system scans.
Fake optimizers like WinThruster are more likely to slow down your computer than do anything useful. You can feel free to uninstall them:
Classification of WinThruster
PUP – potentially unwanted program.

Scareware – exaggerates problems.

Installation
The program was installed in the background of another installation.

Fake security alerts online recommended WinThruster to clean your computer.

Symptoms
Pop-ups alert you about "issues" with your PC.

Your PC works a bit slower thanks to frequent scans.

Removal
Uninstall using Control Panel.

Remove suspicious programs using anti-malware tools (Malwarebytes).

Cancel your WinThruster subscription.

Check the integrity of your system files.
Is WinThruster worth trying?
It's detected by anti-malware programs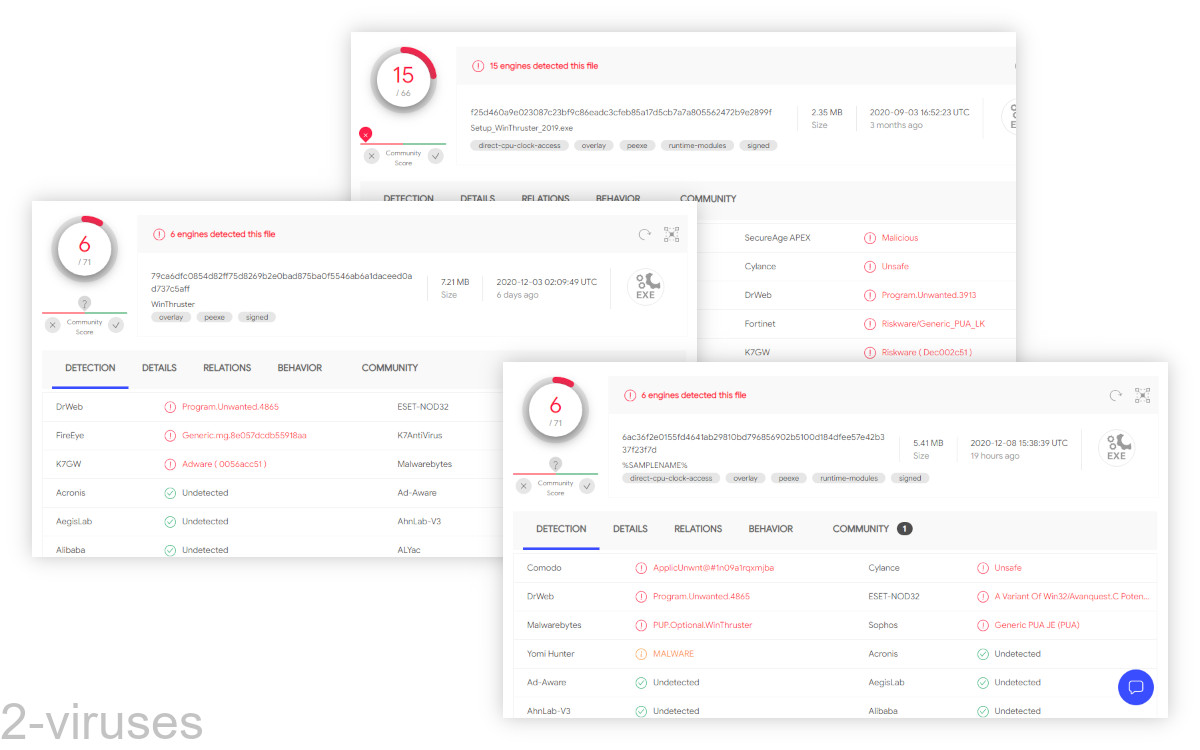 We scanned WinThruster (WinThruster installers and its executable) with security programs. The scan results showed why you might want to avoid this program. A few of the scanners identified this installer as suspicious: it was marked as a Trojan/Win32.TSGeneric, W32/Trojan.XWVJ-8199, Program.Unwanted.952, Riskware/SlowPCfighter, PUP.Optional.Solvusoft, Artemis!Trojan, PUA.Winthrust.
To be fair, the 2020 version of WinThruster is better than its 2019 version. Here's a scan result of the current version of WinThruster: Virustotal.com. In addition, the software ethical behavior watchdog AppEsteem has given WinThruster its blessing back in 2017. So, it's not like WinThruster is malicious. Just kind of potentially unwanted and not as useful as its promotional material implies.
Still, it's good to be careful of PUPs (potentially unwanted programs), even though they're not outright dangerous.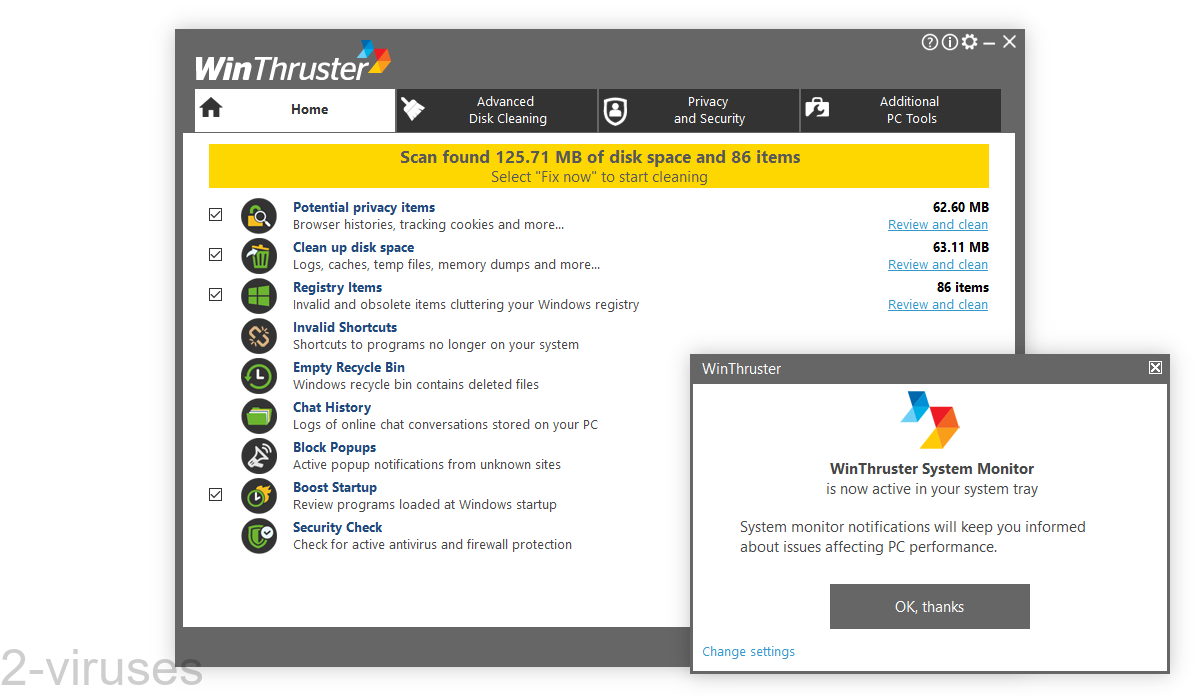 Optimizers and registry cleaners
Registry cleaners are often immediately suspicious because, notoriously, Microsoft does not recommend using them.
When it comes to registry-cleaning utilities and system optimizers like WinThruster is that they can make misleading promises and report harmless issues as problems. They then offer to fix these issues that might not really need to be fixed. However, this does not always improve system performance. Outdated or unused registry entries don't impact system performance in a perceptible way.
WinThruster offers a free-trial version that has limited functionality. It also offers a one-year subscription to the paid service of WinThruster amounts to $39.95 USD.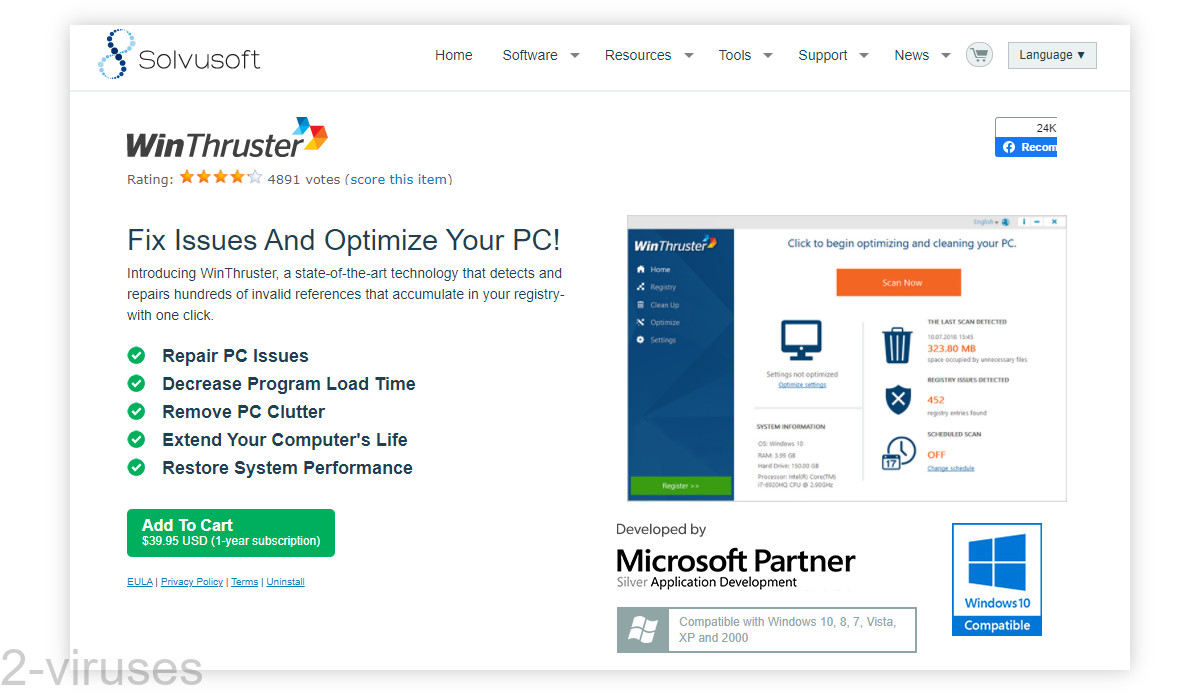 Generally speaking, the majority of so-called system optimizers are reported to be absolutely useless, since their functionality is very primitive. They may get rid of some outdated components, however, they may as well delete important system files that will result in more complex problems to occur – editing the registry is especially risky. Furthermore, while the free trial period of WinThruster is in place, the program will keep scaring users with the series of faulty alerts claiming that the computer is experiencing problems that allegedly need to be immediately fixed.
This is why antivirus programs detect the WinThruster program as potentially unwanted. It's important to be aware that a registry cleaner like WinThruster can be helpful in limited circumstances, but it's far from necessary.
How to remove WinThruster
Some people speak of WinThruster as a virus or rogue security software. However, it is more correct to classify WinThruster as a PUP (potentially unwanted program). This is the way that anti-malware programs detect it. Many antivirus programs ignore WinThruster because it's not really harmful.
So, if you want to get rid of WinThruster, we recommend you to scan your computer with a powerful anti-malware utility (like Malwarebytes) that can recognize PUPs. It will help to identify all available components of WinThruster within the system and to delete them effectively.
You can also remove WinThruster manually by accessing the Control Panel of your computer, locating it in the list of available programs, and deleting it. Or you can use Windows settings, Apps & features to remove it.
It might be first necessary to end the task of the program in the Task Manager.
Automatic Malware removal tools
How to remove WinThruster virus using Windows Control Panel
Many hijackers and adware like
WinThruster virus
install some of their components as regular Windows programs as well as additional software. This part of malware can be uninstalled from the Control Panel. To access it, do the following.
Start→Control Panel (older Windows) or press Windows Key→Search and enter Control Panel and then press Enter (Windows 8, Windows 10).
Choose Uninstall Program (if you don't see it, click in the upper right next to "View by" and select Category).
Go through the list of programs and select entries related to WinThruster virus . You can click on "Name" or "Installed On" to reorder your programs and make WinThruster virus easier to find.
Click the Uninstall button. If you're asked if you really want to remove the program, click Yes.
In many cases anti-malware programs are better at detecting related parasites, thus I recommend installing Spyhunter to identify other programs that might be a part of this infection.