Touch.peak-serving.com redirect virus is bothering you due to an infection with an adware parasite or because you visit websites that sponsor this domain. It is extremely popular in Poland, just like many other redirects like Pomnd.pro. In fact, many of the destination links of redirection will lead to Polish-based services like Modzik.com. Touch.peak-serving.com virus will be promoted in several social networking sites, torrent peer-to-peer services and even websites that focus on adult-oriented content. One of the websites, promoting the suspicious Peak-serving.com redirect, is Adexchangegate.com.
Peak-serving.com malware-spreading domain is dangerous: avoid it
Touch.peak-serving.com redirect infection receives attention from Brazil, United States, Indonesia and Italy. The biggest amounts of web traffic are brought in by referrals and online advertisements that promote the domain. We noticed that some of the publishers are websites that provide pornographic content to users. Just recently, Pornhub domain was exploited for the purpose of delivering malware viruses. In other words, malvertising was commenced through this domain.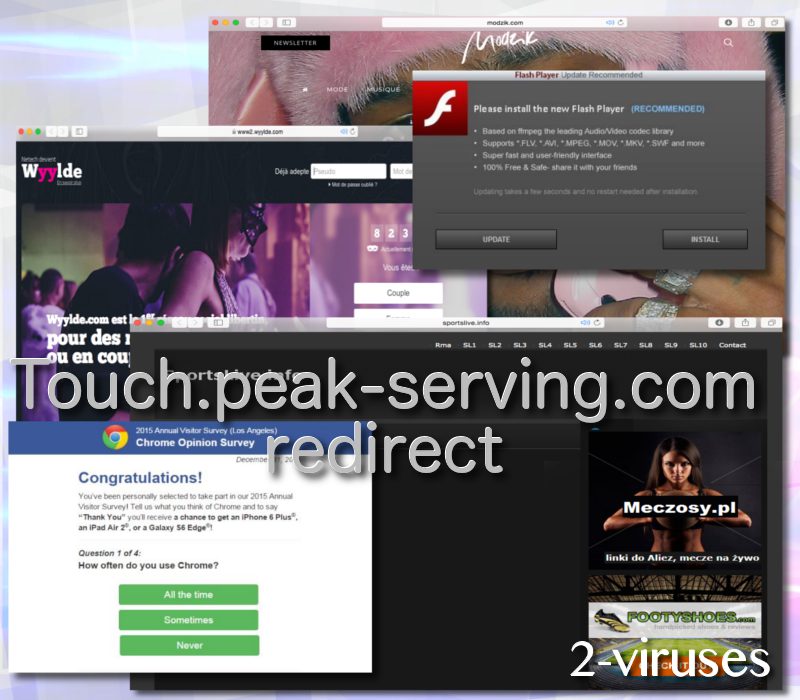 Peak-serving.com redirect will lead users into pop-ups, displaying advertisements for Propeller Ads Media, Revenue Hits, AdSupply, Aedgency and PopAds. The amount of promoted material will probably be ridiculous, meaning that your active browser windows will automatically change to other domains without your consent. Most of the sponsored content will invite you to participate in games, surveys, lotteries or other types of intriguing material (When ads go rogue).
What is more, even without your permission, adult-focused domains will be constantly introduced. If you allow minors to user your computer occasionally, they could be exposed to disturbing images. Furthermore, Appsecurityr.com website is a potential destination link after Peak-serving.com redirect takes place and it present a technical support scam.
Adware parasites are very frequently the ones that are responsible for the presentations of online adverts and redirects. Therefore, it is very likely that Touch.peak-serving.com domain is seen in your address bar due to a malware infection. To find out whether this prediction is correct, we are advising you to run a scan with Spyhunter. It will determine whether your device needs to go through malware-removal process.
Since advertisements are being introduced to you, it is also possible that the adware will initiate spying activities. Therefore, your entered search queries, visited domains, technical information about your operating system and other non-personally identifiable information can be gathered by a suspicious program (What is spyware?).
The worst kind of spying is when malware steals users' personal details: name, email address, banking account details, credentials and other valuable information. If you are a cautious user, you will always try to keep your device malware-free so your privacy and financial stability would not be compromised.
How can users fight-off malware?
For instance, one of the best techniques to keep operating systems functioning without any malfunctions is to have an anti-malware tool installed. Then, run regular scans in order to find out whether everything in your system is working without a flaw. Furthermore, it is crucial that you would constantly update your programs and system. If not, some vulnerabilities could work in favor of hackers and their plans of invading your privacy.
In addition to this, it is important to select advanced/custom modes for program installers. This allows you to read all of the conditions that the program's creators are expecting you to obey. For instance, if there are any additional freeware programs offered, you should be prepared to refuse these propositions. If you won't do this, it is possible that your OS will be filled with potentially unwanted programs (PUPs).
We cannot say which exact adware parasite is triggering Touch.peak-serving.com redirect. The anti-malware tool we mentioned can definitely help you, but you can also try a manual method. Follow the guidelines we have left at the end of this article.
How to remove Touch.peak-serving.com redirect using Windows Control Panel
Many hijackers and adware like
peak-serving redirect
install some of their components as regular Windows programs as well as additional software. This part of malware can be uninstalled from the Control Panel. To access it, do the following.
Start→Control Panel (older Windows) or press Windows Key→Search and enter Control Panel and then press Enter (Windows 8, Windows 10).
Choose Uninstall Program (if you don't see it, click in the upper right next to "View by" and select Category).
Go through the list of programs and select entries related to Touch.peak-serving.com redirect . You can click on "Name" or "Installed On" to reorder your programs and make peak-serving redirect  easier to find.
Click the Uninstall button. If you're asked if you really want to remove the program, click Yes.
In many cases anti-malware programs are better at detecting related parasites, thus I recommend installing Spyhunter to identify other programs that might be a part of this infection.
Automatic Malware removal tools