2conv.com is an online video downloader. It's free to use, supported by advertisements.
Unfortunately, the ads that 2conv.com shows can be incredibly aggressive and intrusive. They might start showing for users without their consent. And some of 2conv.com's ads are unsafe and should be avoided.
Even though 2conv.com itself is not malicious, you should be very careful while visiting it. It's full of malicious ads and notification hijackers.
2conv Com Ads quicklinks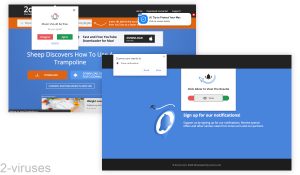 About 2conv.com in short:
Threat type
Adware.
Unwanted effects by 2conv.com
Pop-ups from 2conv.com show up even when the site is closed,

ads on 2conv.com trigger when downloading the converted files.

Problematic ads
Ads for potentially unwanted programs and unsafe programs,

ads for supplements and medicines,

get-rich-quick schemes.

How to stop 2conv.com's ads
Block unwanted notifications,

if needed, remove malware from your computer (Combo Cleaner for Mac, Spyhunter for PC, others),

block ads and malicious websites.
Problems with 2conv.com
This post is about the potentially problematic ads that 2conv.com displays; it's not about the legality of using 2conv.com. But if you're curious, the legality of downloading content from YouTube varies with each video.
It shows potentially unsafe ads
2conv.com, 2conv.ch, 2conv.org, and the other 2conv sites allow audio tracks of YouTube videos to be downloaded as Mp3 files. They're really popular – 2conv.com is estimated to be getting millions of monthly visits, mostly from people who find it by searching for YouTube converters. It's a popular service.
Like most online video converters, 2conv.com is free to use and requires no registration. To fund itself, it shows ads:
Banner ads on its pages.
New tab pop-ups when clicking buttons and links.
Notifications to deliver advertisements straight to your screen.
These unpredictable, difficult to avoid, browser-hijacking ads are much more aggressive than the ads that you see on most mainstream sites. 2conv.com needs to display its ads and it won't take "no" for an answer.
It takes over notifications
2conv.com can use notifications to show you ads even when you're not on the site. These ads appear as little pop-up boxes in the corner of your screen on a Desktop and at the top on a mobile device.
2conv.com tries to trick people into allowing its notifications. It disguises its request to send notifications as a survey. Here's what it says:
Music should be free.
Do you agree?
Then 2conv.com asks people to "Click Allow" to view the results. The "Allow" button actually subscribes to notifications, which help support it financially by letting it show ads on people's screens.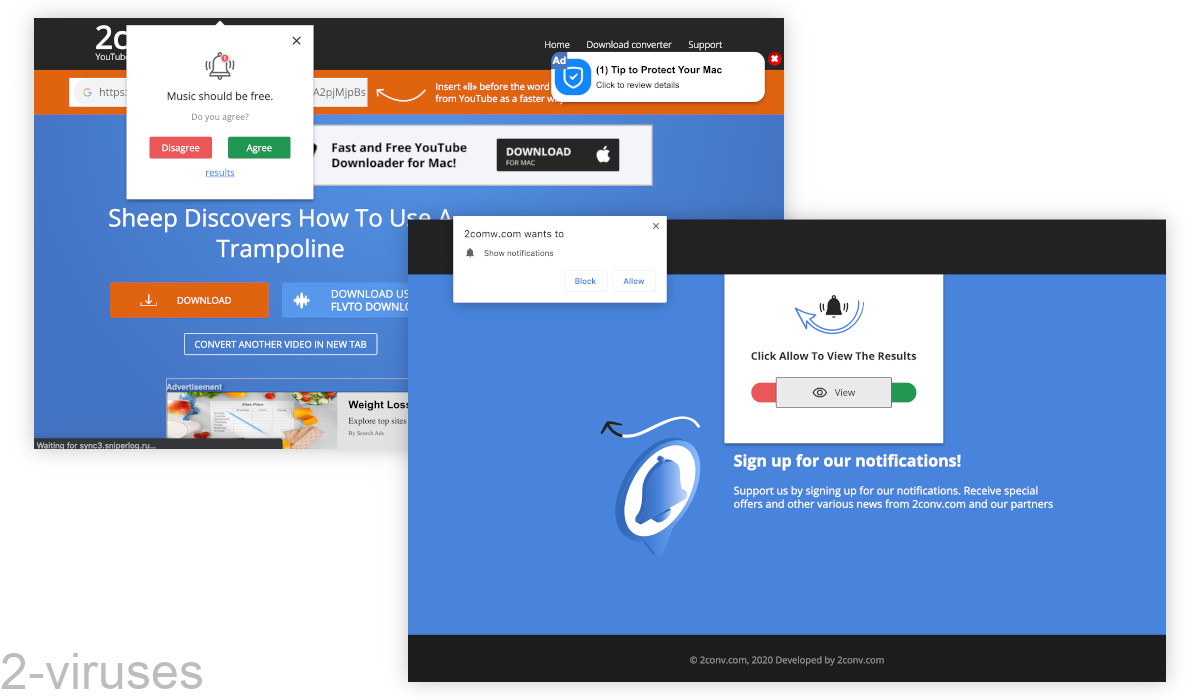 To avoid tricky notification prompts like those shown by 2conv.com, use quieter notification user interface or just do not click the "Allow" button when sites ask you to.
It shows potentially unsafe ads
The ads that 2conv.com displays are a little controversial:
Weight loss pills and other dieting supplements.
Ads for potentially unwanted computer optimizers (MacKeeper).
Adult chatting services and other sexual content.
Clickbait that does nothing but waste your time with more ads.
Get-rich-quick schemes.
These ads aren't as bad as what you can find on some other sites, such as Soap2day or Yesmovies. Still, they can cause problems. For instance, a child using 2conv.com would be exposed to explicit ads, which could be undesirable. Or users inexperienced with scams may be exposed to abusive content like various get-rich-quick schemes and lose money to them.
2conv.com also advertises other converters, like the Flvto downloader. It promotes desktop apps that are sometimes detected as malware (Virustotal.com), adware, spyware infections, or undetermined items like IDP.ALEXA.51.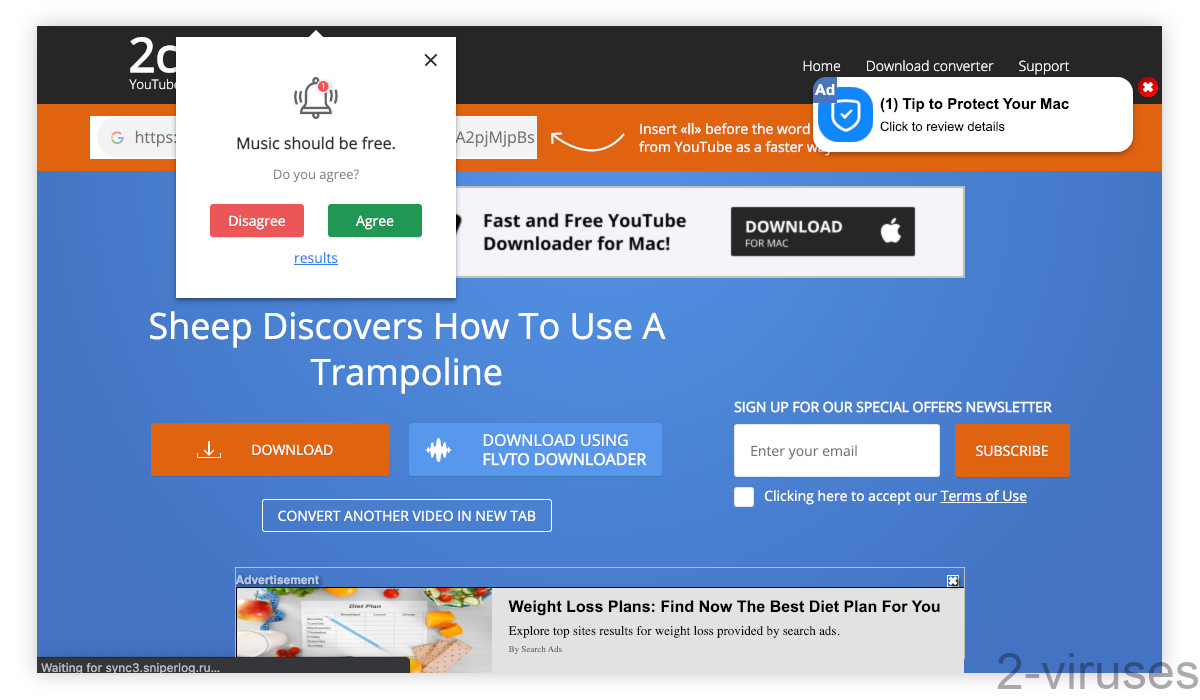 How to stop 2conv.com's ads
Block unwanted ads
To avoid malicious redirects on 2conv.com and other sites, use an anti-malware program to block malicious sites. You can also use an ad blocker to remove unwanted ads, but keep in mind that some sites refuse to work when your ad blocker is active.
If 2conv.com is showing you ads even when you're not on the site, block its notifications in your settings:
Chrome – open Settings, scroll down to Site settings (under Privacy and security), click on Notifications.
Edge – open Settings, click Site Permissions, Notifications.
Firefox – open Settings, Privacy & Security, scroll down to Permissions, and click on Settings next to Notifications.
Safari – in the Safari menu, choose Preferences, Websites, Notifications.
Find 2conv.com in the list of sites that are allowed to send notifications and then click the button next to it. Then, select Block (Deny for Safari). Remember that this only blocks the pop-up messages and not the site itself.
Remove malware
After blocking 2conv.com's pop-up ads, check your computer for any infections. Use an antivirus program, such as Combo Cleaner for macOS, Spyhunter for Windows, and others. Review your most recent apps, programs, and browser extensions yourself. Remove suspicious items. If your antivirus scanner detects something, remove it, as well.
Automatic Malware removal tools