Walmart is one of the biggest businesses in United States, operating a multitude of hypermarkets, discount department stores and grocery shops. It might be associated with other similarly running companies. However, it most certainly is not linked with the "$1000 Walmart Gift Card Winner" pop-up. Do not believe the shady statements that you have been selected to receive a 1,000 dollars check to shop in Walmart. This gift card might seem like a luring prize, but IT specialist conclude that this pop-up is generated by an advertising-supported software. If you seeing this content, it does not mean that you can start thanking your lucky stars. The truth is quite the opposite: your PC is contaminated with malicious codes of an adware.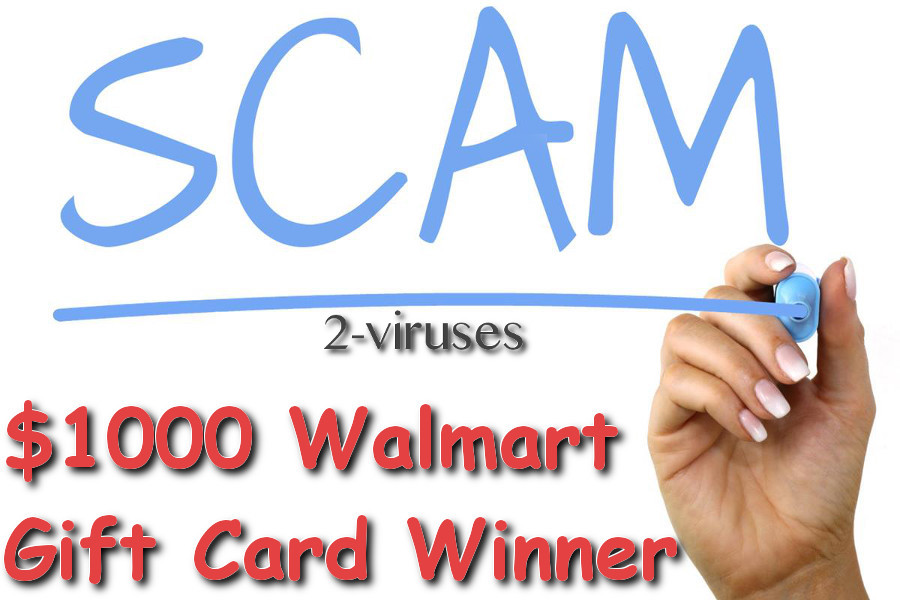 "$1000 Walmart Gift Card Winner" scam
There is no actual prize to begin with. "$1000 Walmart Gift Card Winner" pop-up is only speculating this lottery. There are tons of various scams like this – "Dear Facebook user, congratulations!" or Kohl's '$75 Anniversary Coupon' are just a couple of examples how cyber criminals are trying to trick users into thinking that they have won something.
Even though the pop-up suggests that a lucky visitor was selected to receive this prize, it is a lie. Probably a lot of infected people get intrigued by the nature of this pop-up. Unfortunately, no such winning has been successfully reclaimed. Not surprisingly, "$1000 Walmart Gift Card Winner" pop-up asks winners to fill a short survey in exchange for the prize. The fact that the adware finds Zip code as the most needful detail about you is a little bit odd. Not a lot can be done with this piece of information.
However, if you interact with this announcement, "$1000 Walmart Gift Card Winner" pop-up might redirect you to another site and implant malicious codes into your computer system. Even if you spent a minimum amount of time in that site, drive-by download might successfully invite potentially unwanted programs (PUPs). To add fuel to the fire, we will remind users that such infection can even lead to a ransomware virus at some point. That is why it is extremely important to get rid of "$1000 Walmart Gift Card Winner" pop-up and the adware that is used to generate it. Lastly, we are going to point out that adware parasites are known to implant tracking cookies. Your online activity can be monitored and your identity might be at risk.
How did "$1000 Walmart Gift Card Winner" reached you?
"$1000 Walmart Gift Card Winner" pop-up is the consequence of an adware application. There might be a couple of possibilities how you received this pest. First of all, it might have started to bug you after you downloaded a free program. Users should never download software from questionable file-sharing domains or by using peer-to-peer technologies. Look for legitimate software. Find out if there is any proof of the selected software being sneaky and shady. Setup Wizards of free programs also should have a specific flow of events. Advanced/custom modes should be chosen as the suitable option. Then, look for optional software offers and deselect them.
Spyhunter, Hitman or Malwarebytes can be the knights in shinning armors, protecting you at every step of the way. Use them to remove the adware, generating "$1000 Walmart Gift Card Winner" pop-up.
Since this malware is really shady, we can't tell what specific files might be the cause. However, if you are constantly seeing this notification, chances are that your computer is infected with some sort of unwanted program or even virus, thus a scan with reliable anti-malware tool is a must!
Automatic Malware removal tools