Polska Policja Wirus - How To Remove?
The Polska Policja Wirus (Polish Police virus) is a scam that blocks an infected computer completely. As the title of this scam says it targets computers located in Poland mainly. The blocking screen has all the information written in Polish as well as local police emblem. This virus the same way as other versions of the scam (such as Ministrstvo Za notranje zadeve Policija Virus, Strathclyde Police Virus, Canadian Police Association Virus and other) uses the same techniques to scare people and make them pay the fine:
lists crimes related to illegal usage and distribution of copyrighted material;
displays a webcam window in order to scare that a so called criminal will be identified;
demands for the payment using prepaid payment system.
Cyber criminals collect 300 PLN from every person tricked:
Komputer został zablokowany!
….
Kwota grzywny wynosi zł300 . Platność musi być dokonana w ciągu 48 godzin po ujawnieniu naruszenia.
A computer can get infected when browsing through malicious websites. One more way of getting attacked by The Polska Policja Wirus is after downloading files having viruses for example freeware or shareware gotten from unreliable sources.
In order to remove Polska Policja Wirus one should follow these instructions:
Restart your computer; press F8 while it is restarting;
Choose safe mode with networking;
Launch MSConfig;
Disable startup items rundll32 turning on any application from Application Data;
Restart the system once again.
Scan with http://www.2-viruses.com/downloads/spyhunter-i.exe to identify file and delete it.
If you can not run your computer in Safe Mode, it is very likely that it is infected with the version of virus which disables all of safe modes. But even in such a case it is possible to remove the threat. You should use the gap between turning on your PC and a blocking screen to run anti-malware and then:
Reboot normally;
Start->Run;
Enter http://2-viruses.com/downloads/spyhunter-i.exe . If malware is loaded, just press alt+tab once and keep entering the string blindly. Press Enter.
Press Alt+tab and then R couple times. You should have gotting rid of Polska Policja Wirus by now.
Automatic Polska Policja Wirus removal tools
We might be affiliated with some of these programs. Full information is available in disclosure
Polska Policja Wirus screenshots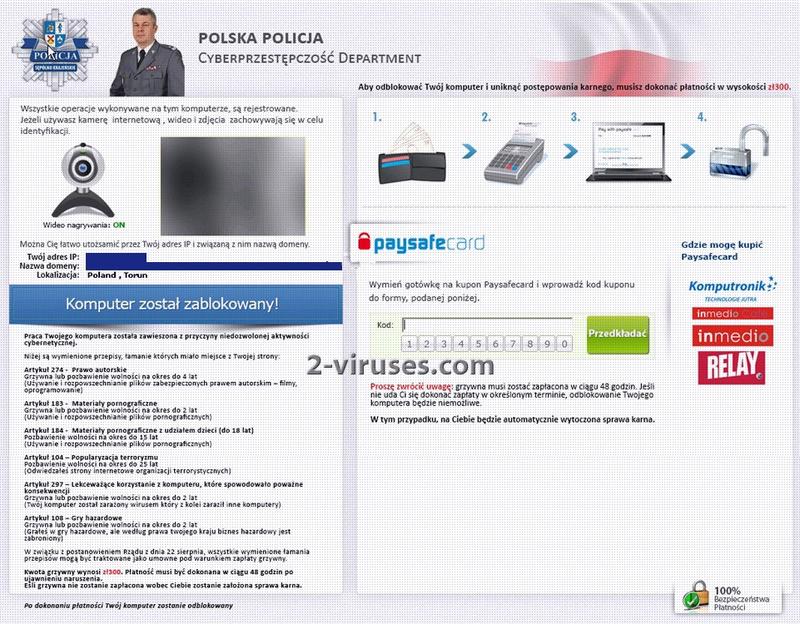 About the author