How to remove PaysafeCard Virus?
What is PaysafeCard Virus?
PaySafeCard virus is another program that blocks access to computers and gives you false information why that was done. The program displays a message on the infected computer that your computer has been locked because of  violations in using copyrighted content. Usually, it mentions that you have been using and distributing pornographic pictures and videos. The message also claims that you will not be able to use your machine until you pay a fine. The fines vary from 100 to 200 dollars or euros depending which version of the program is infecting.
PaySafeCard virus always uses a name of some well-known Police institutions which makes computer users really fall for this scam. The message looks really convincing and it makes you worry even more as it comes from somebody who enforces the law. Here are some names that PaySafeCard virus is using once got inside a system: Metropolitan Police virus, International Police Association virus, Unites States Cyber Security virus, Australian Federal Police virus, West Yorkshire Police virus and others. Not to mention that this badware has spreaded so wide that it even comes in different languages and infects computers located in different countries. For example, Cuerpo National de Policia virus, Policia de Seguranca Publica Portugues virus, El Equipo ha Sido Bloqueado por Violar la Leyes de Espana virus and others.
All fines are asked to pay using PaySafeCard payment system. This is one of the signs that something is wrong with those warnings as fines are never collected using such payment systems. You should never trust any of these programs and remove PaySafeCard virus as soon as possible. Since the virus blocks your computer and you cannot run your security tools that easily, you should either scan your computer from a different account or do it in Safe Mode with Networking.
All such ransomware removal instructions are covered in our Ukash Virus guide.
PaysafeCard Virus
is Highly dangerous
PaysafeCard Virus is a corrupt application
PaysafeCard Virus may spread via Trojans
PaysafeCard Virus asks to pay for non-functional "full version"
PaysafeCard Virus may display fake messages warning about computer problems
PaysafeCard Virus may install additional spyware to your computer
PaysafeCard Virus may repair its files, spread or update by itself
PaysafeCard Virus violates your privacy and compromises your security
Download Spyhunter
for PaysafeCard Virus detection
Note: Spyhunter trial provides detection of parasite like PaysafeCard Virus and assists in its removal for free. You can remove detected files, processes and registry entries yourself or purchase a full version.
PaysafeCard Virus screenshots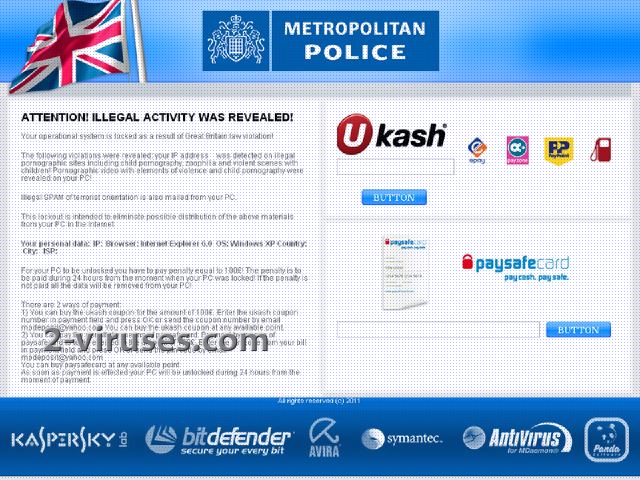 Manual PaysafeCard Virus removal
Important Note:
Although it is possible to manually remove PaysafeCard Virus, such activity can permanently damage your system if any mistakes are made in the process, as advanced spyware parasites are able to automatically repair themselves if not completely removed. Thus, manual spyware removal is recommended for experienced users only, such as IT specialists or highly qualified system administrators. For other users, we recommend using
Spyhunter
or other
malware and spyware removal applications
found on 2-viruses.com.
Stop these PaysafeCard Virus processes:
Disable these PaysafeCard Virus DLL files::
Remove these PaysafeCard Virus Registry Entries:
Remove these PaysafeCard Virus files:
It is impossible to list all file names and locations of modern parasites. You can identify remaining parasites, other PaysafeCard Virus infected files and get help in PaysafeCard Virus removal by using free Spyhunter scanner. It comes with free real-time protection module that helps preventing PaysafeCard Virus and similar threats.
PaysafeCard Virus is classified as Rogue Application. After infecting a user's system, it proceeds to scare its victim into buying the "product" by displaying fake messages, stating that your computer need particular components, or need to be fixed or has other serious problem that needs only PaysafeCard Virus can help you to solve these after you download the trial version. As soon as the victim downloads PaysafeCard Virus trial version, it offers to buy the full version to fix these false errors. If the user agrees, PaysafeCard Virus not only does not fix the errors, but it takes the user's money and may even install additional spyware into the victim's computer.
Some Rogue Applications, such as PaysafeCard Virus, may offer users to buy it after the victim clicks on a banner or a pop-up while surfing the internet. Usually, a Trojan is installed to a victim's computer after clicking on the advertisement, or comes bundled with various freely shiped programs like codecs. It then proceeds to download or even install PaysafeCard Virus, which is another way for Rogue application to spread itself.
How to tell if your PC has been infected by a Rogue Application such as PaysafeCard Virus?
Numerous undesirable and annoying pop-ups:
Rogue applications try to scare you into buing full versions by displaying various popups or fake alerts (like PaysafeCard Virus fake alerts) in your browser or even windows computer. They try to convince you to download trial or buy full version.
Slow computer performance and non-working programs:
Rogue applications try to slow down your system to force you to believe that there are problems that need to be fixed. They change your desktop background, show various alerts about registry errors or stop your PC from playing videos and images.