How to remove FBI Moneypak Virus?
What is FBI Moneypak Virus?
FBI Moneypak Virus is one more dangerous ransomware that blocks targeted computer systems and tries to get money from their users. It uses the name of FBI and blames you for breaking the law by watching and distributing pornographic content files. According to the message of FBI Moneypak, you have to pay a fine of $200. It tells you to do that through Moneypak payment system which should sound a bit strange as no official institutions would use such means to collect the fines.
However, nobody wants to deal with FBI so, naturally, many people take this scam for granted and pay the fine. Moreover, since infected computer is completely blocked, usually people don't know how to find any solution. Even your antivirus is disabled after FBI MoneyPak Virus enters your system. Paying that fine looks like the only solution. Unfortunately, nothing changes even after making the money transfer. This ransomware is a clear scam created by computer hackers who only seek to swindle your money away. They manage to distribute this virus through various security vulnerabilities. It can come bundled with downloads. Also you can get infected if you visit some malicious websites.
If you got your system blocked, you should remove FBI Moneypak Virus as soon as possible:
1. Restart your computer, press F8 while it is restarting
2. Choose safe mode with networking
3. Launch MSConfig
4. Disable startup items rundll32 turning on any application from Application Data;
5. Restart your computer again.
7. Scan with http://www.2-viruses.com/downloads/spyhunter-i.exe to find the file and remove it. Here is a video guide, showing how to do all the steps:
If you cannot use Safe Mode, try rebooting into safe mode with command prompt. Here how to delete Monepak Virus using this approach:
Reboot into safe mode with command prompt. FBI Moneypak Virus should not be launched this time.
Run regedit. Search for Winlogon.
There will be a key labeled Shell under Winlogon. It should refer to Explorer.exe or be blank. If there is something else referring an executable in one of users folders, replace it with explorer.exe.
Save changes, reboot to safe mode with networking.
Run msconfig and disable all unnecessary startup entries. You should be able to reboot normally.
Install and run http://www.2-viruses.com/downloads/spyhunter-i.exe. Scan with it the PC and delete FBI Moneypak Virus executables it finds.
Here is a video guide illustrating this virus removal method:
Note, that if each safe mode is blocked and you can not access other user account and run Anti-Malware program scan from there, there is a chance to clean the PC again.
We recommend either using Bootable antivirus CD/USB disk and scanning with it or calling +1-888-334-2444 (USA / CA ) for help.
FBI Moneypak Virus
is Dangerous
FBI Moneypak Virus is a Trojan parasite
FBI Moneypak Virus may display fake security & messages
FBI Moneypak Virus may display numerous annoying advertisements
FBI Moneypak Virus may be remotely controlled by a malicious person
FBI Moneypak Virus may spread additional spyware
FBI Moneypak Virus may repair its files, spread or update by itself
FBI Moneypak Virus may prove difficult or impossible to remove
FBI Moneypak Virus violates your privacy and compromises your security
Download Spyhunter
for FBI Moneypak Virus detection
Note: Spyhunter trial provides detection of parasite like FBI Moneypak Virus and assists in its removal for free. You can remove detected files, processes and registry entries yourself or purchase a full version.
FBI Moneypak Virus screenshots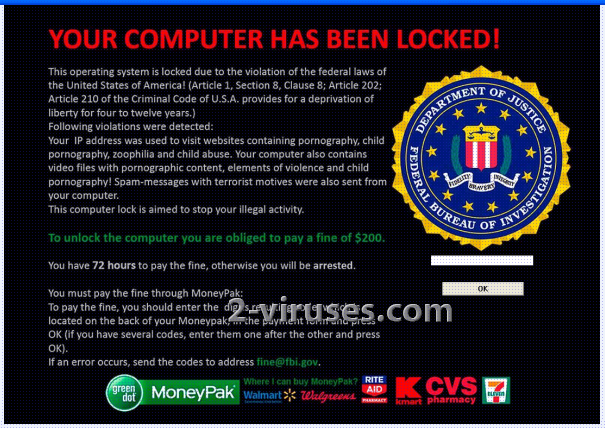 Manual FBI Moneypak Virus removal
Important Note:
Although it is possible to manually remove FBI Moneypak Virus, such activity can permanently damage your system if any mistakes are made in the process, as advanced spyware parasites are able to automatically repair themselves if not completely removed. Thus, manual spyware removal is recommended for experienced users only, such as IT specialists or highly qualified system administrators. For other users, we recommend using
Spyhunter
or other
malware and spyware removal applications
found on 2-viruses.com.
Stop these FBI Moneypak Virus processes:
Remove these FBI Moneypak Virus files:
It is impossible to list all file names and locations of modern parasites. You can identify remaining parasites, other FBI Moneypak Virus infected files and get help in FBI Moneypak Virus removal by using free Spyhunter scanner. It comes with free real-time protection module that helps preventing FBI Moneypak Virus and similar threats.
Such Trojans as FBI Moneypak Virus generally infect your system while you are installing a game, opening a picture or playing a video file.
Some Trojans such as FBI Moneypak Virus masquerade themselves as useful freeware programs or plug-ins, but are actually bundled Trojans.
As soon as it infects your system, Trojan FBI Moneypak Virus gives COMPLETE control over your system to a hacker using the Trojan, who may cause serious damage to your system. A Trojan may alter your desktop or add undesirable shortcuts to various commercial and marketing sites; FBI Moneypak Virus is no exception. It may create a backdoor to your system, allowing the hacker to control your system and steal your personal information. Unlike viruses and worms, Trojans like FBI Moneypak Virus do not reproduce by infecting other files nor do they self-replicate and each new victim must run the infected file.
How to tell if your PC has been infected by a Trojan such as FBI Moneypak Virus?
Slower System Performance:
Most Trojans are not optimized and coded very poorly, which causes your system to become unstable, slow and unreliable, as such Trojans are constantly running in the background.
Slow internet connection:
Trojans are constantly using your internet connection to send your private information to remote servers, as well as receive data from third party servers, which causes much slower internet connection speed and overall connection instability.
Giedrius Majauskas (admin) Trojan Gimemo, Police Virus, Ransomware, Reveton, Tobfy