Conduit Virus - How To Remove?
Conduit virus is an annoying browser hijacker that causes unwanted changes in your browser settings and does that without your consent or permission. If you noticed that lately lots of your searches are redirected to search.conduit.com, lab.conduit.com or similar websites that means your computer has been affected by this annoying application. Technically, Conduit is not a real virus, however it is a very widespread and annoying hijacker/pup.
Search.conduit.com looks just like most of the search engines. However, it differs from the other ones because it causes unwanted modifications on your computer. First of all, it becomes your default search page and homepage. Secondly, it tends to alter your search results by mixing promoted sites in the list and redirect you to conduit website.
Conduit is distributed with various free software. Some websites and software struggle to make money thus they distribute toolbars without disclosing search hijacking and advertisements. There are quite a lot conduit – powered toolbars and it is one of the largest group of semi-legitimate search hijackers. The purpose of Conduit virus is to promote various pages supported by third parties.
In late 2013, Conduit got aquired and some of the new versions of this hijacker use different names (Trovi and Trovigo). It is the same hijacker and all versions share the same principles despite using different names.
You should remove conduit powered plugins to avoid these redirections. Alas, It is not that easy to get rid of Conduit virus. In most cases you will not find it in the list of Add/Remove programs on Control panel. Remove everything related to Conduit. You can use a reputable antispyware program, for example spyhunter to make sure your system is completely safe. Manual removal may be tricky for less experienced computer users.
Typically, Conduit is distributed with Search Protect application that restores back bad settings if you fix your browser. It is very important to remove that application first, either from control panel or with anti-malware program.
How to remove Conduit Virus  from Internet Explorer (older versions):
Click on the arrow on the right of the search box;
Do the following: on IE8-9 choose Manage Search providers, on IE7 click on Change search defaults;
Remove search.conduit.com from the list.
How to remove Conduit Virus from IE 11:
Click on the Settings icon (top right)->Manage Addons;
Select Search Providers;
Change the default search engine to Bing or Google;
If any of these search providers is not available, follow "Find more search providers" in the bottom of the screen and install Google.
How To remove Conduit Virus from Firefox:
Enter "about:config" in url bar. This will open settings page;
Type "Keyword.url" in the search box. Right click and reset it;
Type "browser.search.defaultengine" in the search box. Right click it and reset it;
Type "browser.search.selectedengine" in the search box. Right click it and reset it;
Type "browser.startup.homepage" in the search box. Right click it and reset;
Search for "browser.newtab.url". Right-click and reset. This will make sure that the search page won't launch on every new tab;
If the settings revert and scan with anti-malware programs are clean: close Firefox, open file explorer and enter %AppData% in the address bar. enter user.js in the search box. If this file exists, rename it and start Firefox again. You will have to repeat the steps above.
How To remove Conduit Virus from Google Chrome:
Click on the 3 horizontal lines icon on the browser toolbar;
Select Settings;
Select Basics ->Manage Search engines;
Remove unnecessary search engines from the list;
Go back to Settings. On Startup choose 'Open blank page' (you can remove undesired pages from the set pages link too);
If your New Tab page is hijacked, you will have to scan with anti-malware program or use New Tab Redirect extension from Chrome Store.
Remove shortcut hijack (all browsers) (optional):
If your browser opens search.conduit.com page on startup only, try this:
Right click on your browser icon. Choose Properties;
Open Short cut tab;
Delete search.conduit.com part from target field.
Automatic Conduit Virus removal tools
We might be affiliated with some of these programs. Full information is available in disclosure
Manual removal
Important Note: Although it is possible to manually remove Conduit Virus, such activity can permanently damage your system if any mistakes are made in the process, as advanced spyware parasites are able to automatically repair themselves if not completely removed. Thus, manual spyware removal is recommended for experienced users only, such as IT specialists or highly qualified system administrators. For other users, we recommend using Reimage or other tools found on 2-viruses.com.
Processes:
Files:
Conduit Virus screenshots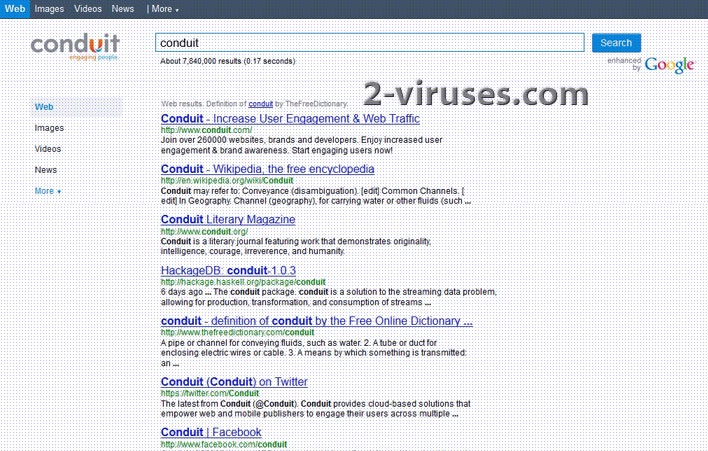 About the author