Trovigo.com virus is a browser hijacker that is installed to random computers together with other software. Usually computer users don't even notice when it enters their systems, as the program uses deceptive techniques and tries to hide itself until the installation is complete. Once inside, the application modifies your browser settings and replaces your default search provider and homepage.
If you look at Trovigo.com website, you will see that it looks just like many other search pages. However, if you make any search on it, you will find out that the results include dozens of sponsored websites. Trovigo.com virus makers get paid for advertising these pages and inflating bigger traffic for them. What is even worser, this search engine "blends" paid and free search results which is not a honest practice. It will not display the company behind this search engine too. Additionaly it takes control over random browsers without asking for a permission and interrupts users' everyday browsing.
Even if there is no company information on Trovigo hijacker's page, the domain itself is registered under a former Conduits subcompany (Client Connect LTD, David Alfasi). Conduit was purchased recently and it is a well known maker of hijackers.
Several applications that are known to include Trovigo.com virus in their installers are 1ClickDownlaod, FBPhotoZoom, Superfish, Yontoo, etc. When you download such programs, the hijacker can easily add itself to your Internet Explorer, Mozilla Firefox, Google Chrome or all of these browsers at the same time. The best way to avoid that, is to pay more attention when downloading free software to your computer. Follow the installation steps and watch carefully pre-checked confirmation boxes. Deselect them if you are suggested to change your homepage, search provider or install additional software that is not known for you.
If your browsers have already been hijacked, remove Trovigo.com virus as soon as possible. Go to Control Panel, Add/Remove Programs list and uninstall it from there. It is recommended to uninstalling ALL programs added on the same date as problems have appeared. Some versions of this hijacker install software that blocks browser settings from changing. To identify them, scanning with Reimage, SpyHunter or other reputable antispyware tool might be useful. Then you can uninstall the extensions and reset settings in your browsers.
How to remove Trovigo.com virus from Internet Explorer (older versions):
Click on the arrow on the right of search box;
Do the following: On IE8-9 choose Manage Search providers, On IE7 click on Change search defaults;
Remove Trovigo.com from the list.
How to remove Trovigo hijacker from IE 11:
Settings icon (top right)->Manage Addons;
Select Search Providers;

Change the default search engine to Bing or Google;

If any of these search providers is not available, follow "Find more search providers" in the bottom of the screen and install Google.
How To remove Trovigo.com virus from Firefox:
Enter "about:config" in url bar. This will open settings page;
Type "Keyword.url" in the search box. Right click and reset it;
Type "browser.search.defaultengine" in the search box. Right click it and reset it;
Type "browser.search.selectedengine" in the search box. Right click it and reset it;
Search for "browser.newtab.url". Right-click and reset. This will make sure that the search page won't launch on each new tab;
If the settings revert and scan with anti-malware programs are clean: close Firefox, open file explorer and enter %AppData% in the address bar. enter user.js in search box. If this file exists, rename it and start Firefox again. You will have to repeat the steps above.
How To remove Trovigo.com virus from Google Chrome:
Click the 3 horizontal lines icon on browser toolbar;
Select Settings;
Select Basics ->Manage Search engines;
Remove unnecessary search engines from the list;
Go back to Settings. On Startup choose 'Open blank page' ( you can remove undesired pages from the set pages link too);
If your New Tab page is hijacked, you will have to scan with anti-malware program or use New Tab Redirect extension from Chrome Store.
Remove shortcut hijack (all browsers) (optional):
If your browser opens Trovigo.com page on startup only, try this:
Right click on your browser icon. Choose Properties;
Open Short cut tab;
Delete Trovigo.com part from target field.
Automatic Trovigo.com virus removal tools
We might be affiliated with some of these programs. Full information is available in disclosure
Trovigo.com virus screenshots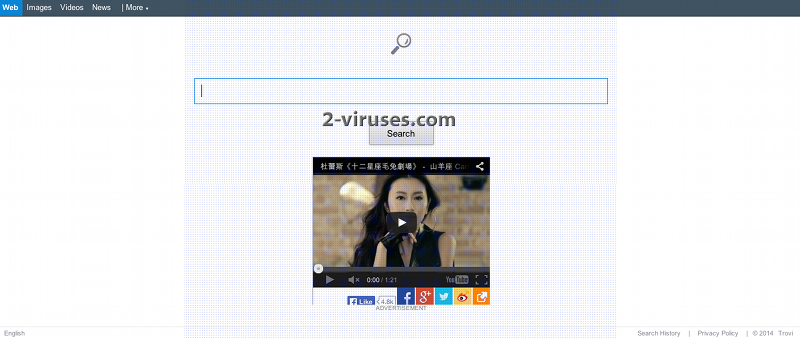 About the author