Certifiedwinners.today pop-up displays an unsafe website which contacts 7 IPs in 3 countries across 6 domains to perform 20 HTTP transactions. According to the newest security rules, all websites are encouraged to use HTTPS protocol. However, Certifiedwinners.today rogue domain still uses the unsafe variant.
In addition to this, the website uses cookies from Api.zxcdn.com. The alleged purpose for this domain is to inform people of this message: "Congratulations! We are giving visitors the chance to be our ext jackpot winner!". In order to win the prize of over $3 million dollars, visitors are expected to spin a roulette to become the next millionaire. We have observed similar rogue notifications like "$1000 Walmart Gift Card Winner" and Alert.MyContestWinnerzs.eu pop-ups.
Do not believe Certifiedwinners.today notification: it is a malicious attempt to infect your computer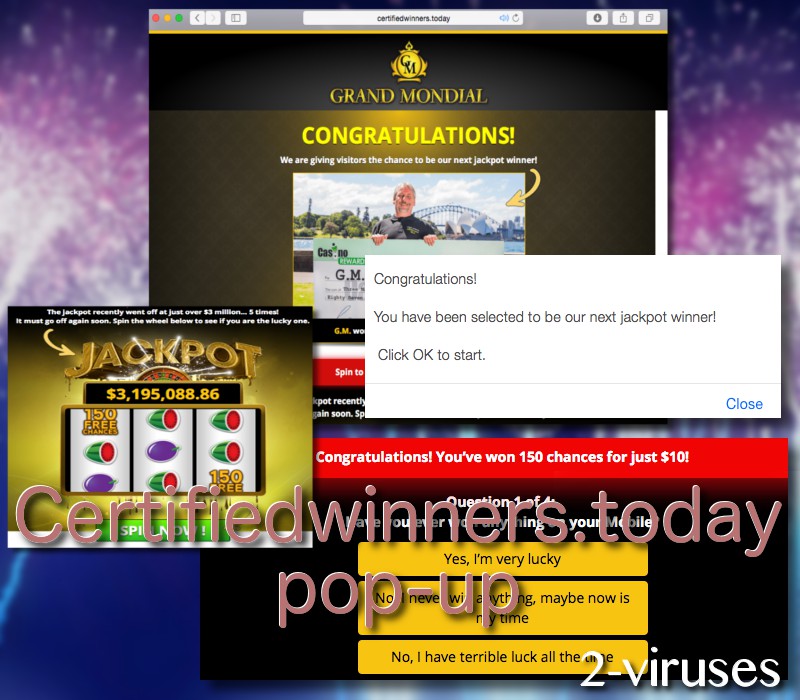 Certifiedwinners.today scam encourages victims to spin the roulette, and then they are required to answer a short survey, containing questions like "Have you ever won anything on your Mobile?". However, if you continue on following the instructions from scammers, you will only allow third-party cookies to be placed in your hard drive. In addition, it is also possible that the website will attempt to find vulnerabilities in your computer and install malicious software (Exploits).
The consequences of this Certifiedwinners.today pop-up are not going to be pleasant: users will be tricked into believing that they have a chance of winning the impressive grand prize while in reality, their surfing will be compromised. By the time that the website is supposed to get to the serious stuff (like, actually giving users their prizes), website shows "400 Bad Request" message.
According to the analysis of web traffic to Certifiedwinners.today deceptive website, it is very popular in Slovakia, Canada, Austria, Norway and Germany. In addition to this, the website is associated with a few ad-networks that have been suspected of showing rogue ads. Those ad-servers include Propeller Ads Media, AdCash and Adf.ly.
We noticed that in many cases, Certifiedwinners.today pop-up will be displayed in online-streaming websites. Similar messages have been around for a very long time: Official-deals.com-prizes-giveaway.online, Socialprizes.online, and Weekly-contest.servey-prizerewardzs.com. Therefore, you should know that believing such messages could lead to theft of your personal information or installations of malicious programs.
Of course, the Certifiedwinners.today pop-up could be a symptom of an adware infection, already making modifications to your computer. In this case, the fake notification could compromise your computer system even further. If you notice this rogue announcement, make sure to check whether your device is not affected by some sort of malware parasite (What are malware, viruses, Spyware, and cookies, and what differentiates them?).
How to prevent this Certifiedwinners.today pop-up from being displayed on my screen?
It is important to check whether your device is not jeopardized by malware infections. This is easily done with an anti-malware tool. Simply download Spyhunter and use it to find all malware infections in your operating system. This is the best way to make sure that Certifiedwinners.today fake alert would not be seen again. After all, it is very likely that this pop-up is triggered by an adware parasite.
However, you could also be encountering this rogue message in unknown websites. Please do not visit unfamiliar domains. According to the web analysis, we noticed that Certifiedwinners.today pop-up is noticed in online-streaming websites. On the other hand, it could be displayed in any type of domain.
If an adware parasite really did cause this pop-up, how did the ad-based parasite got into your system? This could have happened during an installation of a freeware tool. Next time you decide to get a program free-of-charge, consider reading its EULA document very carefully. In addition to this, do not forget to select advanced/custom modes for all Setup Wizards you run.
How to remove Certifiedwinners.today pop-up using Windows Control Panel
Many hijackers and adware like
Certifiedwinners.today pop-up
install some of their components as regular Windows programs as well as additional software. This part of malware can be uninstalled from the Control Panel. To access it, do the following.
Start→Control Panel (older Windows) or press Windows Key→Search and enter Control Panel and then press Enter (Windows 8, Windows 10).
Choose Uninstall Program (if you don't see it, click in the upper right next to "View by" and select Category).
Go through the list of programs and select entries related to Certifiedwinners.today pop-up . You can click on "Name" or "Installed On" to reorder your programs and make Certifiedwinners.today pop-up easier to find.
Click the Uninstall button. If you're asked if you really want to remove the program, click Yes.
In many cases anti-malware programs are better at detecting related parasites, thus I recommend installing Spyhunter to identify other programs that might be a part of this infection.
Automatic Malware removal tools