YOUR COMPUTER HAS BEEN BLOCKED alert is nothing more than a filthy scam performed to trick users and lure their money. Speaking of technical attributed of this scam campaign, it comes as a pop-up advertisement or new-tab advertisement and pretends to be warning message.
If you are wondering what's the point of displaying this kind of fake information to random users, the answer is clear – to make them call Toll Free number "1-888-375-1978" and get some help that you really do not need.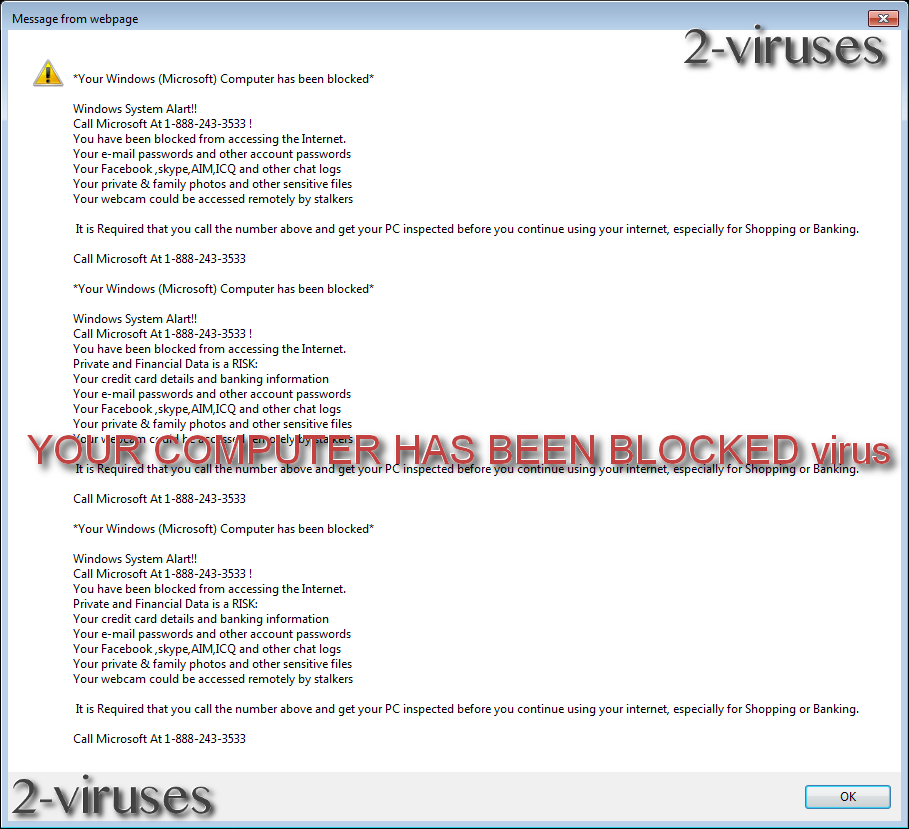 In depth overview of YOUR COMPUTER HAS BEEN BLOCKED scam
All scams are relatively similar – we have seen attempts to scam users like "The Tungsten Rounded Font Was Not Found" or The "Mercury Text" font was not found and they all operate the same way. Even though those viruses, or just attempts to scam you are not really dangerous if you are able to identify them and avoid it, they can still cause you some damage or cost money if you fall for this trick.
Let's take a closer look at the scam message itself. Original text from the pop-up advertisement:
*Your Windows (Microsoft) Computer has been blocked*

Windows System Alert!!

Call Microsoft At 1-888-243-3533 !

You have been blocked from accessing the Internet.

Your e-mail passwords and other account passwords

Your Facebook ,skype,AIM,ICQ and other chat logs
Your private & family photos and other sensitive files

Your webcam could be accessed remotely by stalkers

It is Required that you call the number above and get your PC inspected before you continue using your internet, especially for Shopping or Banking.

Call Microsoft At 1-888-243-3533
As you can see, cyber criminals are trying to convince you that your computer running Windows OS has been blocked from the Internet because it is infected and cyber criminals can access your private information if you connect to the Internet. As a solution to this problem, they are telling you to call toll free number and get virtual assistance. They should inspect and fix your computer.
Now, we can break down the scheme of this scam so it will be clear how it is working and why you are seeing it. Some websites decide to monetise their web traffic by displaying advertisements like this. On the other end, crooks trying to make money offering these unwanted services buy advertisements and scare people with messages like this. Once you call the number mentioned in the ad, you will be told that your computer is infected with malware and you need to buy some software that can fix it. In some cases they can also tell you that they will fix it remotely and you will be asked to pay a hourly rate for their work.
Good news is that it is not an actual virus that installs malicious files on your computer and users struggle to remove it. It is just a misleading information that you may encounter while browsing the web and as long as you do not click on it or call the number, you should be good to go.
But how a regular user can tell whether the message is real or it's just a scam attempt? Well, sometimes it can be confusing even to experienced users, therefore we recommend to equip your computer with decent software. In order to stop seeing ads like this or ads in general, we always recommend our readers to add AdBlock add-on to their web browser. Next step would be to equip your computer with decent anti-malware software, which would block all attempts of malware trying to sneak into your system. You can use either Spyhunter – either one of those programs should be efficient in dealing with this task.
Automatic Malware removal tools