YOUR COMPUTER HAS BEEN BLOCKED – this phrase is used by many fake alerts. They are nothing more than scams meant to scare people and take their money.
The Your Computer Has Been Blocked alerts show up while you're browsing the internet and. They take over the screen and demand that you call a phone number or download a program. These warnings threaten that if you ignore them, something bad will happen to your computer or your data. Don't listen to them – they are lying.
The goal of the Your Computer Has Been Blocked scam is to get you to call a phone number, such as 1-888-375-1978, and to pay hundreds of dollars for bogus virus removal and computer cleaning. The people who answer the phone are not Microsoft or Apple employees, but scammers.
Your Computer Has Been Blocked Virus quicklinks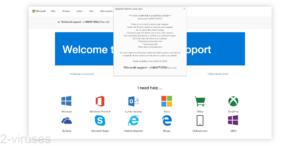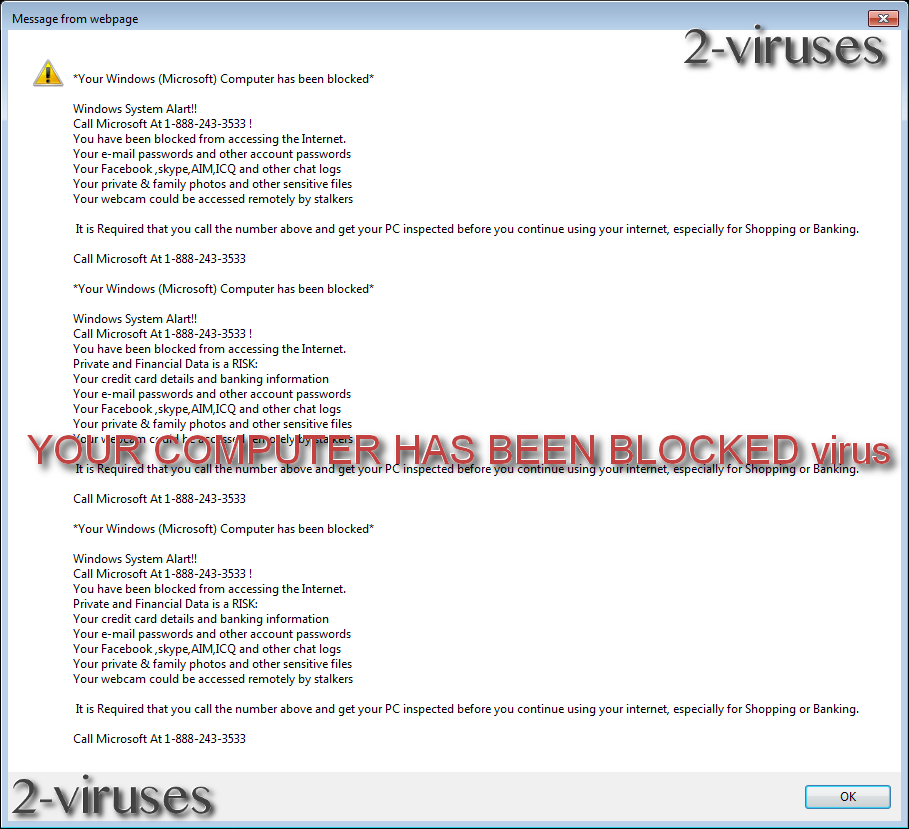 Overview of YOUR COMPUTER HAS BEEN BLOCKED scam
There are lots of dangerous websites that show fake error messages. For example, The font was not found, Update Flash Player, etc.
The Your Computer Has Been Blocked alerts usually impersonate Microsoft Windows errors, although I believe that versions for Apple's macOS also exist out there.
Examples of the scam
Let's take a closer look at the scam message itself. Here's the text from the pop-up pictured above:
*Your Windows (Microsoft) Computer has been blocked*

Windows System Alert!!

Call Microsoft At 1-888-243-3533 !

You have been blocked from accessing the Internet.

Your e-mail passwords and other account passwords

Your Facebook ,skype,AIM,ICQ and other chat logs

Your private & family photos and other sensitive files

Your webcam could be accessed remotely by stalkers

It is Required that you call the number above and get your PC inspected before you continue using your internet, especially for Shopping or Banking.

Call Microsoft At 1-888-243-3533
Here's another fake alert: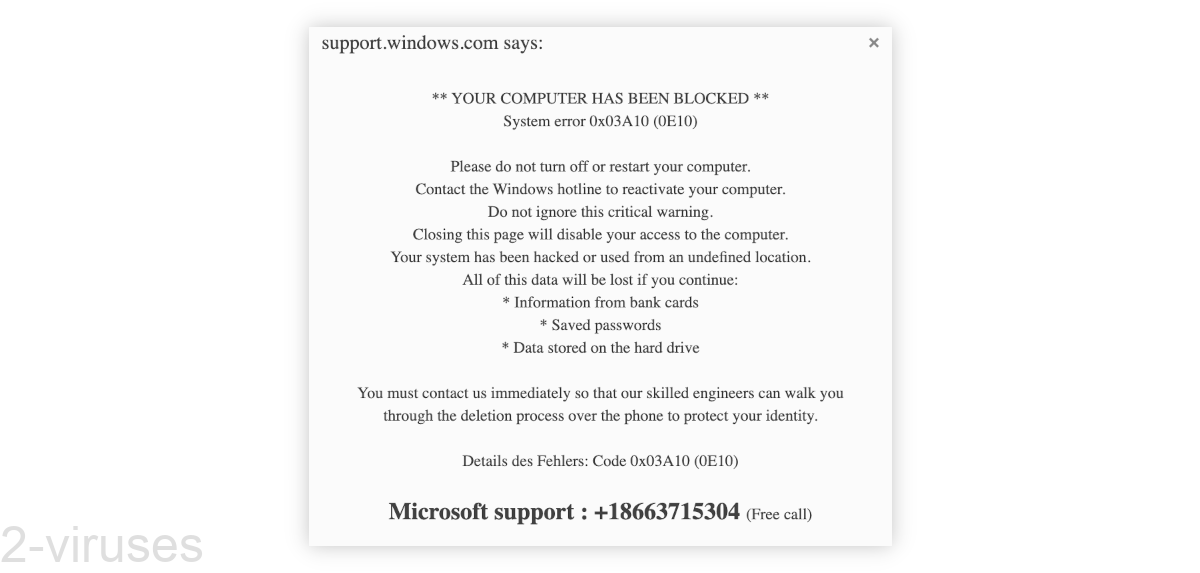 The cybercriminals who are impersonating Microsoft pile on warnings and threats:
The Your Computer Has Been Blocked alert says that your computer has been blocked,
that cybercriminals are stealing your passwords and payment info, hacking your webcam,
that if you ignore the Your Computer Has Been Blocked alert, your photos and other files will be lost,
that you must call the phone number given by the alert.
Some of the alerts even show a timer counting down to create a greater sense of urgency.
Why do you see such warnings?
The Your Computer Has Been Blocked alerts are malicious ads.
Now, we can break down the scheme of this scam so it will be clear how it is working and why you are seeing it. Some websites decide to monetize their web traffic by displaying advertisements like this. However, only the worst sites do this.
Some ads and websites get hacked by cybercriminals to force them to display malicious ads. In these cases, it's not the fault of the site's admins – tell them about the problem and they'll try to stop the harmful ad.
You can avoid some malicious advertisements if you use anti-malware apps with real-time security. Ad blockers might be even more effective at preventing fake alerts like Your Computer Has Been Blocked.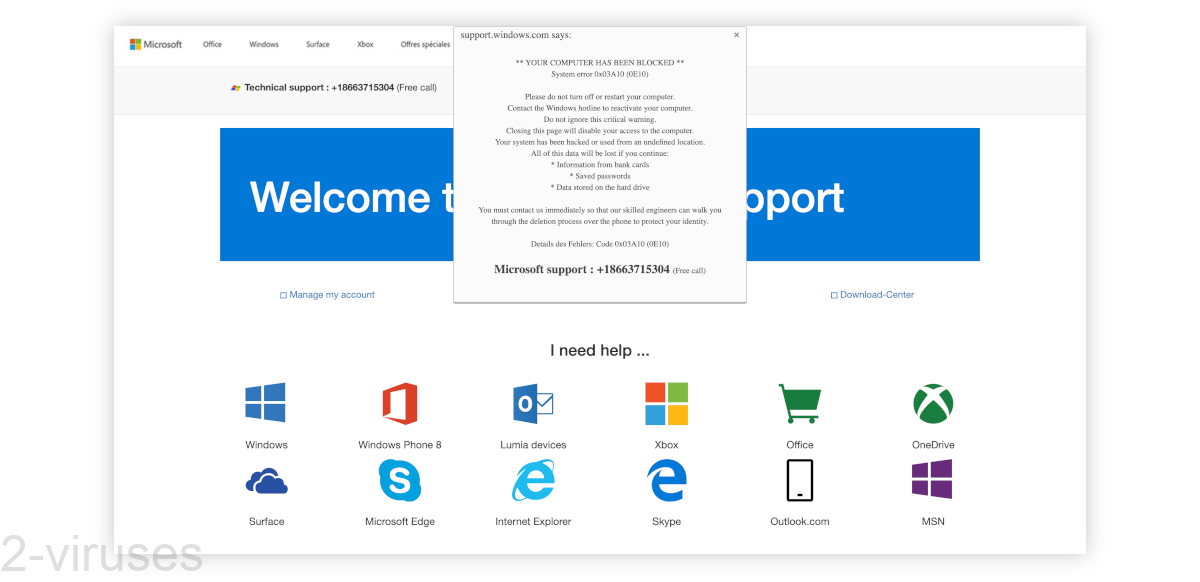 What do the scammers want?
If you call the number mentioned in the ad, you will be told that your computer is infected with malware and you need to buy some software that can fix it. You might be told to buy lifetime protection, which can be quite expensive for hundreds of dollars.
The scammers might ask to access your computer remotely with the help of tools like Fastsupport, Helpme.net, and others. Some scammers might use this opportunity to steal your files, plant spyware, and cause other harm.
All that the scammers want is to make money, either by scamming people or by robbing them.
How to protect yourself from the YOUR COMPUTER HAS BEEN BLOCKED virus
If you come across a Your Computer Has Been Blocked warning, do not be scared and do not call the phone number. There is no hack or virus, all that you're seeing is a cleverly designed malicious web page.
Just close the page. If Your Computer Has Been Blocked has locked your screen, there are some keyboard shortcuts that you can use to close the malicious ad.
You can install ad blockers such as AdBlock as they can help you avoid dangerous advertisements. It's also a good idea to familiarize yourself with these scams and with Microsoft's advice on how to protect yourself from them.
And to protect your computer from spyware and fake antivirus software, we recommend you use good anti-malware tools, such as Spyhunter, to scan your computer.
If you did contact the scammers behind the Your Computer Has Been Blocked scam, then you need to do a few more things:
uninstall whatever they had you install,
scan your device with an antivirus program that you trust,
if you revealed your personal and payment details to the scammers, call your bank ASAP, tell them what happened, and ask what you should do next.
Automatic Malware removal tools
How to remove YOUR COMPUTER HAS BEEN BLOCKED Virus using Windows Control Panel
Many hijackers and adware like
YOUR COMPUTER HAS BEEN BLOCKED virus
install some of their components as regular Windows programs as well as additional software. This part of malware can be uninstalled from the Control Panel. To access it, do the following.
Start→Control Panel (older Windows) or press Windows Key→Search and enter Control Panel and then press Enter (Windows 8, Windows 10).
Choose Uninstall Program (if you don't see it, click in the upper right next to "View by" and select Category).
Go through the list of programs and select entries related to YOUR COMPUTER HAS BEEN BLOCKED Virus . You can click on "Name" or "Installed On" to reorder your programs and make YOUR COMPUTER HAS BEEN BLOCKED virus easier to find.
Click the Uninstall button. If you're asked if you really want to remove the program, click Yes.
In many cases anti-malware programs are better at detecting related parasites, thus I recommend installing Spyhunter to identify other programs that might be a part of this infection.