The Internet is full of information and some of it is not reliable at all. If at some point you have faced a pop-up message saying that Google Chrome web browser was not able to detect The "Mercury Text" font and was offered to install an update – do not believe that. It's just a cheap attempt to install malware to your computer.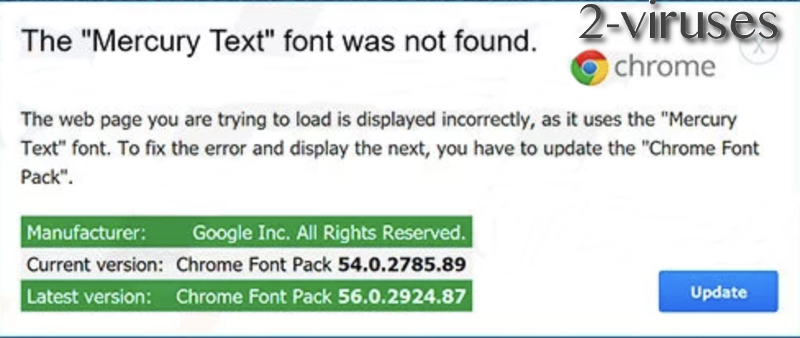 The reason you are seeing this message is because cyber criminals are promoting some kind of malware and try to trick people into thinking that they are missing something, some update to the software or as in this case – particular font. In the background of the pop-up message you can notice a several lines of various symbols. They are placed there in order to create an image that Google Chrome web browser can't open particular website and instead of that is displaying various symbols. However, it is not difficult to notice that this message was opened on a new tab or even window and the actual website you attempted to visit is fully operating without any problems in the background
It is obvious, that this scam message is only targeting Google Chrome users. We are not sure what kind of malware they are trying to promote, but you should stay away from it and never install it on your computer. It can be anything from a basic adware infection to a very dangerous trojan virus which would wipe out files from your computer. Text from the actual pop-up scam message:
The "Mercury Text" font was not found.

The web page you are trying to load is displayed incorrectly, as it uses the "Mercury Text" font. To fix the error and display the next, you have to update the "Chrome Font Pack".
Manufacturer:Google Inc. All Rights Reserved.
Current version:Chrome Font Pack 54.0.2785.89
Latest version:Chrome Font Pack 56.0.2924.87
We have noticed that this type of scam is on the rise lately, as we have discussed Windows Product Key Failure scam last week. In case you are wondering why such a message appeared while you were browsing the Internet – most probably you were unlucky enough to visit a website that was compromised by crooks. It is not the owned of the website who is trying to trick you – cyber criminals manage to hack into poorly secured websites and insert malicious code there, resulting in this type of messages popping up to the visitors of the website.
Even though this "The Mercury Text Font Was Not Found" Scam is not a computer virus itself and if you simply close this note without downloading "updates" your computer shouldn't be infected with viruses, it is still recommended to scan it with anti-malware tool after encountering any attempts to infect it. We suggest to do it with Spyhunter anti-malware tool, which is effective in detecting and eliminating files related to various malware.
You might also want to take a look at the extensions list on your Google Chrome web browser. If you notice some add-ons that you are not aware of installed – try to remove them, because it can possibly be malware or at least PUP (potentially unwanted program).
Automatic Malware removal tools
Manual removal