Wise Care 365 (or WiseCare365) is a PC optimizer that has a poor reputation and is detected as potentially harmful by a few anti-malware programs. The reasons include it offering a memory optimizer, registry cleaner, and a few other features that have been abused by malicious programs before. In the end, Wise Care 365 is not malicious, but it is not all that useful, either.
Wise Care 365 quicklinks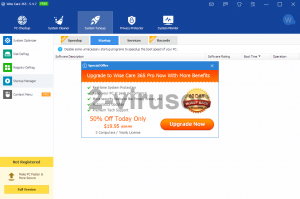 The issues of Wise Care 365 in short:
Classification
Registry cleaner,

potentially unwanted program.

Problems with Wise Care 365
Registry cleaner and defragmenter,

memory optimizer,

lack of original features,

runs in the background.

How it spreads
Bundled with other programs,

installed manually.

Removing Wise Care 365
Manually uninstall the program,

scan your computer with anti-malware (like Spyhunter) if needed.
Problems with Wise Care 365
Poor reputations
There are stories online of people who saw their antivirus program stop Wise Care 365 and detect it as malware. The reason is often its poor reputation (files downloaded from Wisecleaner.com range from really bad (32 detections on Virustotal) to almost clean (with 1 or 4 detections).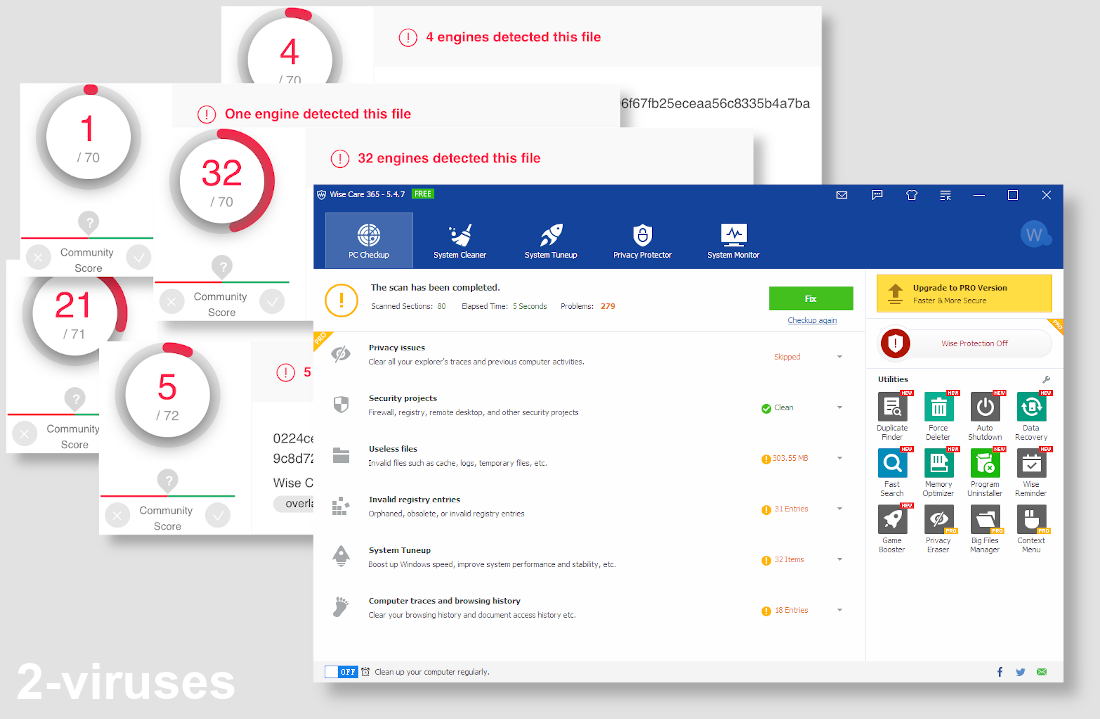 It is no wonder that Wise Care 365 is disliked by security experts. For one, it's a PC optimizer, which is already a bit of a red flag. Wise Care 365 shares features with fake PC optimizers – features like registry cleaning and registry defragmenting, detecting cookies as "privacy issues", and toggling various small Windows settings as a "system tuneup".
Wise Care 365 is pretty similar to TweakBit PC Repair Kit, Tweakerbit Registry Optimizer, PC Power Booster, and other generic PC optimizers.
A lot of people like Wise Care 365. It's not that the program is bad, but there are reasons why PC optimizers are so disliked.
Registry cleaner
First, it's a registry cleaner and these are not always honest. For example, Wise Care 365's home page implies that defragmenting the registry can make a computer run faster – which there is no proof of. The registry is just not big enough for a few useless keys to make a difference in speed. Not to mention, it's saved in multiple locations on a computer, so the idea of defragmenting it doesn't entirely make sense.
The benefits of registry cleaning are dubious and the risk of harming your system by accidentally deleting important files is too great. That's why multiple vendors of security programs are so quick to label registry cleaners as potentially unwanted programs. And Wise Care 365 got caught in that.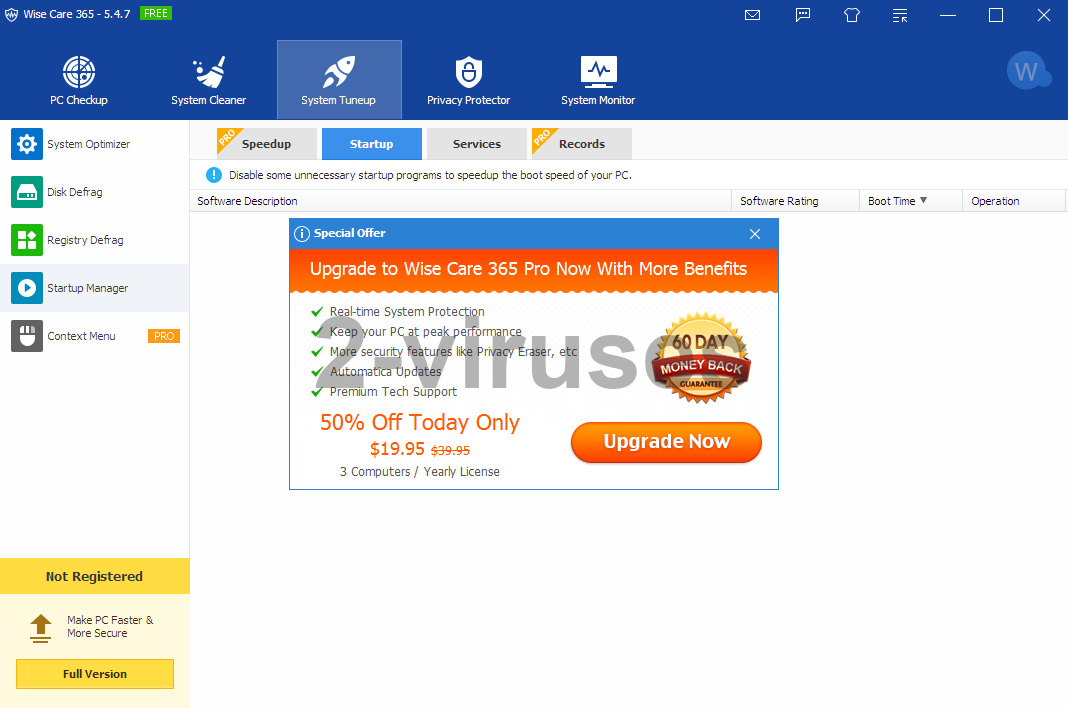 Redundancy
Wise Care 365 also says it will speed up your computer by defragmenting your hard disk. Good news then that Windows already does it automatically for you, generally once a week. Unless you have an SSD, of course, because they will not benefit from defragmentation. Not sure why Wise Care 365 is offering such a redundant function.
Other Wise Care 365's totally redundant features include a system monitor that is less informative and more limited than Windows' own task manager and a similarly unnecessary copy of startup manager.
This is yet another program that labels all browser cookies as "privacy issues".
Finally, a problem with Wise Care 365 is that whatever speed it supposedly saves by changing settings and deleting cookies it takes back by constantly running in the background. It needs to be killed in the system tray to completely close. Wise Care 365 leaves a CPU indicator and a memory cleaner quickly accessible – another controversial idea.
How to remove Wise Care 365
Some people fall into a trap of chasing that green checkmark that appears when you let the optimizer to "fix" everything, so if you wish to keep using Wise Care 365, just remember to take its scan results as suggestions and not as gospel. If Wise Care 365 is not compatible with your antivirus software, you can create an exception for it.
Those who want to remove Wise Care 365 can do it using the Control Panel (close the process first), but Pro users would also need to quit their subscription.
We generally recommend performing a scan with an anti-malware program like Spyhunter for those who suspect an infection or got an unwanted program without intentionally installing it, like this person who says that Wise Care 365 just popped up and started annoying them. It did use to be bundled with other programs, so you may have installed it by accident.
Automatic Malware removal tools
How to remove Wise Care 365 using Windows Control Panel
Many hijackers and adware like
Wise Care 365
install some of their components as regular Windows programs as well as additional software. This part of malware can be uninstalled from the Control Panel. To access it, do the following.
Start→Control Panel (older Windows) or press Windows Key→Search and enter Control Panel and then press Enter (Windows 8, Windows 10).
Choose Uninstall Program (if you don't see it, click in the upper right next to "View by" and select Category).
Go through the list of programs and select entries related to Wise Care 365 . You can click on "Name" or "Installed On" to reorder your programs and make Wise Care 365 easier to find.
Click the Uninstall button. If you're asked if you really want to remove the program, click Yes.
In many cases anti-malware programs are better at detecting related parasites, thus I recommend installing Spyhunter to identify other programs that might be a part of this infection.