PC Power Booster, not associated with any power adapters, is an optimizer and a registry cleaner that promises to help your PC run better than before. It's terrible but PC Power Booster doesn't need to be good to make money for its developers. The program will find dozens of issues on your computer and then pretend that they're the cause of your computer running poorly. Of course, only the full, costly version of PC Power Booster will fix the issues, but you'll need to spend money on it to find out.
Pc Power Booster quicklinks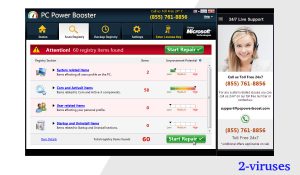 The market of PC (and Mac) optimizers and registry cleaners is mostly filled with useless programs and scams — and that is recognized as a real problem. PC Power Booster seems to be one of the applications which are primarily concerned with being bought by as more people as possible. This explains the aggressive distribution, dishonest marketing, and the scareware features that the developers of PC Power Booster have employed.
Can it really boost your PC performance?
PC Power Booster's promotional material is very passionate and excited about just how powerful this program is and how much it can help your computer run faster than before. It is true, though?
The emphasis by PC Power Booster is put on the registry. The Windows registry is a database of various settings. Some of those settings are very close to the hardware, which means that a wrong edit or deletion can result in widespread and unexpected consequences. The same danger comes with editing the entries for software. There are all sorts of horror stories of Windows needing to be reinstalled after a registry optimizer making a mistake. Don't try editing the registry yourself unless you've created a backup first, and the same goes for PC Power Booster.
Despite the registry being so powerful, it is very small. Redundant and invalid entries do not noticeably slow down the system. The unnecessary data simply sits there and does not interfere with anything, not hurting the performance and only taking up a minuscule amount of memory. So, contrary to what PC Power Booster would have you believe, simply removing unnecessary entries is not going to have much of a difference, if any at all.
There are some legitimate programs out there that optimize the registry, though they must be very reputable and very professional for people to trust them with such a sensitive task. Some of those programs are free, much less alarmist than PC Power Booster, and are honest and don't overpromise.
However, at the end of the day, optimizing the registry is not all that helpful. It is potentially dangerous, and should not be done by a probably incompetent and outdated program. Unnecessary entries are not hurting your PC's performance, certainly not "radically" like PC Power Booster claims they do. However, changing or deleting the wrong key can actually cause more errors and even brick your operating system.
Among the things that can actually boost your PC performance are:
uninstalling unused programs,
removing applications that you don't use from startup,
removing any malware and browser hijackers,
deleting your files in the case where you barely have any free memory left,
updating your software,
updating your hardware (this one is expensive, but sometimes necessary to improve performance).
Most of these things can be done with the help of built-in Windows functions. Cleaning junk files, managing startup, troubleshooting and fixing errors — you don't need PC Power Booster for that when Windows can already do that. PC Power Booster could even be considered a PUP — a potentially unwanted application.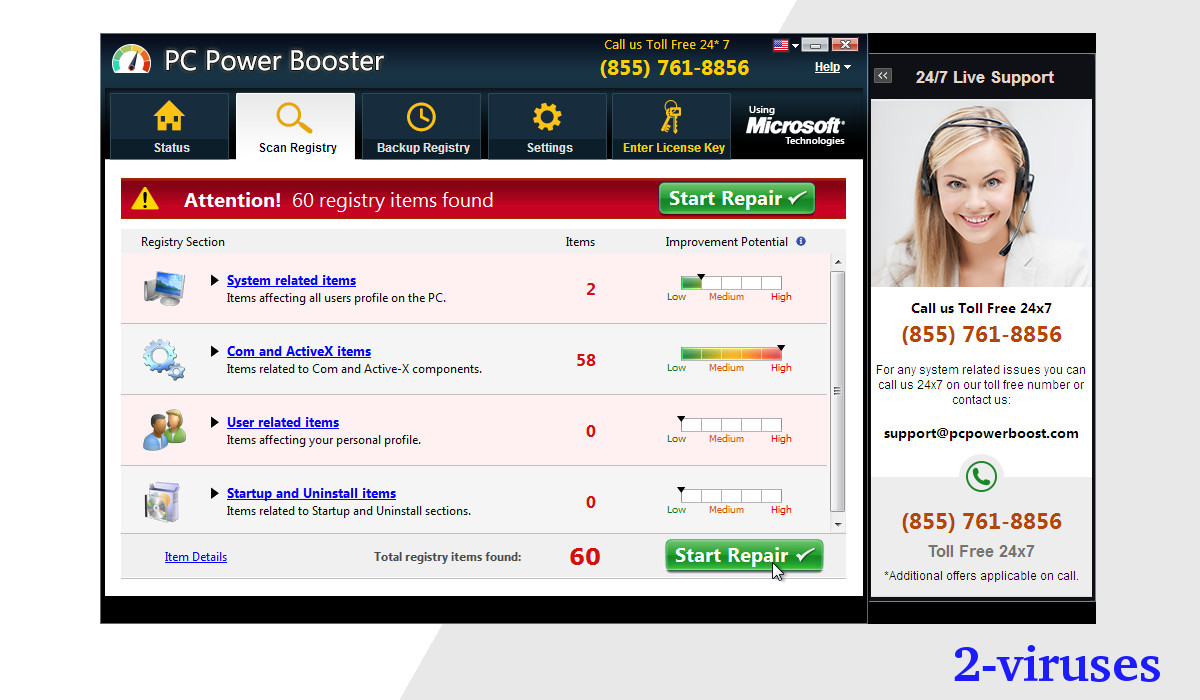 How to tell PUPs from safe programs?
PC Power Booster displays a few suspicious behaviors that should alarm anyone who encounters it. Yet, it still manages to infiltrate people's systems and even sell their program to some. There are real signs that PC Power Booster should be avoided.
For one, legitimate programs don't often find their installer being detected as suspicious by reputable antivirus tools. Indeed, the list of legitimate anti-malware tools which block PC Power Booster from even installing is so extensive that if you installed it without making an exception for it, you might need to get a better antivirus tool — or to fix the current one (there are some serious viruses that break antivirus programs).
It's normal to have a home page that includes a way to download the program. However, PC Power Booster currently uses other distribution methods — such as freeware bundling. Bundling is a type of very aggressive marketing that downloads the bundlee along with the bundler, the latter being some wanted program that you downloaded intentionally, and the former being an application that just wants to be installed on as many computers as possible. People who find PC Power Booster or another application just appear on their machine should be immediately suspicious of it; barely any legitimate programs use this method.
PC Power Booster uses various security labels, stamps, and seals with the names of popular companies and nice-sounding blurbs like "Secured", "Trusted". They're probably real, but they really don't mean much. In fact, I only see poor-reputation software use them and display those seals prominently. Besides, they're only images — they're very difficult to verify. A fraudulent tool would have no difficulty faking them if they wanted.
Some optimizers use fake online alerts, scans, and other scam-like pages to encourage people to download them. They promise to fix problems with your PC. Online warnings and scans can only work if you explicitly give permission for them to access your files, such as by uploading the files for being scanned, which doesn't usually happen. Also, be careful of scans which are too fast. Fraudsters know that we're busy and impatient and they always try to make the installation and purchasing processes as easy as possible.
The tech support of PC Power Booster is a little too eager to get remote access to their users' computers — such access can be a very destructive thing in the wrong hands, for example, it can be used to convince you that you have malware on your system even when you don't. I have to at least praise PC Power Booster for the disclaimer that they might offer additional products if you call their support because a lot of optimizers don't warn people.
Safe programs usually have developers who actively talk to their users, such as in forums or social media. Ideally, those developers or tech support should not be trying to convince you to buy some expensive programs, like often happens with optimizers. They should also not be deliberately trying to scare you with artificial threat level gouges. Legitimate programs use neutral language and neutral colors to indicate most findings and keep the bright reds for serious problems.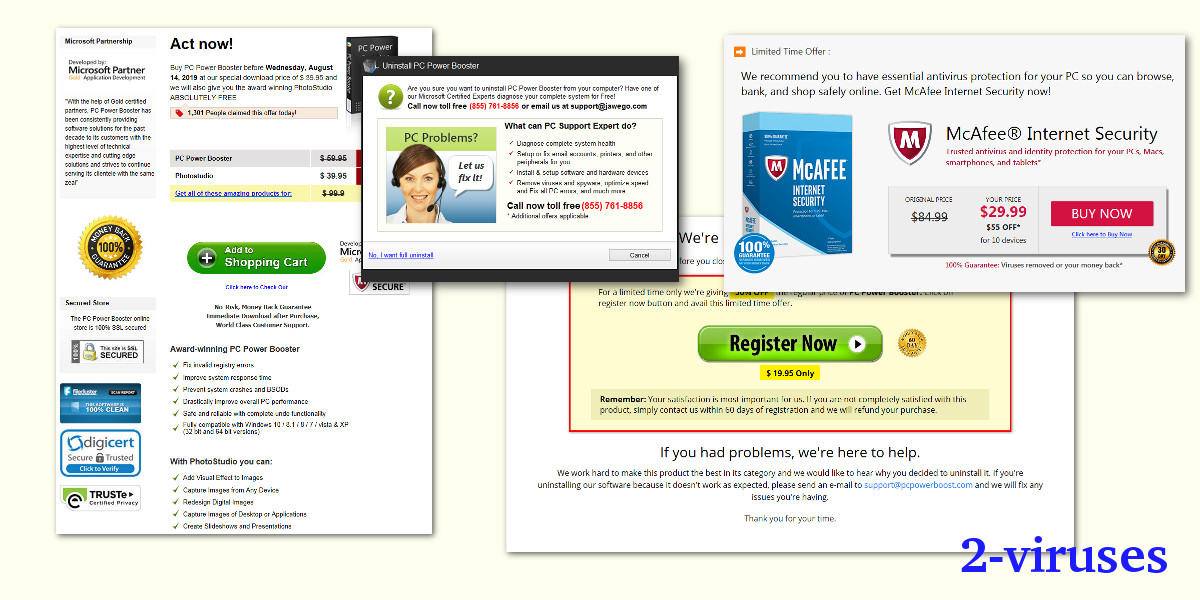 How to remove PC Power Booster
PC Power Booster is mostly a waste of PC resources that's useless at best and dangerous at worst. That doesn't mean that it's malicious but that doesn't change the fact that PC Power Booster behaves unethically: misleading promotion, scam-like pushing of technical support, dishonest and exaggerated presentation of the "issues" that PC Power Booster finds. This program does not inspire trust and is very similar to other PUPs, like Secure PC Cleaner and Driver Updater Plus — in fact, it might be related to these Jawego products.
Like always with potentially unwanted software, you can keep using it. It won't infect your machine with a virus or anything like that. Just remember to be skeptical of any attempts to sell your more programs and especially to give remote access to your computer. You can also uninstall it manually by just accessing your Control Panel.
Whether you keep PC Power Booster or you don't, you might benefit from scanning your system with an aggressive antivirus tool, such as Spyhunter. In case you have some adware, or maybe a bundler that likes to smuggle unwanted programs into your device, removing them might even result in a bit of a performance boost for your PC, who knows.
Automatic Malware removal tools
How to remove PC Power Booster using Windows Control Panel
Many hijackers and adware like
PC Power Booster
install some of their components as regular Windows programs as well as additional software. This part of malware can be uninstalled from the Control Panel. To access it, do the following.
Start→Control Panel (older Windows) or press Windows Key→Search and enter Control Panel and then press Enter (Windows 8, Windows 10).
Choose Uninstall Program (if you don't see it, click in the upper right next to "View by" and select Category).
Go through the list of programs and select entries related to PC Power Booster . You can click on "Name" or "Installed On" to reorder your programs and make PC Power Booster easier to find.
Click the Uninstall button. If you're asked if you really want to remove the program, click Yes.
In many cases anti-malware programs are better at detecting related parasites, thus I recommend installing Spyhunter to identify other programs that might be a part of this infection.