PC Speed Maximizer is a poor registry cleaner. Even though its design might look professional and the way it functions might seem like it is a legitimate program, one should not get tricked by this first impression. PC Speed Maximizer is only a scam that wants to get money from you. One might notice that their scans are impossibly fast and they display lots of errors on one's PC without good enough explanation. What is even worse, this application detects thousands of errors in a clean PC system.
Pc Speed Maximizer quicklinks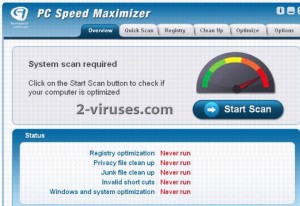 There are a few iterations of PC Speed Maximizer that have been harassing PC users for a few years now. The earliest complaints on the web appear around 2013, but you can download a version of the program even now.
And this isn't the only rogue optimizer out there — PC Speed Maximizer is very similar to Auto PC Speedup, PC SpeedLane, Universal PC Care, and many others. They all work the same way:
Get installed secretly through bundling, or using misleading ads online that claim that your PC is infected and the offered program is the one that will fix it.
Scan your computer very quickly and find many issues, problems, and errors.
Run in the background and regularly display pop-up alerts reminding you to buy the license of PC Speed Maximizer (or another program) to fix all the issues.
PC Speed Maximizer is not a great optimizer/registry cleaner, there are many better programs to use:
Classification

Rogue application
Potentially unwanted program (PUP)

Installation

Installed in the background by a bundler
Downloaded from a malicious website
Installed voluntarily

Problems

Gets installed without permission
Exaggerates the problems found
Makes problems up
Runs in the background and displays distracting alerts

Removal

Uninstall PC Speed Maximizer manually
Remove PC Speed Maximizer using an anti-malware program, like SpyHunter
Behavior of PC Speed Maximizer
Online complaints around PC Speed Maximizer often mention the victim never intentionally installing the program. This is possible even though the optimizer isn't a virus.
This software is distributed by bundled installers aka programs installing multiple offers without a good enough explanation of why you need them. They don't even always warn about the included installations, or they do it poorly. This means that the user isn't made aware of PC Speed Maximizer getting installed and makes it appear as if the program came from nowhere.
After it is installed, PC Speed Maximizer sets itself to start scanning your computer every time it starts up. It starts scanning and displays various alerts informing you about system malfunction and files and folders that need to be cleaned. Most of these problems detected are not important and sometimes they are not problems at all. Thus we do not recommend using crappy registry cleaners like this.
It promises to fix the problems and enhance your PC performance — all you need to do is to purchase its full version, apparently. This is how scammers trick people into spending their money on a worthless purchase. Programs like PC Speed Maximizer are not useful because Windows has taken over a lot of the functions that they offer.
On its website, PC Speed Maximizer claims that merely using one's computer will cause it to slow down and that it needs to be constantly optimized to keep it running at acceptable speed. This is not the case and many people manage to keep their computer running just fine without shady optimizers "helping" them. On the other hand, an unwanted program like PC Speed Maximizer always running in the background can make the computer run a bit slow.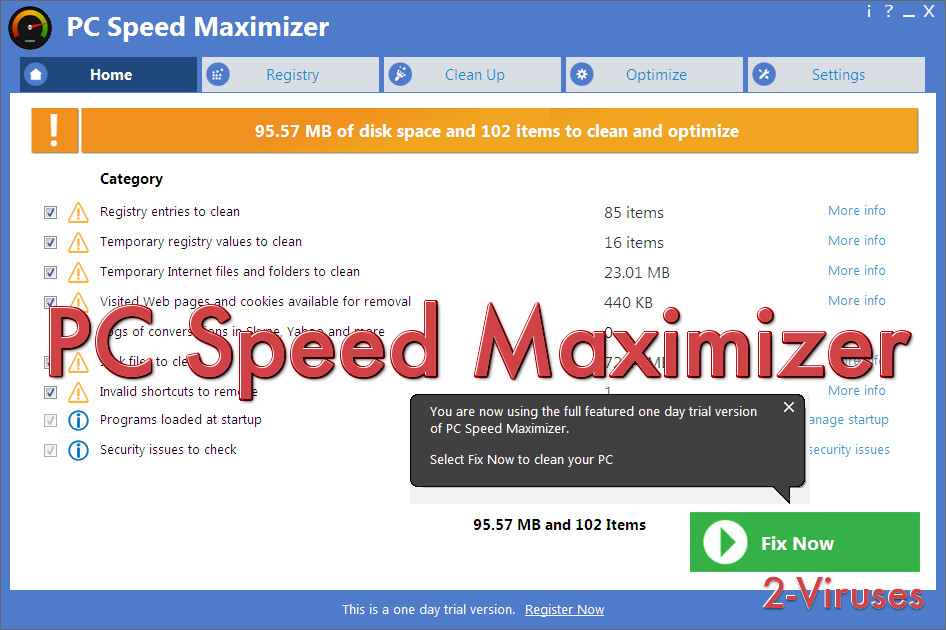 How to remove PC Speed Maximizer
Anti-malware programs do not like PC Speed Maximizer. This is because the program is considered potentially unwanted and even potentially harmful, displays misleading warnings, and gets installed deceptively.
The Avanquest-published program causes unnecessary stress and wastes your time by reporting completely harmless files and settings as things that need fixing, so it might be worse than not having any optimizer at all. Not all optimizers are useless, but a lot of them are.
Do not believe any messages displayed by PC Speed Maximizer and definitely do not spend your money on a full version of the program.  I recommend uninstalling PC Speed Maximizer from PC and, if the uninstaller fails (happens all the time with poor registry cleaners), you should scan your PC with anti-malware programs like Spyhunter.
Automatic Malware removal tools
How to remove PC Speed Maximizer using Windows Control Panel
Many hijackers and adware like
PC Speed Maximizer
install some of their components as regular Windows programs as well as additional software. This part of malware can be uninstalled from the Control Panel. To access it, do the following.
Start→Control Panel (older Windows) or press Windows Key→Search and enter Control Panel and then press Enter (Windows 8, Windows 10).
Choose Uninstall Program (if you don't see it, click in the upper right next to "View by" and select Category).
Go through the list of programs and select entries related to PC Speed Maximizer . You can click on "Name" or "Installed On" to reorder your programs and make PC Speed Maximizer easier to find.
Click the Uninstall button. If you're asked if you really want to remove the program, click Yes.
In many cases anti-malware programs are better at detecting related parasites, thus I recommend installing Spyhunter to identify other programs that might be a part of this infection.