SlimCleaner Plus is a potentially unwanted program. It's not malicious, nor is it highly dangerous. Nevertheless, we think that it is redundant software that will not live up to the users' expectations.
SlimCleaner Plus is promoted by offering a free scan to check the performance of Windows systems and improve it. But SlimCleaner Plus is considered to be potentially unsafe by some cybersecurity experts, according to this VirusTotal page. This system-optimizer is developed by Slimware Utilities Holdings, Inc – a company who also developed DriverUpdate, another utility considered potentially unsafe.
Slimcleaner Plus quicklinks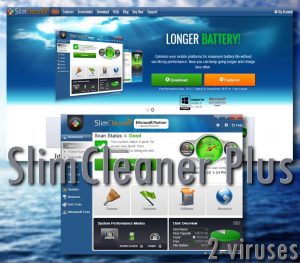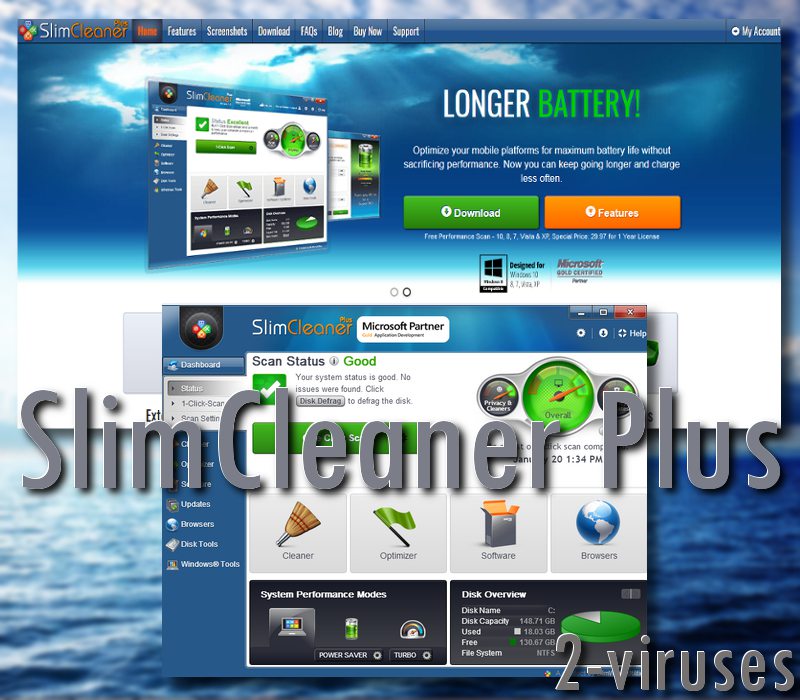 If you install SlimCleaner Plus, it advertises its sister applications in pop-ups. One of their products is advertised in the Driverupdate.net notification. This is almost adware-like behavior.
SlimCleaner Plus is a paid product that is viewed with suspicion by experts. It's received complaints about unwanted installation and trying to scare people into buying it:
SlimCleaner Plus classification
Potentially unwanted program (PUP).

Scareware.

Distribution of the program
Bundling.

Malicious ads that lead to fake online security scans.

Manual installation.

Problems with the program
Unwanted installation.

Using Microsoft's name to earn trust.

False positives and exaggerated danger in scan results.

SlimCleaner Plus removal
Uninstall using the Control Panel.

Remove using anti-malware programs (SpyHunter).
SlimCleaner Plus – false positives for $19.97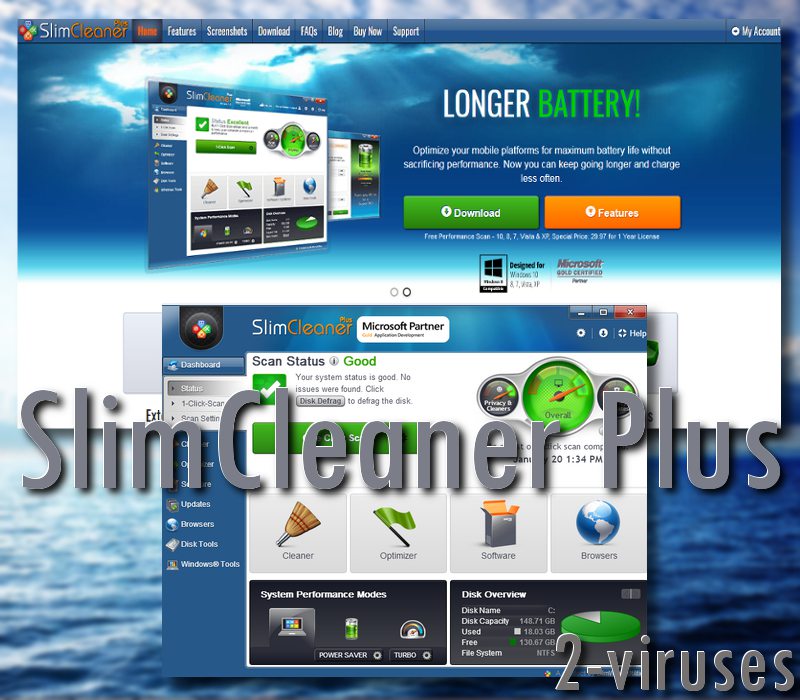 PC optimizer
All over the Internet, you can find red-flags concerning SlimCleaner Plus. Some people noticed SlimCleaner Plus was installed into their computer devices without permission, some expressed frustration over being unable to remove the tool, others were annoyed with the constant and relentless pop-ups.
SlimCleaner Plus is supposed to be an optimizer. It should improve the performance of your PC by making it faster, have more free space, be less prone to privacy issues, and improve your battery life.
In PC optimizer speak, this means "delete some unnecessary files". In theory, this could improve the performance of your PC, but it's something you could do with Windows Storage Sense for free.
SlimCleaner Plus also says it has an integrated Slimware Cloud feature, which delivers up-to-minute information about the software on your computer, integrating user recommendations.
However, the SlimCleaner Plus unwanted program can also cause browser-related issues as people report that they were unable to access some websites. In addition, annoying pop-ups are shown – security warnings, ads for other optimizers.
Dishonestly installed
While SlimCleaner Plus boasts of having millions of users, we doubt that this tool is all that popular. Some of its users probably installed via the bundling technique (PUPS - more than just annoying), without wanting to. Others may have downloaded it thanks to some dishonest advertisements.
SlimCleaner Plus offers a paid version and a free trial. The SlimCleaner Plus free scan will suggest that your computer is riddled with security and privacy issues and it'll imply that the only way to clean your Windows PC is to purchase the program – a year license for $19.97 or a lifetime version for $59.97 (Free Security Scans). We are encouraging you not to make this purchase as you will only be installing a suspicious program.
It has become normal for scams to lure users with free trials or free scans, then freak them out them with scary results. People might be concerned about their operating systems, and they hope that a free scan will reveal everything that is wrong with their computers. However, tools like SimCleaner Plus and GarGizer System Repair will be showing false positives and urging users to purchase their full versions that should fix all the issues. And they'll make your PC just a bit slower with their constant pop-ups and running in the background.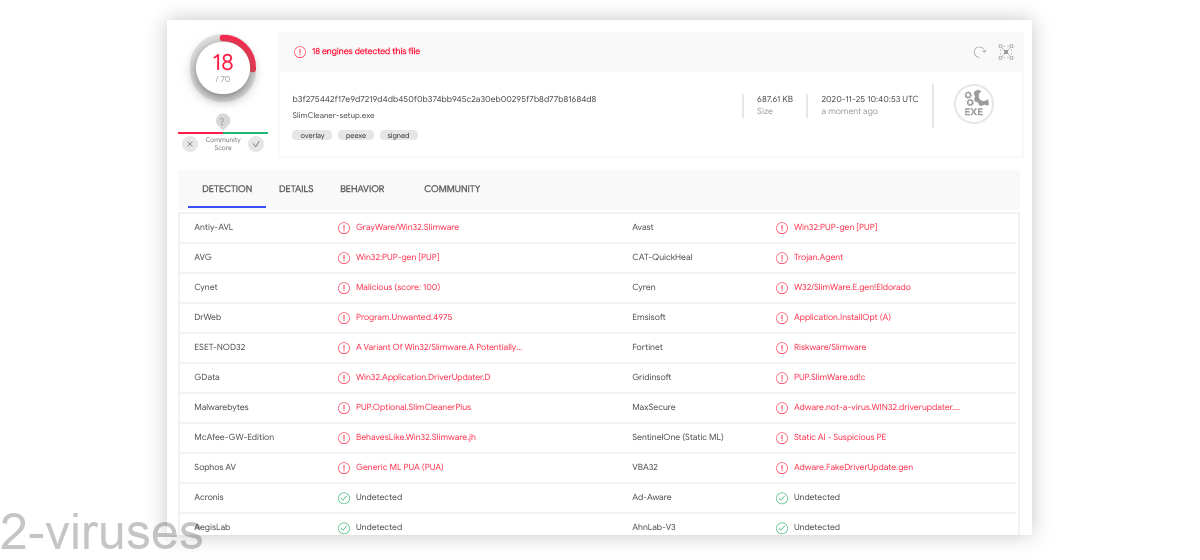 How to avoid potentially unwanted programs like SimCleaner Plus
Use reputable websites and software
First of all, do not download tools from unknown publishers, it is possible that they will only be opting to show false positives because there are incredibly many junkware programs on the web today. Instead, research the developer first.
For example, if you look up "SlimCleaner Plus" online, you'll find many disgruntled user complaints in no time. People looking for advice on how to remove SlimCleaner Plus' pop-ups and how to get rid of this program. Surely, that's not a good sign.
Protect your computer from malware
It can be hard to know if the program you're downloading is safe or not. It could be malicious, display ads and track your online activity. Such suspicious programs are called malware and they could severely compromise your privacy, expose you to unsafe online content, and even slow down your computer. They can be difficult to uninstall.
Instead of gambling with your safety, please consider getting a reliable anti-malware tool. Instead of paying 20 dollars for a rogue SlimCleaner Plus program, you should install software that will undoubtedly protect your computer from malware. In this case, we recommend getting Spyhunter and using it on a regular basis. It is a high-quality application that has received confirmation from many security researchers. Our security team is convinced that this is the tool to get if you want your operating system to be properly secured from any suspicious activity.
Automatic Malware removal tools
How to remove SlimCleaner Plus using Windows Control Panel
Many hijackers and adware like
SlimCleaner Plus
install some of their components as regular Windows programs as well as additional software. This part of malware can be uninstalled from the Control Panel. To access it, do the following.
Start→Control Panel (older Windows) or press Windows Key→Search and enter Control Panel and then press Enter (Windows 8, Windows 10).
Choose Uninstall Program (if you don't see it, click in the upper right next to "View by" and select Category).
Go through the list of programs and select entries related to SlimCleaner Plus . You can click on "Name" or "Installed On" to reorder your programs and make SlimCleaner Plus easier to find.
Click the Uninstall button. If you're asked if you really want to remove the program, click Yes.
In many cases anti-malware programs are better at detecting related parasites, thus I recommend installing Spyhunter to identify other programs that might be a part of this infection.