Win32:Malware-gen (and Win64:Malware-gen) is a category for malicious but unspecified threats. Lots of files get detected by this name. It is difficult to say what harm a Win32:Malware-gen file might cause, only that it might be dangerous.
As it's a threat, it is important to remove the Win32:Malware-gen item and to find out how it got on your computer.
It is possible that the Win32:Malware-gen detection was mistaken and that there's nothing wrong with your files. Still, the warning should be taken seriously and investigated.
Win32malware Gen quicklinks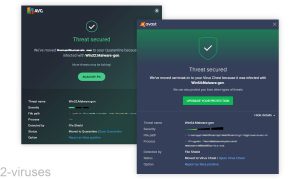 About Win32:Malware-gen in short:
Threat type
Trojan.
Problems caused by Win32:Malware-gen
Stolen credentials and personal information,

adware and other malware installed.

How malware gets installed
Downloaded from malicious sites,

spread by malicious ads, emails, and social media messages,

embedded in infected software.

How to remove Win32:Malware-gen
Use your antivirus tools (such as Spyhunter, Malwarebytes, and others) to find and remove all malware.
What does Win32:Malware-gen do?
It looks like malware
Win32:Malware-gens are programs whose behavior resembles known malware.
Other names that have a similar meaning to Win32:Malware-gen are Trojan:W32/Generic, Win32.Generic, Trojan.Win32, Trojan.Win64, Win64:Malware-gen, etc. Another similar type of detection is Trojan.Generic.
Though your antivirus program isn't able to match it to any specific virus, it appears like it might be dangerous.
Some examples of files that get detected as Win32:Malware-gen:
Sometimes, one antivirus scanner recognizes a file as a Win32:Malware-gen, while another scanner is confident of the identity of the virus. No one antivirus is perfect.
It's possible that a file you downloaded yourself got detected as Win32:Malware-gen. A miner, a software crack, or a game cheat that you wanted to download. This doesn't mean that the Win32:Malware-gen detection is a false positive, though. Such files do look suspicious to antivirus scanners. If you truly trust the file, create an exception for it.
Is Win32:Malware-gen dangerous?
Win32:Malware-gen is mysterious by definition, but here are some common malware features that the detected virus could have:
Spy on the victim and steal credentials, files, and clipboard contents.
Change system settings, download and upload files, execute a program, install other malware.
Show ads and promote unwanted websites in the browser.
Some Win32:Malware-gens could steal your credentials that may be used to hack your accounts or download and install adware. At worst, a Win32:Malware-gen can steal money by, for instance, replacing clipboard contents when it recognizes a bank account number or a cryptocurrency wallet.
Luckily, not all Win32:Malware-gens are banking trojans. Try scanning the malicious file (if it was not deleted by your antivirus tool) with other scanners to see if you get more specific malware matches or ask the support of your antivirus about what your Win32:Malware-gen could be. This can also help you know whether the file is truly malicious. For example, here's a fake Flash Player installer's scan results: Virustotal.com.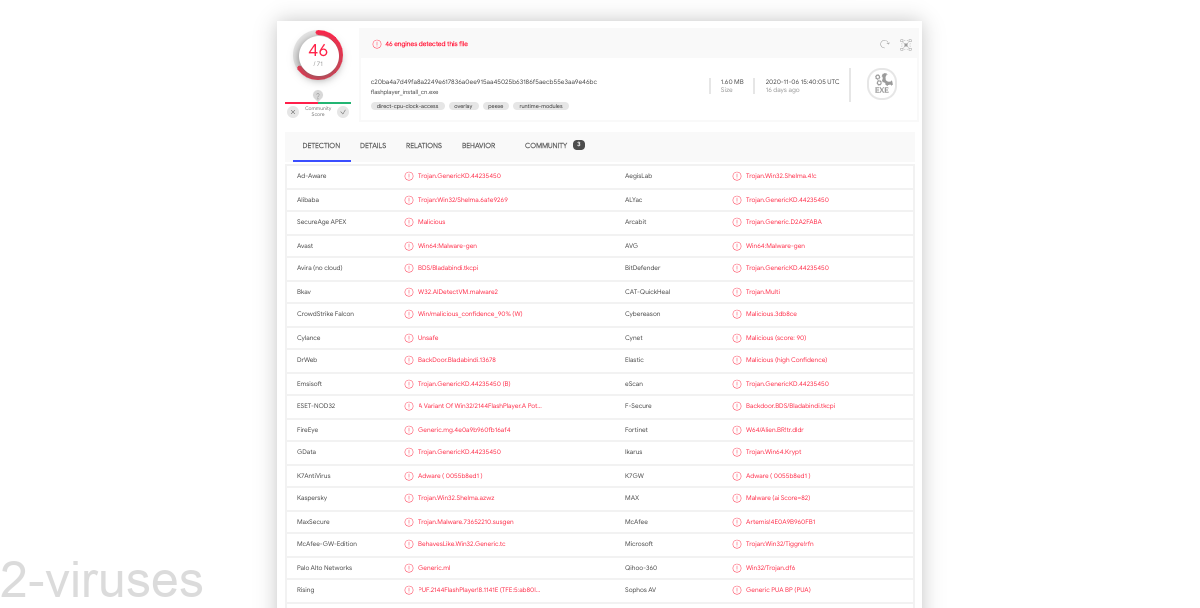 How viruses spread
Even after the Win32:Malware-gen threat was removed (or had an exception made for it), it is important to know how it got on your PC so that other infections can be avoided.
Malware spreads in a few ways:
Malicious email spam. Malicious files often come in email attachments. For instance, the Emotet trojan spreads this way.
Infected ads. Bad advertisements lead to malicious websites.
Malicious websites. Infected links are shared in social media, in personal messages. They may also be posted in comments and descriptions.
Pirated software and media. Some pirated files come infected with malware.
If you know how Win32:Malware-gen got onto your computer, you'll be better able to avoid infections.
How to protect yourself after an attack
Regardless of what the malware is exactly, it needs to be removed before it can cause any harm. Hopefully, your antivirus immediately placed the threat in quarantine or deleted it.
Even if you're not sure what Win32:Malware-gen was exactly, there are a few things you might want to do after removing it:
Change your passwords. Reset them and use 2FA where possible.
Watch your bank account for any suspicious activity.
Check your computer for other viruses.
How to remove Win32:Malware-gen
If your antivirus automatically deleted all the Win32:Malware-gen threats, then you should be safe.
On the other hand, if the Win32:Malware-gen detections keep repeating, then there may be a malicious item that's not been caught yet. Scan your computer with your antivirus program or another scanner, such as Spyhunter, Malwarebytes, and others. Or ask your antivirus program's support for help in finding the threat.
If you suspect that the Win32:Malware-gen detection is mistaken, then report the file as a suspected false positive and make an exception for it. However, you should double-check if the file is truly safe with other scanners and/or with the support staff of your antivirus. It's better to be too careful now than to be sorry later.
If the Win32:Malware-gen detection is not mistaken but you trust the file, then just make an exception for it. But be very careful and only use official websites to download software.
Automatic Malware removal tools