Powzip is a potentially unwanted program (PUP) that advertises itself as an archive viewer and file archiver utility. Some users download Powzip because they fall for the false advertising, but most end up with this tool after a careless behavior online. Powzip does perform the promised tasks, yet compared to the other strong competitors, it is not the best on the market. Actually, there are other reasons why you should not use the Powzip program – its malicious qualities we are going to tell you about in this article.
Powzip Virus quicklinks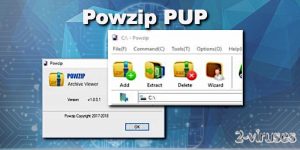 In a nutshell, Powzip invades computers disguised as a useful utility tool but actually demonstrates adware behavior, trying to secretly gain money from the compromised browser, displaying tons of ads and offers from third-parties. Users start experiencing plenty of issues with their computers since Powzip virus uses system resources to run its evil deeds in the background, but rarely anyone suspects this archiving software because it looks very simple, small and innocent. 2-viruses.com team will reveal all the dark Powzip's secrets which hopefully will help you to make up your mind about using this application in the future.
What is special about the Powzip PUP
Powzip is a real working archiving program, made by Nice Pulle Science and Technology Ltd, that is not very good and has malicious tendencies. It is very similar to FastDataX, Web Companion, Amazon Assistant, FootballScores24 which also are a kind of software that pretends to serve users by providing service or tool, which helps to complete everyday virtual tasks, but in reality, generates revenue from compromising victim's computer. Once installed Powzip adds multiple files, creates plenty registry keys, installs as a system driver, adds shortcuts to a desktop and tries to set up as best as it can in order not to get caught by the antivirus, set itself as the default archive managing program and to start up every time you turn your PC on.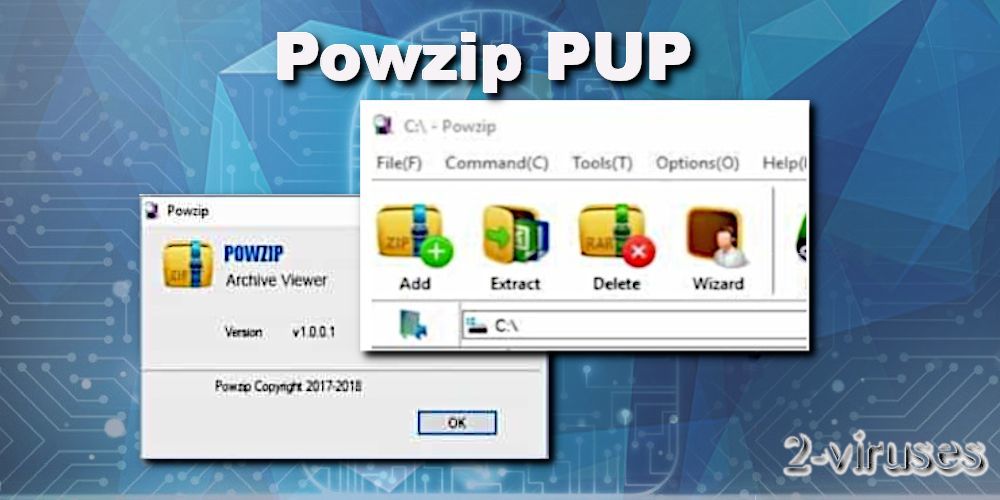 PUPs (or potentially unwanted programs), at least from the name, do not seem like a very harmful type of malware, yet this is completely wrong. As people are becoming more aware of the notorious viruses, such as ransomware, worms, they forget the most damaging threats are the least noticeable, that is why hackers are changing their approach and investing more time into silent malware like crypto malware, PUPs and etc. As you can see, Virus demonstrates a decent recognition of Powzip as a malware by popular security tools. Antivirus programs mark Powzip as Gen:Variant.Ursu.249644, Trojan.Azden, Win32:Malware-gen, PUP.Optional.Powzip, Artemis!A5184699A23B.
Powzip is marked as dangerous because once it gets installed into the system it starts behaving like an adware. Victims can't search the internet without being interrupted by aggressive advertisements, slow page loading, crashes and freezes of the browser, redirects, distorted page layout because of promotional banners and offers and other similar inconveniences. Sadly, this irritating part is just a small problem compared to what can actually happen if you keep Powzip in your system for too long. Powzip tool can be compromised with rootkits that will report your activity online and on the computer to hackers, making screenshots of your credit card payments, location, IP, login info, visited pages, personal photos, videos and etc.
The other evidence that proves that Powzip is malicious is the fact that sometimes it tries to hide under a different name. Powzip virus can be found as PowZip.sys, as well as SmartMount. Having couple names helps to avoid being hunted by the antivirus and succeeding in user tracking, spying, displaying monetized promotions, targeting ads and collecting sensitive data about the victim to later make money out of it. Hopefully, this is enough for you to decide that it is about time to get rid of the Powzip and get a better alternative. You can read more about the battle with PUPs on Securityweek.com
How to avoid Powzip PUP
You must understand that you are targeted by 3 different parties that try to benefit from you as a victim: distributing portals, software vendors, developers. Distributing portals earn their share whenever someone gets a program through their websites, that is why they have really attractive and inviting designs, making anyone fall for crapware even when it is the worst program ever. Sofware vendors also earn revenue from developers for selling their product and the more they sell, the more they get, so they tend to use aggressive marketing and sneaky ways to push Powzip. Developers make money by selling gathered data for third parties, from ads, and also a paid premium feature which gives promises more functions. Also, malware collaborates with other malware and distribute each other.
This means that no matter how good of an advertisement a product has, you always have to read real people reviews on a couple other websites, just to make sure that the program is legitimate. Secondly, installing software from download portals is never a good idea since They all are full of bloatware. Lastly, always take time when running a setup wizard because you might not notice how there will be additional programs marked to install together with the original software and you will miss this part ending with PowZip and many other unnecessary viruses. (10 ways how PUPs sneak into the computer)
What is the best method to get rid of Powzip virus
Easiest and most efficient way to remove Powzip virus is to delete it with Spyhunter. Because Powzip adware can be hiding under a different name and might have compromised Windows registry which is very hard to fix manually, therefore you need to trust a sophisticated tool which is specifically made for terminating threats, even the intrusive kind. Moreover, since malware spreads malware it is smart to get a tool that will scan the whole system just in case Powzip has downloaded some other malicious software into your PC.
Automatic Malware removal tools
How to uninstall Powzip PUP manually
Of course, there is a manual removal method too. It is fairly simple and requires only the basic knowledge and ability to follow our guide below. Nevertheless even after the manual removal we advise to run a scan with a trusted security product, just to be completely sure that Powzip is not tracking you anymore.
How to remove Powzip virus using Windows Control Panel
Many hijackers and adware like
Powzip
install some of their components as regular Windows programs as well as additional software. This part of malware can be uninstalled from the Control Panel. To access it, do the following.
Start→Control Panel (older Windows) or press Windows Key→Search and enter Control Panel and then press Enter (Windows 8, Windows 10).
Choose Uninstall Program (if you don't see it, click in the upper right next to "View by" and select Category).
Go through the list of programs and select entries related to SmartMount . You can click on "Name" or "Installed On" to reorder your programs and make Powzip virus easier to find.
Click the Uninstall button. If you're asked if you really want to remove the program, click Yes.
In many cases anti-malware programs are better at detecting related parasites, thus I recommend installing Spyhunter to identify other programs that might be a part of this infection.