WebNavigatorBrowser is a web browser that behaves like a hijacker. It replaces your default browser so that it can log your browsing data and change your search engine. If your browser changed how it looks and how it behaves, then it might have been replaced by WebNavigatorBrowser. It's not malicious but it's potentially unsafe and it's not as useful as other browsers.
Webnavigatorbrowser quicklinks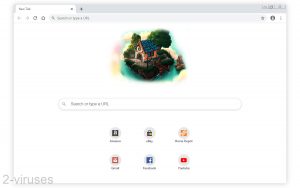 About WebNavigatorBrowser:
Type of threat
Browser hijacker,

potentially unwanted program.

How WebNavigatorBrowser works
Sets itself to be the default web browser,

delivers search results with additional advertisements.

Problems and issues
Dishonest advertising may lead people to download and install WebNavigatorBrowser unintentionally,

lack of features and security updates,

unwanted changes to the search engine and the new tab.

How to remove WebNavigatorBrowser
Uninstall it,

check your computer for other potentially unwanted programs (with Spyhunter or others).
What is WebNavigatorBrowser?
WebNavigatorBrowser hijacks search
WebNavigatorBrowser is a Chromium-based web browser. It looks and works much like the Google Chrome and Microsoft Edge browsers. You can use browser extensions with it and it can import all of your bookmarks, favorites, and other personal preferences.
The problem with WebNavigatorBrowser is that it hijacks web search and injects ads into search results.
The default search engine (the site that your browser sends your search queries to) is "WebNavigatorBrowser", which leads to Yahoo.com. Not just normal Yahoo, but Yahoo with additional advertisements, such as the Search Recommendations block. If you look at the top, to the tabs in WebNavigatorBrowser, you might see that the Yahoo search results via WebNavigatorBrowser's new tab are titled "Polarity Yahoo Search Results" (Polarity used to release a lot of browser hijackers), so they're obviously not just plain Yahoo.
Most likely, the company behind WebNavigatorBrowser (Better Cloud Solutions Ltd) gets money for directing users to the Yahoo site.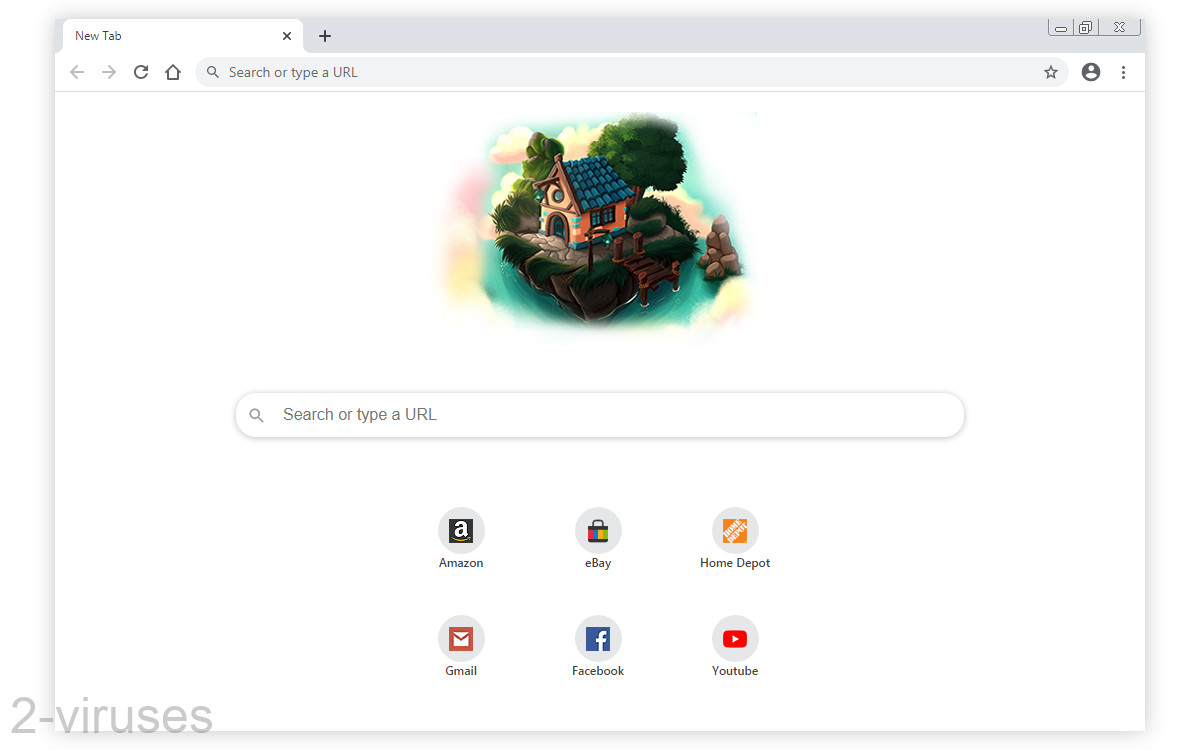 How it works
WebNavigatorBrowser is just a simple Chromium browser. As Chromium is open-source, anyone can take it, make a few minor changes, and redistribute it as their own browser (as long as they're not selling it for money). It's basically Google Chrome but stripped-down. If you use Google Chrome regularly, you're already familiar with WebNavigatorBrowser.
There are two things that WebNavigatorBrowser does differently:
The default search engine is WebNavigatorBrowser's own.
The default new tab is different.
I would say it's crazy that someone took Chromium (which you can download from Chromium.org), changed a couple of settings, and called it a new browser. But if WebNavigatorBrowser makes money for its creators, then it's totally understandable why it exists. It's bad, though. And not the first time that Chromium was abused.
How it gets installed
WebNavigatorBrowser is advertised online
WebNavigatorBrowser can be downloaded on WebNavigator.co or Mapslauncher.com. This site is estimated to get most of its traffic from users in the United States who come to it from two types of websites:
Browser game sites.
Online utilities.
That's not surprising. Both online games and utilities are free, which means they rely on ads to make money. The ads can be a little aggressive. Sometimes they cross into the fake download button territory. There are ads that look like Start buttons, Continue buttons, big green or blue arrows that look like they could be buttons, and other very misleading ads.
This CrowdStrike post has some illustrations of the kinds of ads that promote WebNavigatorBrowser. It's a great, very informative post about this problematic browser.
If you accidentally click on one of these ads and land on WebNavigator.co, you're greeted with a big Continue button and some boring text that kind of looks like it says to update your browser.
Update your computer's default browser for a quick and convenient browsing experience.
I wonder if this is meant to make visitors think that this is an update for their current web browser. This is some misleading advertising.

It replaces the default browser
Clicking the Continue button downloads WebNavigatorBrowser, which, if you agree to its default settings, makes these changes to your system:
Replace your default internet browser.
Open WebNavigatorBrowser as soon as you start your computer.
Allow WebNavigatorBrowser to continue to run in the background after you close it.
Import settings and bookmarks from your default browser.
Is WebNavigatorBrowser dangerous?
If you installed WebNavigatorBrowser, I recommend removing it. Not just because it is made for the sole purpose of showing you more ads in your search results. It is harmful:
By default, some types of Chromium don't automatically update. From what I can tell, WebNavigatorBrowser does use an older Chromium version than other Chromium browsers. This means that it can contain security bugs that malicious ads and websites can then take advantage of (PuzzleMaker).
Unlike Chrome, Chromium browsers may not be very well integrated with Google services, such as Gmail and Docs. They also may not be able to play videos on some streaming sites. Essentially, they lack some features.
Better Cloud Solutions Ltd is associated with a few other shady programs (WebExplorer) so you might not want to trust it. Especially as it injects ads into search results.
According to its privacy policy, Better Cloud Solutions Ltd gets to log your search activity and which ads you click on while you're using WebNavigatorBrowser.
Overall, WebNavigatorBrowser may be bad for your privacy and security.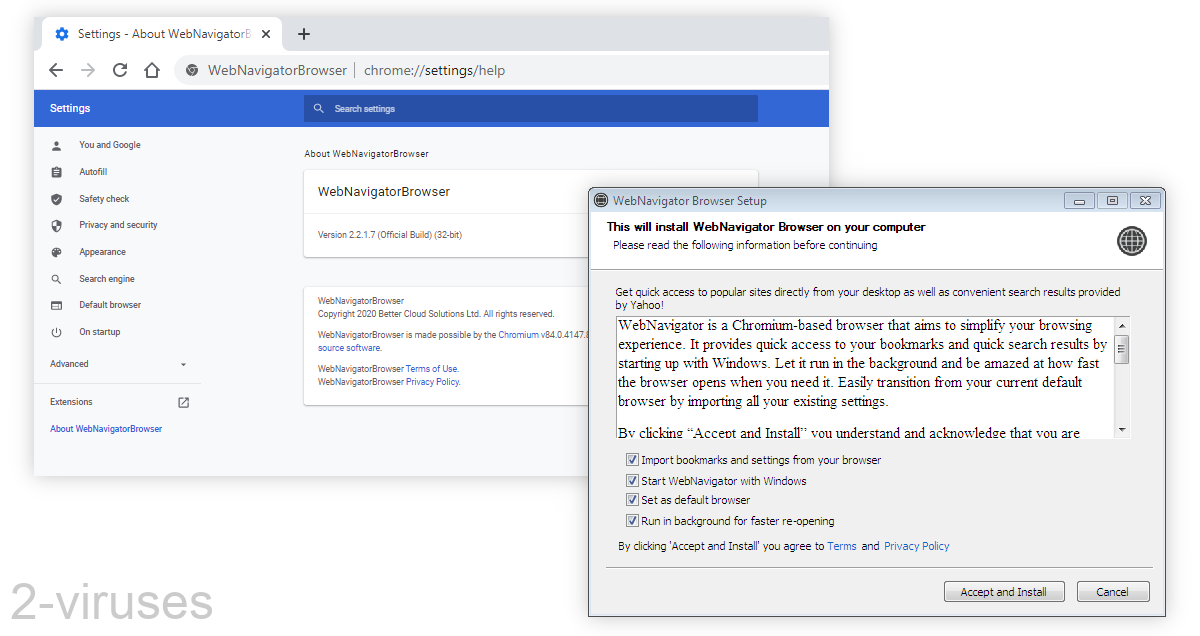 How to remove WebNavigatorBrowser
You can uninstall WebNavigatorBrowser from your Control Panel like any program.
You can also use an anti-malware scanner, like Spyhunter, to check your computer. Anti-malware scanners almost never detect WebNavigatorBrowser's installer or executable (Virustotal.com), but a scan can be useful to check if any other potentially unwanted programs might be lurking.
Automatic Malware removal tools
How to remove WebNavigatorBrowser using Windows Control Panel
Many hijackers and adware like
WebNavigatorBrowser
install some of their components as regular Windows programs as well as additional software. This part of malware can be uninstalled from the Control Panel. To access it, do the following.
Start→Control Panel (older Windows) or press Windows Key→Search and enter Control Panel and then press Enter (Windows 8, Windows 10).
Choose Uninstall Program (if you don't see it, click in the upper right next to "View by" and select Category).
Go through the list of programs and select entries related to WebNavigatorBrowser . You can click on "Name" or "Installed On" to reorder your programs and make WebNavigatorBrowser easier to find.
Click the Uninstall button. If you're asked if you really want to remove the program, click Yes.
In many cases anti-malware programs are better at detecting related parasites, thus I recommend installing Spyhunter to identify other programs that might be a part of this infection.