First things first, we should mention that Chromium is totally legitimate web browser project. You can find it at Chromium Browser project website. This is an open source version of Google Chrome web browser and has plenty of valid uses. However, cyber users are using it (sometimes with exactly same name) on the software that pushes malicious code to Windows computers.
Chromium Malware quicklinks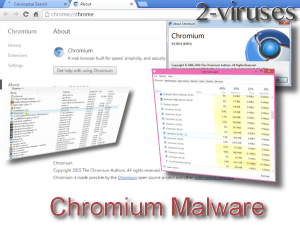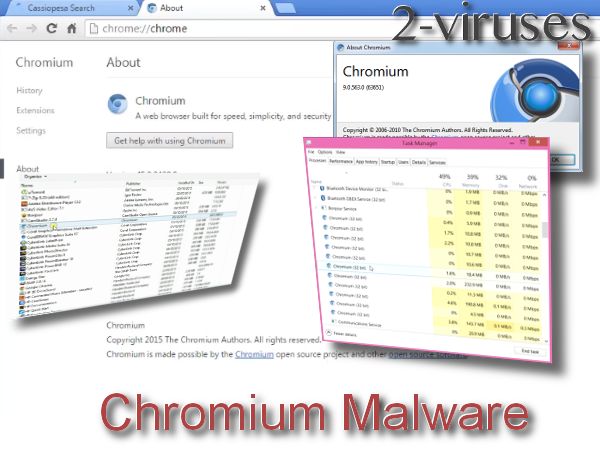 Google maintains 2 versions of Chrome for several reason. First, it can not publish some sound and video codecs as open source. Thus Chromium version of the browser lack them. Secondly, there are additional synchronisation and security checks in chrome web browser which either make no sense in open source version or are tied to Google account. Many of the differences are covered in HowtoGeeks article
Due to open source nature, Chromium might be distributed freely in many of linux distributions while Chrome has to be downloaded separately from Google website. Note, that chromium project is malware free on itself, there is just issues in how the code and browser itself is used further.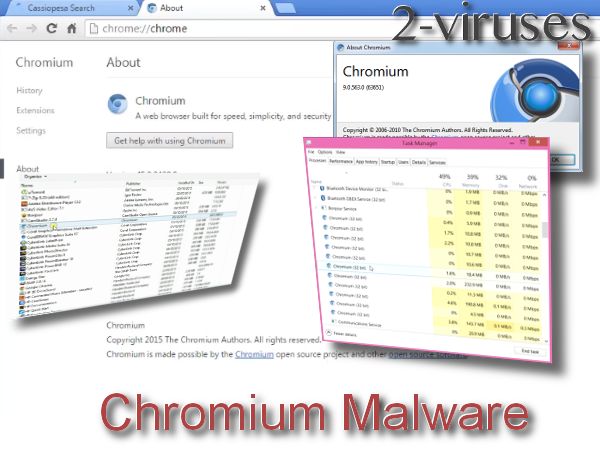 How malware makers use Google Chromium
Sadly, Chromium project is very convenient for malware makers. Firstly, it is more or less compatible with all modern browser standards and it is much easier to use it than to create fresh browser from scratch.
Secondly, as it is open source, you can easily add additional functionality or rename it and show it as your own. Even if browser process would be chromium.exe, the name of the window, logo and texts might be changed or even the functionality.
Additionally, Chromium lacks any safeguards for extension installs so malware makers can preinstall plugins that are not allowed in Google Chrome web-store. And there are plenty of these that were removed for one reason or another and does not need any extra coding.
One might ask why malware makers need such separate browser? Well… :
Browser might be left running in background and click through ads in various sites invisibly, thus earning scammers money from advertising networks.
Browser could replace original Chrome but run insecure, adware infested plugins and thus show Ads or even steal information.
Browser might be released under different name and distributed with various bundles by claiming that it provides some sort of "value". In some cases there are additional features programmed in, in some cases it is just a hoax to install some bundled adware or hijacker. E.g. Torch Browser was used to display ads and was bundled with Ask toolbar.
Symptoms of Chromium virus
So what exactly are those symptoms caused by Chromium infection? They are very similar to traits featured by browser hijackers and adware. If your Google Chrome web browser was replaced by Chromium malware, you will eventually be experiencing much more advertisements than usually. Most of the time those ads come in a form of pop-ups – completely covering all the content you are trying to take a look at.
You are probably used to seeing various ads on websites you are visiting and that's completely OK, but in case you encounter such excessive advertisements on websites that are not likely to display them (i.e. famous social networks like YouTube or Facebook), there is a huge chance that your computer is infected with Chromium malware or other type of malware.
We should go ahead and say that is not only annoying, but dangerous as well. Clicking on those pop-up ads delivered by Chromium might lead you to unreliable websites that can attempt to make you buy something or even infect your computer with other viruses. So first thing you should do when you suspect that your computer is infected with this unwanted application – avoid those ads.
In addition to that, Chromium will be automatically set as you default web browser and default program to open various types of files, such as HTML documents, PDF documents or JPG images.
How to tell if your computer is infected with Chromium?
If all or some of those symptoms mentioned above seems to be something you are familiar with, you should go and check if you are using legitimate Google Chrome web browser. That can be done by simply opening "About" page on the web browser. If it is not Chromium, you will see text "eFast . a web browser built for speed, simplicity and security" or a slogan of any other company that took advantage of this open-source project. If it is really original Chromium, you should see "Chromium" name and logo there – nothing more
In case you have no idea how to do that, there is a more user-friendly method to do that – scan your computer with either Spyhunter anti-malware program. Either of those programs will detect malicious files of Chromium stored on your computer (as this virus is on their virus databases) and will inform you about that.
How to avoid and remove Chromium-based viruses ?
As most of the time, potentially unwanted applications like this one are distributed as a bundle to free software. If you are installing some freeware downloaded from the Internet, you might be offered to additionally install some free and advanced web browser. However, most of the time that's a lie and you will end up with a malware like this one on your computer.
There is no list of free programs that bundled Chromium, so the thing you should do in order to avoid malware is to pay attention to the installation process of freeware. Or, again, you can protect your computer with anti-malware software which would make sure that no unwanted software is installed on your system.
There are bunch of Chromium removal tools, yet we recommend to use either Malwarebytes or SpyHunter. Those applications can effectively remove possibly unwanted programs and will remove Chromium from your computer in minutes. On the other hand, if you want to remove Chromium by yourself, you should try to access control panel and look for "eFast" or "Chromium" program (It can be named either way), then remove it.
In case you have any questions regarding this topic, do not hesitate to ask them right here, in the comments section.
How to remove Chromium malware using Windows Control Panel
Many hijackers and adware like
Chromium malware
install some of their components as regular Windows programs as well as additional software. This part of malware can be uninstalled from the Control Panel. To access it, do the following.
Start→Control Panel (older Windows) or press Windows Key→Search and enter Control Panel and then press Enter (Windows 8, Windows 10).
Choose Uninstall Program (if you don't see it, click in the upper right next to "View by" and select Category).
Go through the list of programs and select entries related to Chromium malware . You can click on "Name" or "Installed On" to reorder your programs and make Chromium malware easier to find.
Click the Uninstall button. If you're asked if you really want to remove the program, click Yes.
In many cases anti-malware programs are better at detecting related parasites, thus I recommend installing Spyhunter to identify other programs that might be a part of this infection.
Automatic Malware removal tools