Videosubscript.xyz is a website that takes over web browsers. It does this by showing users misleading messages and encouraging them to subscribe to its notifications. Once Videosubscript.xyz has access to a web browser, it starts showing ads, some of which are designed very deceptively.
Having your web browser hijacked by Videosubscript.xyz can feel like having an adware infection on your device. Luckily, it is not as bad – you can stop Videosubscript.xyz's ad spam very easily by opening your browser and navigating to site settings.
Videosubscript Xyz Ad Spam quicklinks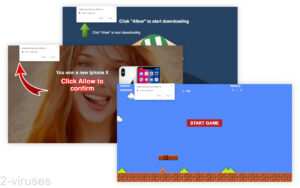 About Videosubscript.xyz:
Threat type
Adware,

browser hijacker.

Problems caused by Videosubscript.xyz
It shows unwanted ads on the screen on your device,

it shows pop-ups that sometimes mislead about what is being advertised.

How to avoid notification hijackers
Avoid websites that show aggressive ads,

block ads on unreliable websites,

use anti-malware apps (Spyhunter for PC, Spyhunter for Mac, Combo Cleaner for Mac, others).

How to block Videosubscript.xyz from sending ad spam
Block notifications from notification pop-ups,

use site content settings in your browser.
How Videosubscript.xyz affects browsers
Videosubscript.xyz is an advertising website. It does two main things:
Encourage visitors to subscribe to its notifications by showing fake download buttons, promoting fake giveaways, displaying fake game screens, etc.
Send advertisements via notifications to those who are subscribed.
Videosubscript.xyz is similar to Welovetop.xyz, Screenauto.xyz, Parkcandy.xyz, Watch-video.net, and many other notification-hijacking sites. These sites tell visitors to "Click Allow" to download files, play videos, win a new iPhone, etc. Needless to say, they're all lying; the only thing these sites provide to those who allow its notifications is endless advertising spam.
Ads from Videosubscript.xyz appear as app notifications on mobile devices or as little pop-ups on desktop computers. The pop-ups are always signed by Videosubscript.xyz. Some of the ads are honestly presented, but many are not – they might be disguised as virus alerts, social media messages, and other trustworthy-looking notifications to encourage people to click them, only to open very unexpected ads.
It's best to avoid clicking on any of Videosubscript.xyz's ads.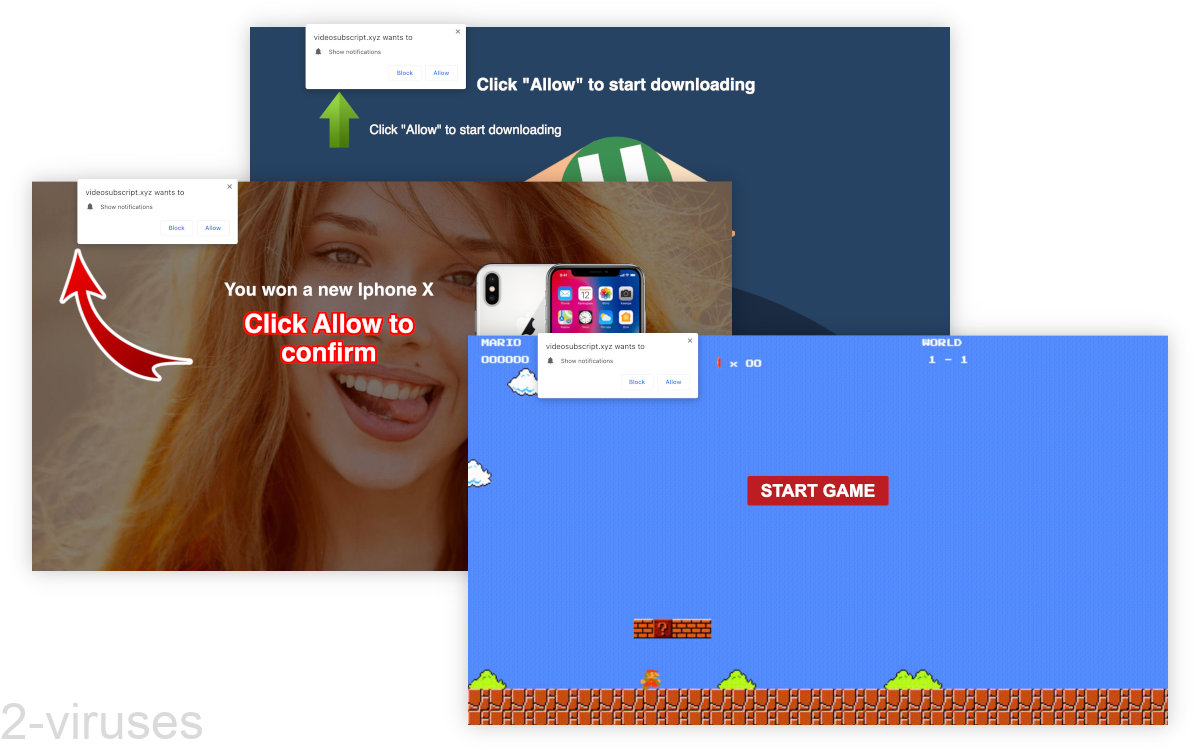 Web push notifications can be helpful. For instance, chat, social media, email sites can alert you about new messages very quickly even when you don't have the relevant website open at the time. But then some people use notifications just to show ads, which is not the intended use (Web Push API Notifications best practices), even though it is effective.
How to avoid notification hijackers
The web is full of sites like Videosubscript.xyz – deceptive, manipulative websites that want to worm their way into people's browsers and deliver unignorable sponsored content.
Since Videosubscript.xyz gets access by taking over notifications, you could just stop your browser from showing notification prompts. This will make it impossible to unintentionally enable site notifications. This setting is on the same page as the options for blocking messages from individual sites.
Sites like Videosubscript.xyz get advertised on questionable websites – those sites that aren't afraid to show pop-ups, pop-unders, and display ads even when you didn't click on any. These sites tend to be for pirating, video and audio conversion (YTMp3), etc. An ad blocker could help you stay safe.
In addition, adware infections cause ads for sites like Videosubscript.xyz. Bad programs, apps, and browser extensions can show unwanted ads and force your browsers to open promoted websites. Anti-malware apps, like Spyhunter for Windows, Spyhunter for Mac, Combo Cleaner for Mac, and others can help you find and get rid of adware.
Automatic Malware removal tools
How to stop Videosubscript.xyz ad spam
To stop Videosubscript.xyz from showing you unwanted ads, you can wait until an from the site shows up, then click on the Site settings button and choose to block all notifications from the site.
But not all browsers let you manage notifications this way. Besides, what if there are other sites besides Videosubscript.xyz that have access to your browser's notifications?
To check this (and to block a few sites, if needed), open the relevant settings page:
Chrome – open Settings, scroll down to Site settings (under Privacy and security), click on Notifications.
Edge – open Settings, click Site Permissions, Notifications.
Safari – in the Safari menu, choose Preferences, Websites, Notifications.
Firefox – open Settings, Privacy & Security, scroll down to Permissions, and click on Settings next to Notifications.
Here, you can block sites from sending you notifications (which also prevents them from asking your permission again), remove them (which just makes your browser forget about the site), or manually allow sites to send you pop-ups (for example, if you accidentally blocked notifications when you meant to allow them).
Keep in mind that blocking notifications from Videosubscript.xyz does not block the site, nor does it block any of its dozens of siblings that also aim to hijack your settings to show you unwanted ads. It's good to be careful and avoid malicious sites as much as possible.