Watch-video.net is a dangerous website that hijacks browser notification settings in order to spam browsers with advertisements. If your browser is hijacked by Watch-video.net, it can look as if you have an adware virus on your device. Luckily, things are not quite that bad.
Although Watch-video.net is not necessarily dangerous, it does show low-quality ads, some of which can lead to scams and junkware. So, it's important to stop its ads as quickly as possible.
Watch Video Net Pop Up Ads quicklinks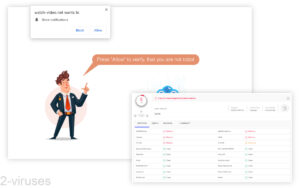 Watch-video.net in short:
Threat type
Adware,

browser hijacker.

Problems with Watch-video.net
It shows advertisements as notifications,

some of the ads that it shows are for potentially harmful content (scams, etc.).

How sites hijack notifications
Watch-video.net is advertised online,

it shows a misleading message to trick people into unknowingly subscribing to its notifications.

How to stop pop-up ads from Watch-video.net
Disable notifications from Watch-video.net,

avoid or block malicious websites,

if needed, use anti-malware apps (Combo Cleaner for Mac, Spyhunter for PC, etc.) to delete malware.
What is Watch-video.net?
Watch-video.net is an advertising website
Watch-video.net is a website. It can use browser settings to display pop-up ads and notifications on computers and mobile devices. These ads are labeled with Watch-video.net's name, but they lead to other, unrelated websites.
Watch-video.net may show ads for safe content, but also for potentially harmful stuff:
online stores,
free-to-play games,
tech support scams,
fake giveaways and surveys that lead to subscription scams,
fake articles promoting get-rich-quick scams and shady medical products,
other notification hijacker sites.
A few security vendors already flag Watch-video.net as malicious: Virustotal.com. Despite that, Watch-video.net is still spreading online.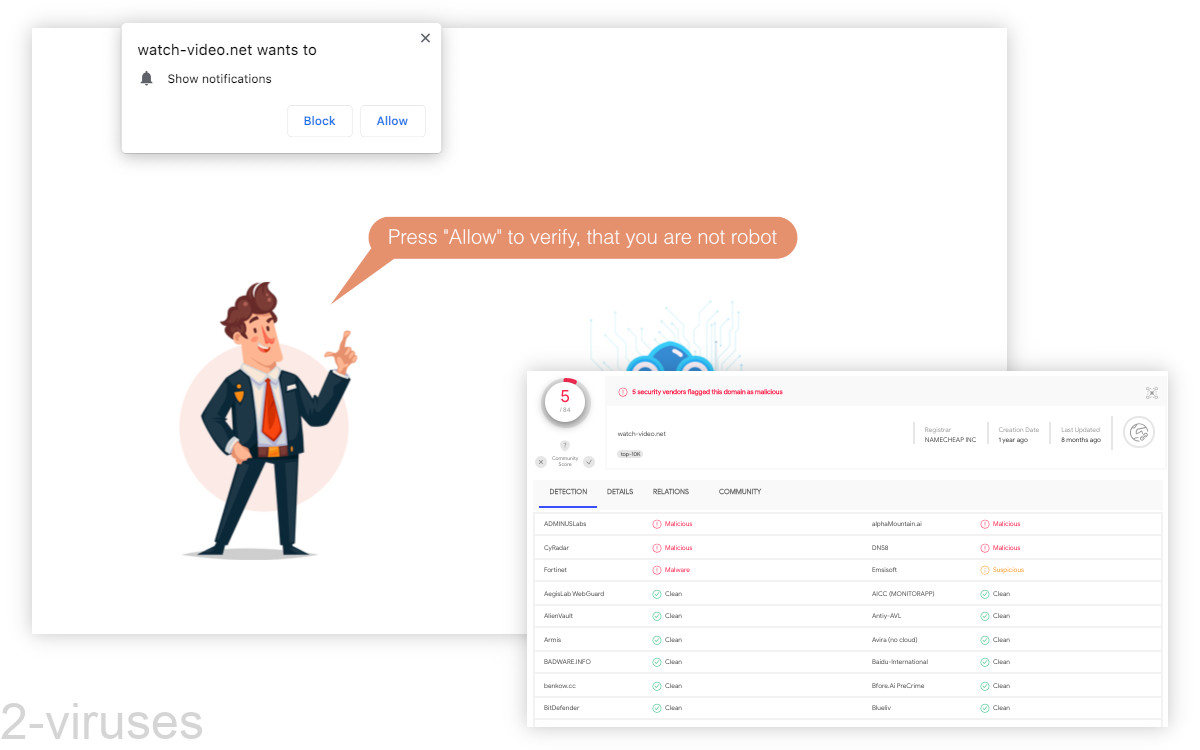 It takes over browser settings
Watch-video.net spreads online, advertised by various websites. In my experience, it shows up in new browser tabs after interacting with the website that advertises it or after clicking an ad disguised as a download button. The point is that Watch-video.net appears unexpectedly, there's no way to anticipate it.
And when it shows up, Watch-video.net looks like some sort of a Captcha, asking to "verify that you are not a robot" and press the "Allow" button. Other similar pages insist that you "press Allow to continue", "click Allow to watch the video", etc.
These messages are just lies. Following Watch-video.net's instructions would just subscribe to its notifications, which it can use to send people ads.
In reality, sites like Watch-video.net should be ignored – they're just trying to trick people.
How to stop Watch-video.net ads
Block unwanted notifications
The Watch-video.net website uses your browser settings to show you its ads. All you need to do to stop them is to go into your notification settings:
Chrome – open Settings, scroll down to Site settings (under Privacy and security), click on Notifications.
Edge – open Settings, click Site Permissions, Notifications.
Safari – in the Safari menu, choose Preferences, Websites, Notifications.
Firefox – open Settings, Privacy & Security, scroll down to Permissions, and click on Settings next to Notifications.
Review your list of websites that are allowed to send you notifications, as well as websites that are blocked from doing that. Watch-video.net should be among the allowed sites. Set it to blocked from the menu to the right of the address.
Alternatively, you can wait until a notification from Watch-video.net appears on your screen and then press the gear icon or the Site settings button to block its notifications – if your browser offers this option.
Avoid malware
Consider blocking notification prompts in your browser. This way, Watch-video.net and other notification hijacker sites won't be able to even show you the notification prompt. You will still be able to allow notifications – you'll just have to enter websites manually into your allowed list.
If malicious sites and hijackers appear often in your browser, you might want to get an ad blocker or a malicious site blocker. Consider which sites that you visit might be showing you dangerous ads.
In case there's an adware infection or another suspicious item on your computer, scan it with an antivirus app, such as Combo Cleaner for macOS, Spyhunter for Windows, and others. They can recognize malware, as well as not dangerous but potentially unwanted items that you might want to remove.
Automatic Malware removal tools