YTMp3 is an online video and audio converter. YTMp3 works, but it has a problem: sometimes, it serves potentially unsafe ads, including links to scams and phishing sites.
YTMp3 can use notifications to display ads even when you're not visiting the site. Bad ads can trick users into installing malware, having their information stolen, or losing money to scams. This makes YTMp3 a little bit dangerous to use.
Luckily, YTMp3's notifications are simple to block in browser settings.
Ytmp3 Cc Virus quicklinks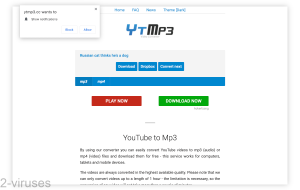 YTMp3 in short:
Threat type
Adware.
Problems with YTMp3

Some of the ads it displays are potentially harmful,

it uses web push notifications for ad spam.

How harmful websites spread
Ads appear as pop-ups when clicking buttons on the YTMp3 sites,

some ads are opened with no user action.

How to stop the YTMp3 virus
Block its ads in browser settings,

if needed, catch and remove malicious files with antivirus software (Spyhunter for PC, Combo Cleaner for Mac, others).
Is YTMp3 dangerous?
Video converters are often used for pirating
YTMp3 is a collection of websites, including YTMp3.cc, YTMp3.ch, YTMp3.net, YTMp3.mobi, YTMp3.eu, and others.
The YTMp3 sites can save videos for offline viewing and download their soundtracks. People find YTMp3 and similar sites when they look for ways to download videos from YouTube and other sites. YouTube does allow offline playback in some countries, but it's a very limited feature. Sites like YTMp3 are just so much more convenient…
Downloading copyrighted material is usually not allowed. It's unlikely for you to get in trouble for it, although pirates have been getting copyright infringement notices in some countries.
I'm not here to police anyone's media downloading habits, but I feel compelled to mention that YTMp3 can be used to pirate content. After all, YTMp3 being a piracy-adjacent site gives valuable context to its advertising problem.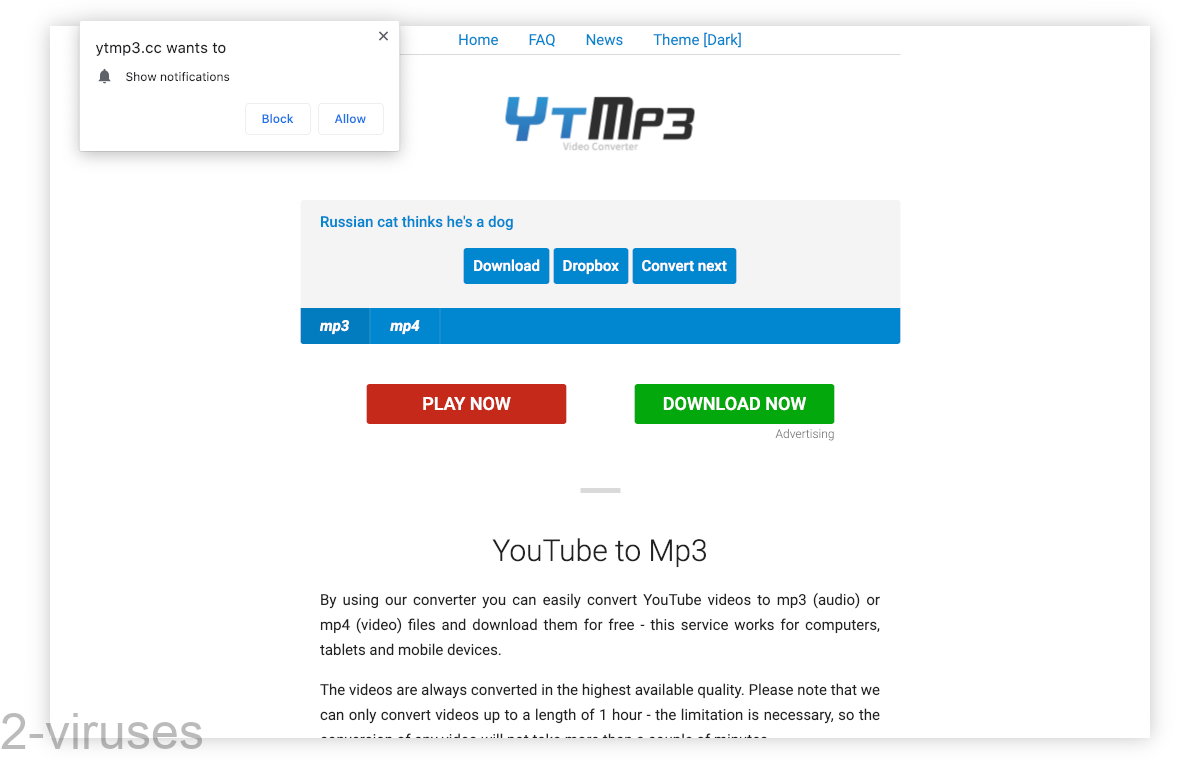 YTMp3 shows malicious and deceptive ads
As YTMp3 is free to use, it displays ads to make money. And, either because not many advertisers want to work with a potentially illegal website or because bad actors just pay better, many of the ads shown on YTMp3 are potentially harmful:
Tech support scams.
Dishonest ads pushing crapware and adware.
Phishing scams that steal login and personal information,
Get-rich-quick scams, work-at-home scams, and subscription scams.
Counterfeit and unregulated products.
Most of the YTMp3 sites look like they have no ads at all or only a modest number of them. That's not right – YTMp3 triggers ads as pop-ups when you click to convert a video and download the converted file. This makes it very difficult to avoid the ads.
Among the ads that YTMp3 showed was Install.notify-service.com, a get-rich-quick scam, a spoofed news site promoting cryptocurrency investment/trading scams. There's also clickbait, notification spammers, and browser hijackers.
Honest ads and legitimate products are also advertised on YTMp3, but malicious ads have a huge presence.
How to stop the YTMp3 ad spam
Intrusive ads can be a big problem for someone just trying to browse the internet. They are loud, they cover the content of the site, are frequent, and require interaction to get rid of. They disrupt work and slow down the browser.
If YTMp3 is showing you pop-ups in the corner of your screen (or at the top, if you're on a mobile device), then it must have hijacked your notifications.
A simple way to fix this is by clicking on the gear icon on one of the unwanted notifications. You'll be prompted to block all notifications from the site.
Alternatively, block the ads in your settings:
Chrome – open Settings, scroll down to Site settings (under Privacy and security), click on Notifications.
Edge – open Settings, click Site Permissions, Notifications.
Safari – in the Safari menu, choose Preferences, Websites, Notifications.
Firefox – open Settings, Privacy & Security, scroll down to Permissions, and click on Settings next to Notifications.
You may also want to check your browser extensions and your device for malicious and potentially unwanted programs. The easiest way to remove it is to let a competent, professional antivirus program, like Spyhunter Windows or Combo Cleaner for macOS scan your system and remove the malware that it detects.
Automatic Malware removal tools