Adskpak.com redirect virus has been active since November of 2014 and users have reported that it is one of the destination links of redirection. Repetitive URL forwarding will occur without any warnings and will introduce all sorts of fraudulent websites, like phishing scams. Popcornvod.com virus is similar as it also one of the domains that replaces users' visited domains without any notifications beforehand. Web traffic (What is website traffic?) of Adskpak.com website has significantly boosted ever since May. Therefore, it managed to become the 6,36th most-visited website. Obviously, most of the time this re-appearing domain won't be visited willingly.
Adskpak.com fraudulent website hints a malware infection
Nearly 700 websites have been noticed to initiate redirection to this ad-supported website. Disturbingly, such domains like Magicangel.px (suspected of phishing (What is phishing?) are also going to transfer people to Adskpak.com infectious domain.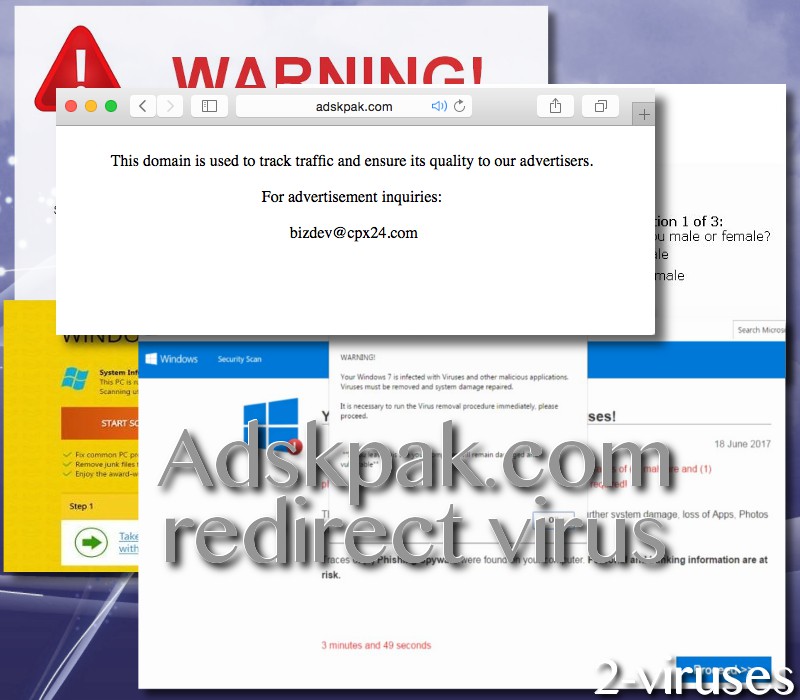 Users have reported this as an ad-site with URL for redirection that implies pornographic content. WalletFriends was another suspicious adware parasite, aiming to display offensive, adult-oriented ads. Also, this website has been evaluated as suspicious and possibly containing risky contents. Users are advised to make sure that they have the best anti-virus software installed.
As we have mentioned, an impressive number of websites will redirect people to Adskpak.com virus. People from United States of America are the main targets of this domain. However, users from Brazil, Germany, India and Mexico should also be cautious. Once they get introduced to the latter infection, suspicious ad-serving domain will redirect people to websites like Click.smytrafficfilter.com, Tq.yawsa.com, Weedlio.com and Clickppcbuzz.com. None of them strike us as reliable and could be opting to transmit malware infections. In some cases, users could be introduced to technical support scams like Microsoft.windowssupport0901.online pop-up.
If you try to enter Adskpak.com malware-laden domain, users will be transferred to Capital-adv.com which is indicated as a website, used to track traffic and ensure its quality to our advertisers. [email protected] email address is left as a way to contact the owners of this sham. It could be that CPX24 advertising network is responsible for the objectionable redirection to Adskpak.com virus.
Additionally, we have discovered some of the advertising companies that will also display advertisements via Adskpak.com pop-up. Adf.ly, PopCash, Sh.st, AdSupply, Propeller Ads Media are all going to incorporate its promotional material into the investigated website. We have noticed that these specific ad-companies are involved with many browser hijackers and adware parasites (Adware meaning?). We have also managed to find out that this website can be promoted in social networking sites like Facebook and Twitter. Furthermore, emailing services have also been indicated as one of the possible destination links of redirection.
There must be a reason why this suspicious website is introduced to users. One of the most believable explanations is that users' computers are infected with an adware parasite that triggers Adskpak.com redirect virus. On the other hand, habits of visiting unknown or suspicious domains could also be automatically transferring people to this unsolicited website. If you wish to protect your personally-idenfiable information (PII meaning)), we suggest to remove malware threats as soon as possible.
How to stop redirection from happening?
There are several methods to keep operating systems functioning properly. First of all, users should not visit domains that might be hosting exploit kits or initiating redirection to unknown websites. If users do not know which websites could be responsible for objectionable URL forwarding, all they have to do is check the respectability of the website. However, this is not always enough. Security researchers emphasize that even legitimate domains could be hijacked by hackers.
Nevertheless, there is a way to keep operating systems from becoming infected. People are advised to always have anti-malware tools in their operating systems. Run regular scans with Spyhunter and try to keep your device running without any issues. Furthermore, select advanced/custom modes for installation processes of freeware. Additionally, never get programs that might be secretively aiming to infect you with malware. Packaged programs are very frequently the reason behind extremely suspicious activities.
We do not know which adware parasite is causing redirects to this website. However, we do advise our visitors to check Control panel for any suspicious software applications. Remove all of unwanted tools with the guide below.
How to remove Adskpak.com redirect virus using Windows Control Panel
Many hijackers and adware like
Adskpak.com redirect virus
install some of their components as regular Windows programs as well as additional software. This part of malware can be uninstalled from the Control Panel. To access it, do the following.
Start→Control Panel (older Windows) or press Windows Key→Search and enter Control Panel and then press Enter (Windows 8, Windows 10).
Choose Uninstall Program (if you don't see it, click in the upper right next to "View by" and select Category).
Go through the list of programs and select entries related to Adskpak.com redirect virus . You can click on "Name" or "Installed On" to reorder your programs and make Adskpak.com redirect virus easier to find.
Click the Uninstall button. If you're asked if you really want to remove the program, click Yes.
In many cases anti-malware programs are better at detecting related parasites, thus I recommend installing Spyhunter to identify other programs that might be a part of this infection.
Automatic Malware removal tools